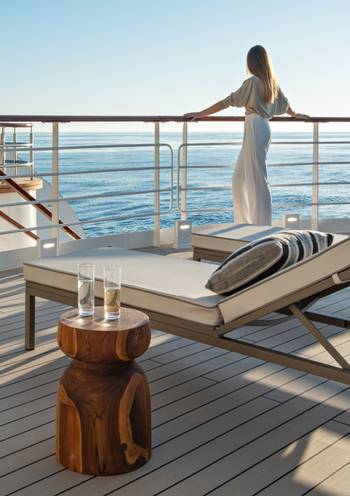 Cruise with
Ponant
ALL-INCLUSIVE LUXURY CRUISES
The only cruise company sailing under the French flag, PONANT encapsulates the French way of life across every ocean on the planet. On board, this is exuded throughout, from outstanding services, to a multilingual crew, while bringing the French know-how to the fore. Passionate about culture and tranquillity, PONANT offers five-star voyages which combine discovering the cultures of a destination with the time to enjoy the luxury surroundings on board. They take pride in providing guests the ultimate cruising experience, both on land and at sea, and offer cultural experiences with guests of honour. From journalists, to historians and naturalists, they'll share their insights and knowledge to shed light on a variety of different topics.
The Experience
When cruising with PONANT you'll enjoy a unique blend of French gastronomic touches, exquisitely designed spaces and the tranquil retreats synonymous with such boutique vessels. Discover the French 'art of living' through its entertainment venues, where you could be treated to delightful Corsican melodies in the theatre and embrace the intuitive service of English-speaking staff who provide a truly bespoke experience. Immersed in PONANT's exceptional comfort and sophisticated ambience, you'll feel like you're sailing on a lavish private yacht.
Five-Star Service
Wherever you are on board, from your lavish stateroom to the dining areas, you can expect a first class, intuitive service from PONANT's experienced multilingual staff. Attentive to a fault, they'll endeavour to ensure you're always comfortable and respond to all your requests. A fully personalised butler service is available in certain suites. Enjoy the optimal comfort of laundry service, dine in the comfort and privacy of your stateroom with room service and savour the luxury of unlimited, all-inclusive drinks. And because your comfort is paramount to the team, you can select a pillow that best suits you from the detailed Pillow Menu.
The Expeditions Experience
PONANT's Expedition cruises range from the unspoilt coast of Papua New Guinea to the immense glaciers of Antarctica, ensuring guests get to visit some of the world's most untamed regions in luxury and sublime comfort. With smaller ships and Zodiac® boats for thrilling excursions led by expert guides, you'll be rewarded with a more immersive and engaging experience, all the while enjoying the usual state-of-the-art amenities, refined gastronomy and attentive service.
Gastronomic Delights
Committed to spreading the French way of Life across the world, PONANT take every bit of care and attention to the dishes they serve throughout the day. They work closely with 3* Michelin Chef, Mr Alain Ducasse, in order to provide exquisite dishes of Haute Cuisine. Along with their promise to develop sustainable and responsible tourism, all ingredients are locally sourced from the places you stop at, whilst committing to respecting local resources. Indulge in elegant a la carte meals in the gastro restaurant, where you'll be spoilt for choice on the selection of dishes inspired by contemporary French brasseries, or for something a little more casual, indulge in an array of hearty yet sophisticated buffet options in the Grill Restaurant.
Relax and Rejuvenate
On board every ship of the PONANT fleet, you'll find a lavish onboard spa which boast a fabulous collection of top-of-the-range treatments provided by SOTHYS™ or CLARINS. Revitalise with a luxurious facial, indulge your senses in a splendid aromatic bath or unwind with a sensational body massage. Other features include a hairdressing salon which offers a complete range of top-quality treatments, to make you look and feel your best, and a fully equipped gym. Begin each morning with an organised workout session or exercise at your own pace as you witness spectacular ocean vistas from the wide floor-to-ceiling windows.
Time at Leisure
Although PONANT's fleet offer a small and intimate atmosphere, they utilise all space on board. Enjoy the perfect blend of secluded retreats, where you can unwind with your own thoughts, and convivial lounges where you can converse with your fellow passengers. Lose yourself in a classic novel in the well-stocked library, soak up the sun from the sophisticated sun deck and cool off in the glittering pool as you witness spectacular views from the back of the ship, and settle into your comfortable surroundings and be dazzled by an astounding array of performances in the theatre.
Responsible Tourism & Sustainability
PONANT has been awarded the most environmentally friendly cruise line for 2020 by the NABU association which promotes sustainable tourism. They are dedicated to being a leader in environmental protection and are the only company to have, as of 2019, disused heavy fuel oil. With this in mind, you can cruise through emerald waters, passing some of the most staggeringly beautiful natural scenery on the planet, knowing that your ecological footprint is minimal. They have also eliminated 80% of single-use plastics and because they take passengers to discover rare destinations and to meet the people who live there, the crew, guides and passengers are taught the good practices to adhere to in communities where they'll be staying.