Borneo Adventure: Orangutans, Sun Bears & Jungle Treks
Includes a Star Clippers Sailing from Singapore to Kota Kinabalu
7 Day Fully Escorted Borneo Tour with Jungle Safaris
18 nights | 11 Sep 2020
Borneo Adventure: Orangutans, Sun Bears & Jungle Treks
Includes a Star Clippers Sailing from Singapore to Kota Kinabalu
7 Day Fully Escorted Borneo Tour with Jungle Safaris
18 nights | 11 Sep 2020
Get The Full Experience...
Listen to the sails snap in the breeze on board Star Clipper before you embark on a jungle trek through Borneo to find some of the world's most elusive and endangered creatures.
Discover Borneo on board a vessel like no other and glide around the South China Sea like the sailors of old, watching the crew dressed in their white uniform take care of the rigging while you're whisked from one destination to another. Finishing your cruise in Kota Kinabalu, you'll fly to Sandakan and begin your unique Borneo tour. During this adventure you'll find monkey sanctuaries as well as encounter charismatic orangutans. Discover sun bears playing with their litter mates in a conservation centre, embark on a cruise down the longest river in Borneo to catch sight of elephants drinking with the herd, and listen to the cacophony of the jungle's inhabitants in an award-winning rainforest lodge.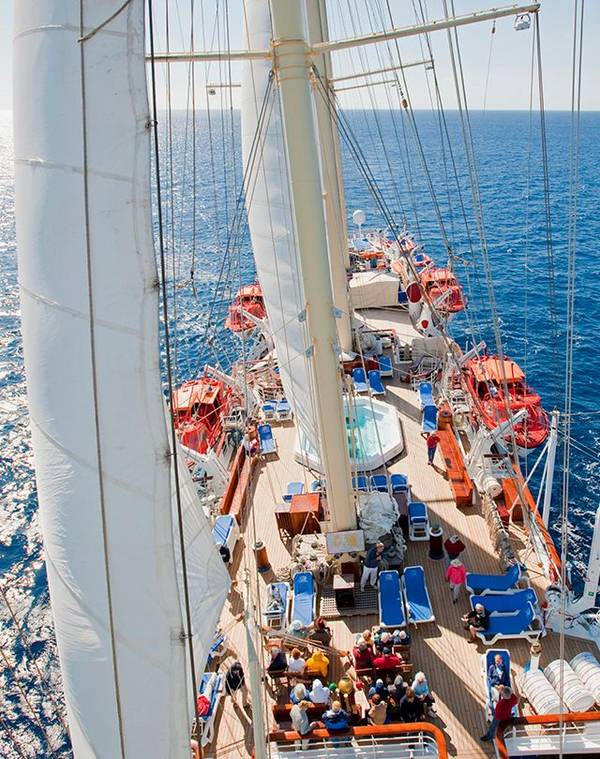 Package Includes
1 night stay in Singapore at the Orchard Rendezvous Hotel with breakfast
10 night full-board cruise on board Star Clipper
Overnight in port in Kuching
2 night hotel stay in Sandakan with breakfast
Fully escorted tour of Labuk Bay Proboscis Monkey Sanctuary including a nocturnal walk
3 night full-board stay in Sukau Rainforest Lodge
Fully escorted tour of Sepilok Orangutan Rehabilitation Centre and Borneo Sun Bear Conservation Centre
Morning and afternoon wildlife river cruises
Fully escorted tour of Gomantong Cave
2 night full-board stay in Borneo Rainforest Lodge
Fully escorted jungle treks and night safaris
All transfers
All flights (London departure - regional flights available)
ATOL protected
Prices & Availability
Select an airport and cabin grade.
Flight from
Other regional airports may be available*
CALL TO BOOK:
0800 840 5800
CRUISE CODE:
ASA7467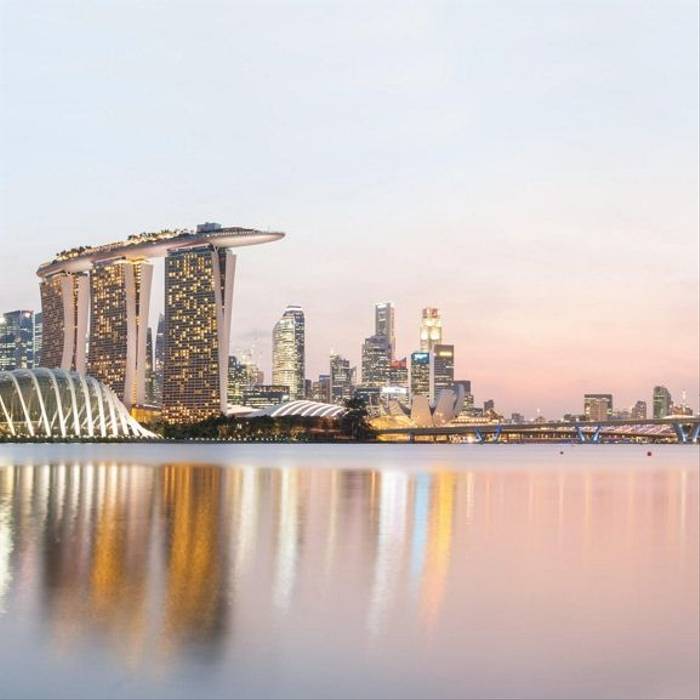 Fly to Singapore, one of Asia's rising stars. Birthplace of the Singapore Sling as well as the stunning Supertrees, Singapore is home to more than modern innovations. Find treetop jungle bridges where you could hear the call of exotic animals or, even better, you could enjoy a night safari where you'll spot roaming wildlife going about their business in the zoo.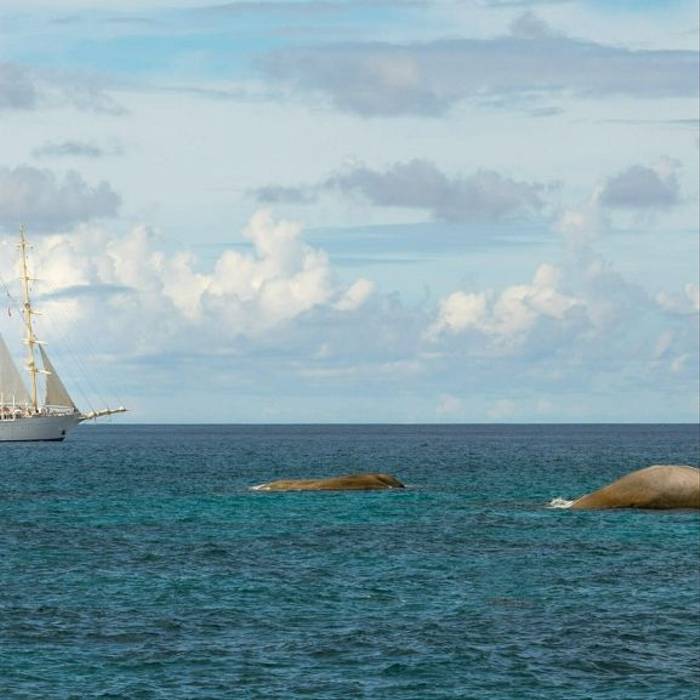 Singapore
- Embark Star Clipper
On board Star Clipper you'll experience an entirely different way of cruising. Comparable to a large private yacht, this stylish and intimate ship – a stunning four-masted barquentine – embodies the romance of traditional sailing while providing all the modern amenities needed for a comfortable voyage. With its billowing sails, sun-warmed teak deck and gleaming mahogany rails, Star Clipper provides an enchanting nautical experience you'll never forget.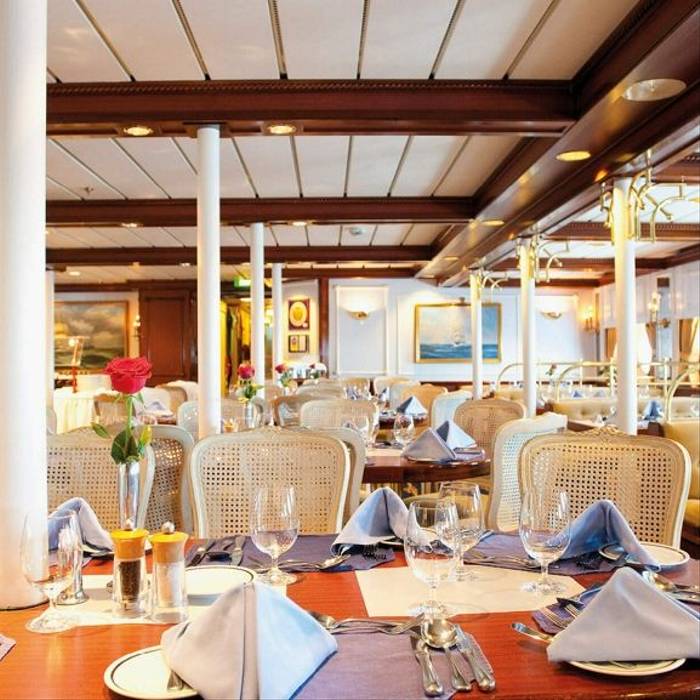 Star Clipper has been ingeniously designed to be spacious while offering passengers a range of places to find either tranquillity or entertainment at sea. Inside, you'll find maritime-themed antique prints adorning the walls, a Piano Bar and even a cosy Edwardian library in which to cocoon yourself. If you're in a convivial mood, let the barman at the indoor-outdoor Tropical Bar shake up a cooling cocktail you can sip while lying supine on a sun lounger up on deck.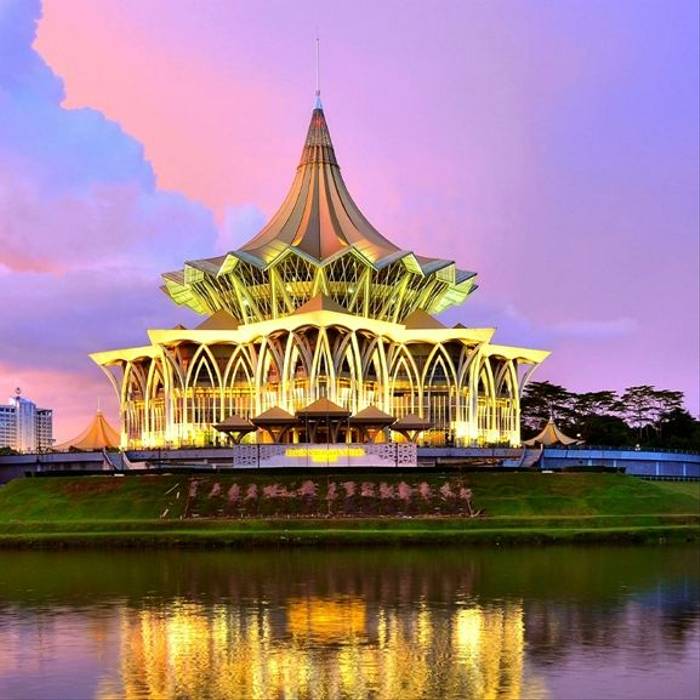 Welcome to your first glimpse of Borneo in dazzling Kuching. Filled with colonial buildings, modern towers as well as classic food stalls and shop houses, this city is an eclectic offering of architecture. Start your discovery in Fort Margherita. Designed to defend against rampaging pirates in the past, it now offers stunning waterfront views. Next, delve further into the city and visit the ornate temples of Old Chinatown.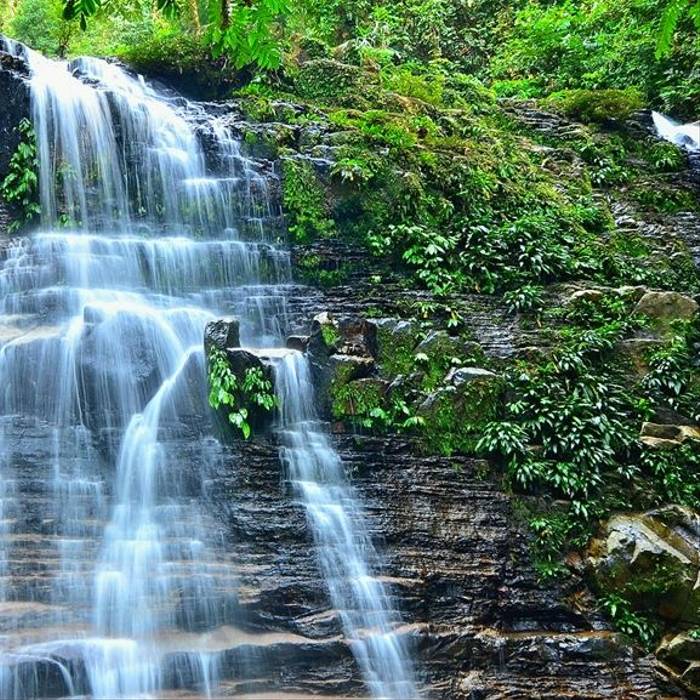 Presenting a stunning backdrop to the city, Kuching's national park also lets you escape into nature with fabulous jungle walks. End your last day in this destination, by walking along the waterfront promenade smelling the divine Malay cuisine that the food vendors are sure to be sizzling away, while fairy lights flicker to life in the evening.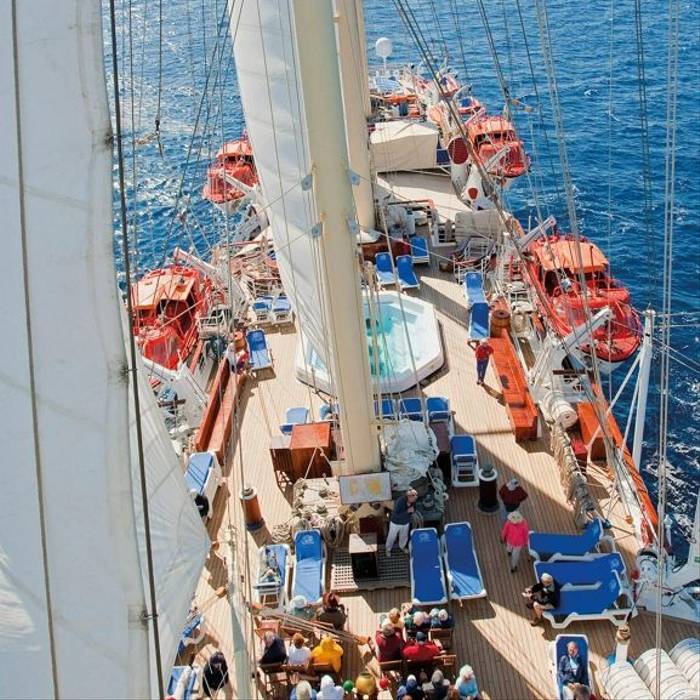 The Star Clipper fleet is known for its easy-going informality so leave your tuxedos and ball-gowns at home. Entertainment comes in the form of local performers brought on board at certain ports, crab-racing competitions and whatever else the friendly captain and crew can improvise. More adventurous passengers are encouraged to help raise the sails, practise their knot-tying or climb up to the Crow's Nest for extraordinary panoramic views.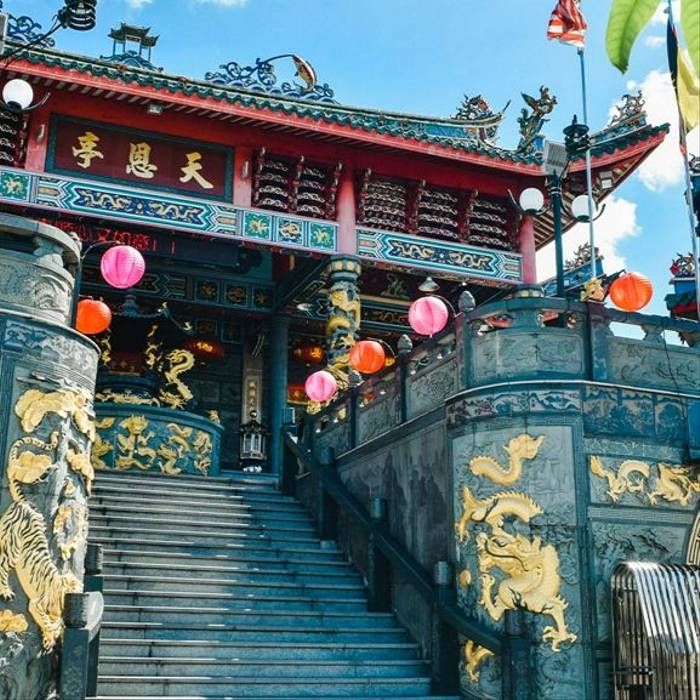 Discover Bintulu, a bustling port town that has grown from its humble beginnings as a small fishing village to an important industrial settlement. Nestled within Similajau National Park's lush embrace, you could venture out on a jungle trek and find towering mangroves looming above you or simply dine in one of its charming local bars and restaurants.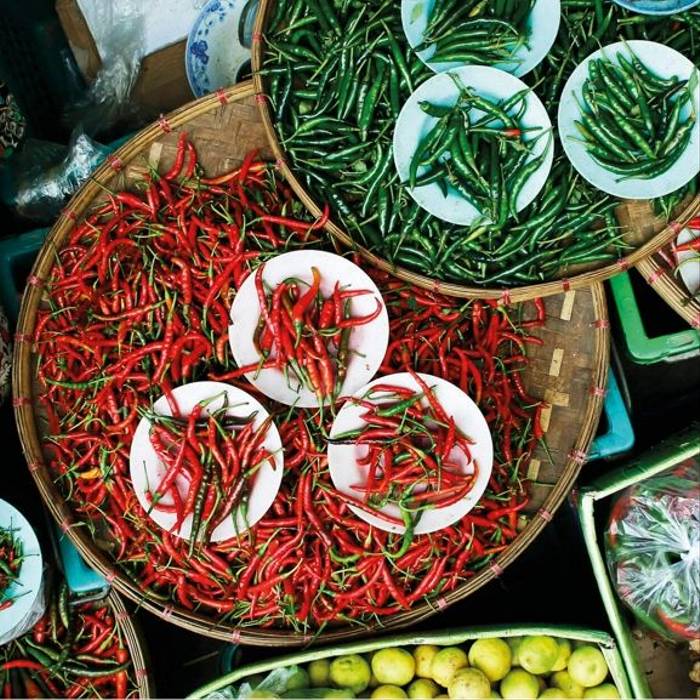 Settled on the northwest coast of Borneo, Miri's popularity arose from the region's oil boom which you could see in the Grand Old Lady, an oil well built in 1910. Tasty treats however are the real stars of the show in the local markets, where after sampling fresh seafood tossed in Chinese and Malaysian spices, you could hunt for some traditional handicrafts.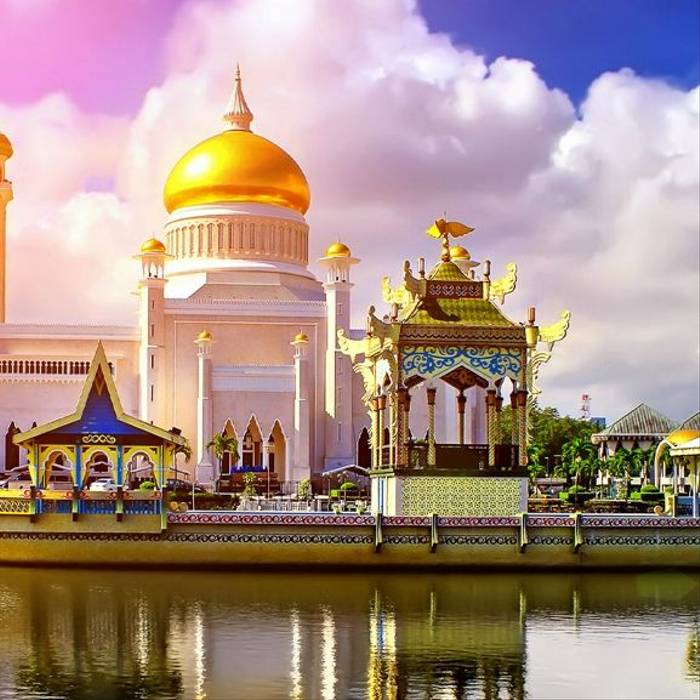 Bandar Seri Begawan (Brunei)
Today you'll discover Bandar Seri Begawan, the capital of Brunei. Start your discovery in the largest water village in the world, a cluster of buildings that are perched above the water in the heart of the city. For a taste of the wealthier side of this country, you could venture to its mosque which boasts delicate chandeliers, stained glass and Italian marble.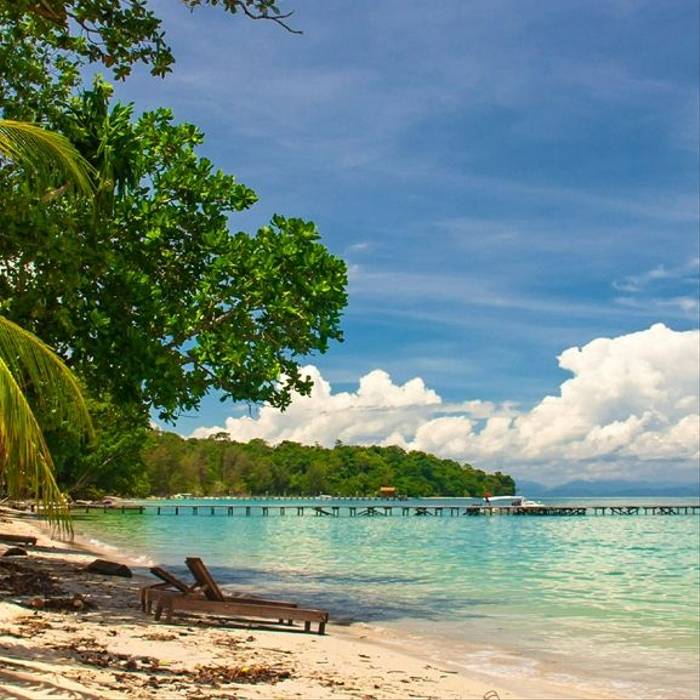 Whether you want a therapeutic volcanic mud bath or dive into the warm sea and find hidden marine life, Pulau Tiga is the place where rest and relaxation is the name of the game. After a soothing spa treatment, you could then catch some rays on the white pristine sands, letting the waves lap at your toes.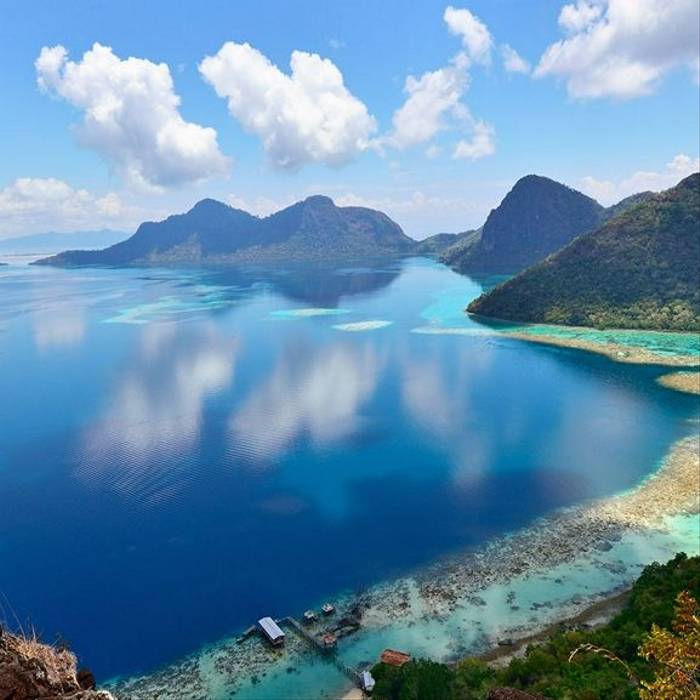 Kota Kinabalu
- Disembark Star Clipper and Sandakan Hotel Stay
Today you'll say goodbye to your elegant surroundings as you disembark Star Clipper and transfer to your hotel in Sandakan, the main town of Sabah province in Malaysian Borneo. Discover rickety wooden houses perched on stilts and tiny, family-run seafood restaurants at the Buli Sim Sim Water Village, as well as the Sam Sing Kung Temple, one of the oldest buildings in Sandakan.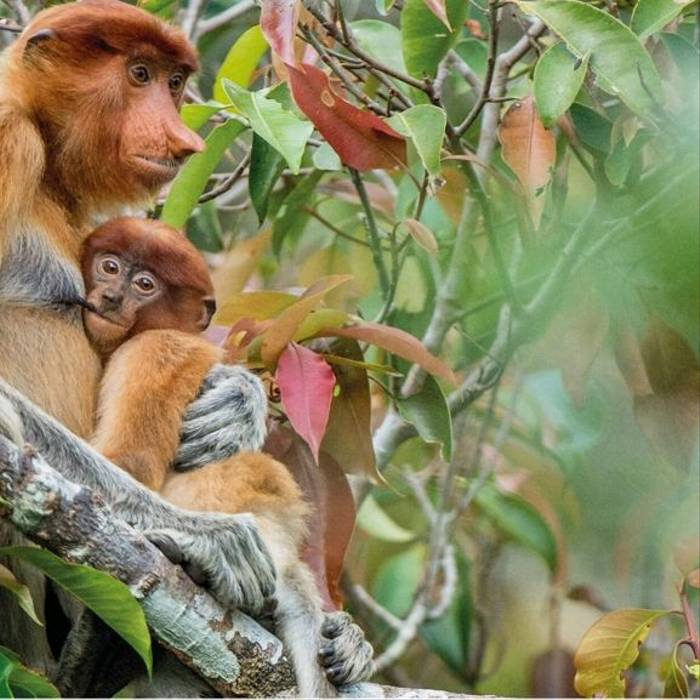 Sandakan
- Hotel Stay and Tour
Today you'll take a half-day tour to the Labuk Bay Proboscis Monkey Sanctuary. These bulbous-nosed creatures are fascinating to watch and you'll get to feed them and watch them at play in their natural environment – a mangrove forest. After lunch at a local restaurant you'll head back to your hotel. A guided night walk, where you can soak up the atmosphere of the nocturnal jungle, is optional but recommended.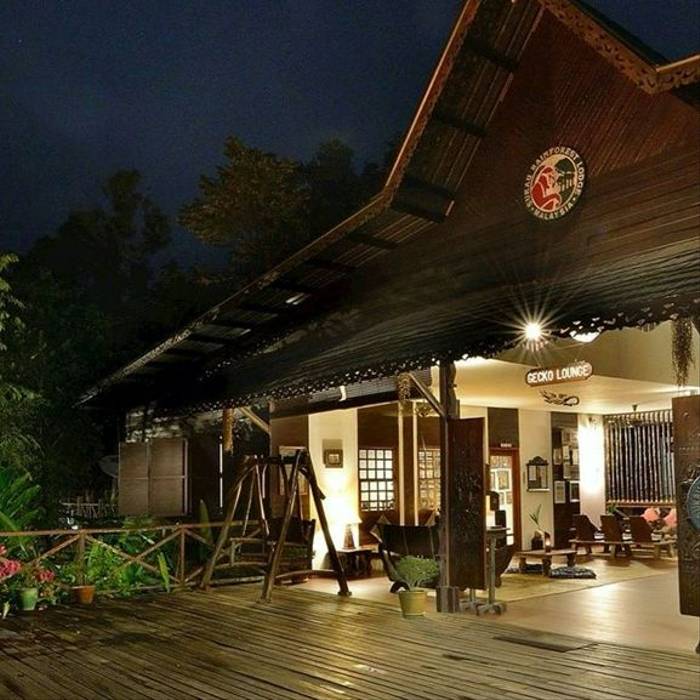 Sukau
- Rainforest Lodge Stay and Tour
Next you'll head to the orangutan conservation centre where you can learn more about these apes before meeting their babies in the newly-constructed nursery. Next you'll visit a sun bear conservation centre and discover the smallest bear in the world. To round off this day, you'll journey to the Sukau Rainforest Lodge for a candlelit dinner overlooking the riverbank while a naturalist guide explains more about the wildlife within the rainforest.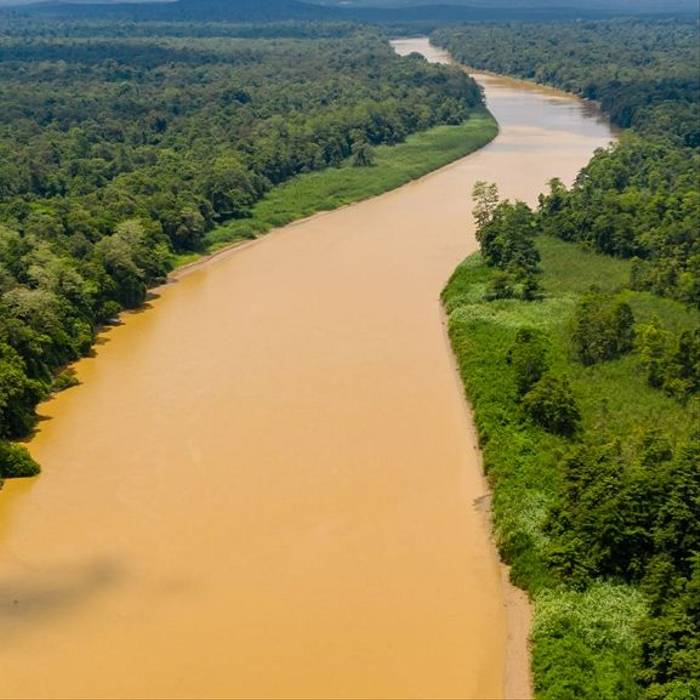 Sukau
- Rainforest Lodge Stay and River Cruises
Watch as the sunrise scatters light over the Kinabatangan River, Sabah's longest river, while on board a cruise. This experience lets you get closer to nature without having to do any of the work! Keep an eye out for pygmy elephants performing their morning ablutions or proboscis monkeys hanging from the branches. Following an informative lecture by a naturalist, you'll embark on an another cruise in the afternoon for another chance at seeing Borneo's magnificent wildlife.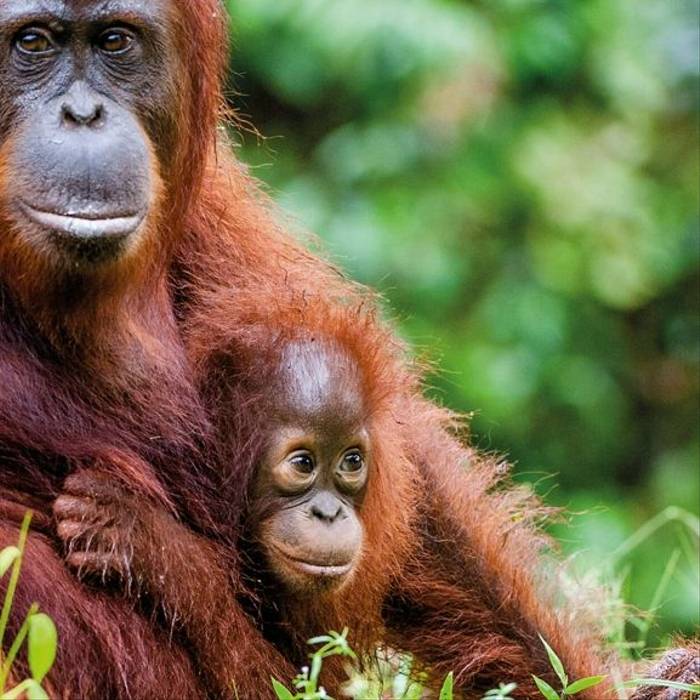 Sukau
- Rainforest Lodge Stay and Tour
Today you'll visit the mighty Gomantong Cave, a subterranean feature with ceilings that reach a height of over 290 feet. You'll walk through the jungle for fifteen minutes where you could see orangutans swinging in the trees along with their cute neighbours, the red leaf monkey. As you approach this cave, witness the mass exodus of millions of bats flying out into the night and, if you're lucky, Borneo raptors.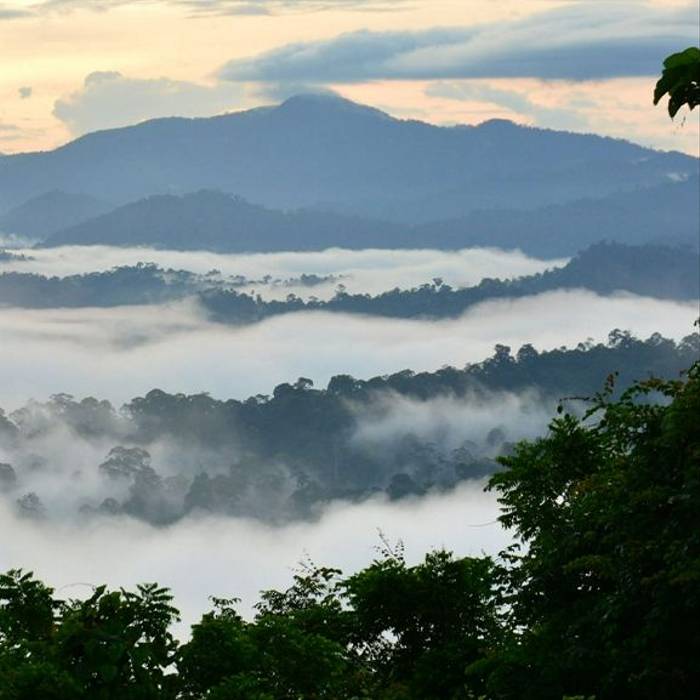 Danum Valley
- Rainforest Lodge Stay and Tour
After transferring to your lodge, you'll embark on an afternoon trek through the Danum Valley. Here you'll head up into the canopy of the rainforest on a walkway 85 feet in the air for a different perspective. After dinner, you'll return to the rainforest on a night safari to look for some of the less-shy nocturnal wildlife such as slow lorises, flying red squirrels and even samba deer.
Danum Valley
- Rainforest Lodge Stay and Tour
For the final day of your Borneo tour, you'll trek up to the Kadazandusan burial site – also known as "Coffin Cliff" – past rock faces streaked with waterfalls and virgin jungle enveloping you in its lush grasp. After another afternoon jungle trek and a delicious local dinner at the lodge, you'll embark on a night walk for a final chance to catch sight of glowing eyes peering out at you from the gloom.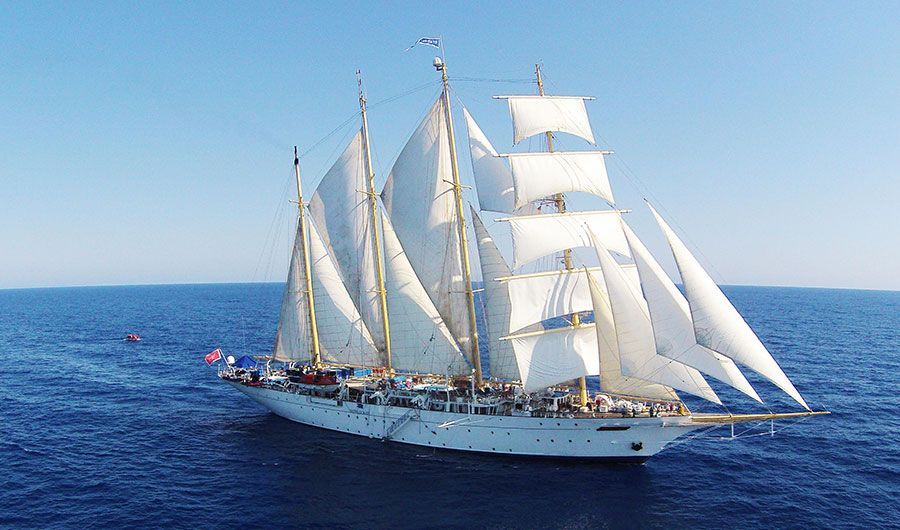 Sail away like sailors of old on board Star Clipper, a four-masted cruise ship, for the cruise holiday of a lifetime. Offering luxury, intimate ships, Star Clippers gives you the chance to listen to sails snapping in the breeze while you're whisked from one destination to the next on a completely unique holiday. Beneath the deck you can walk by gleaming wood and polished brass and savour the maritime spirit this ship embodies. Offering the highest space-per-passenger than most conventional cruise ships, Star Clipper gives you room to roam as well as dine in a most luxurious style in its exquisite restaurant.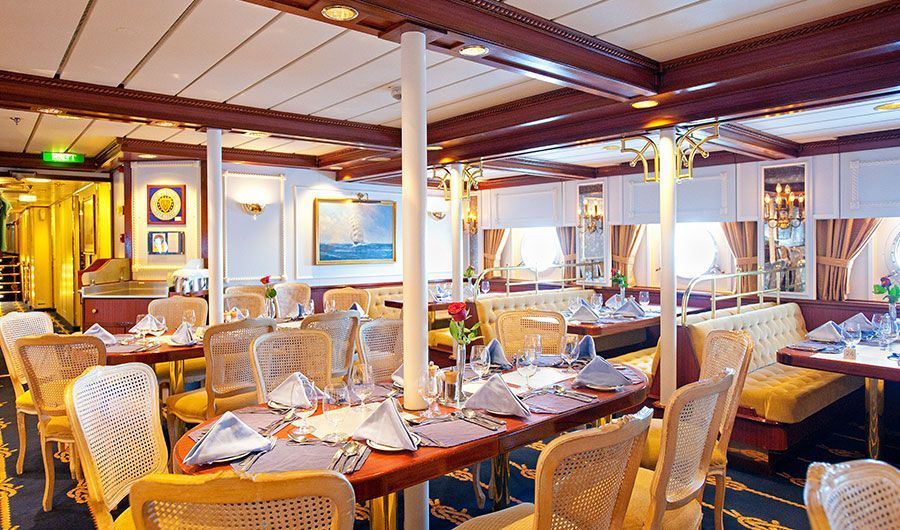 Piano Bar
Listen to the soft tinkling of keys as you bond with your fellow passengers over a glass of your favourite wine in the Piano Bar
The Crow's Nest
Head up to the classic Crow's Nest and find the line where the sky meets the sea
Swimming pools
Laze the day away in one of the two pools aboard Star Clipper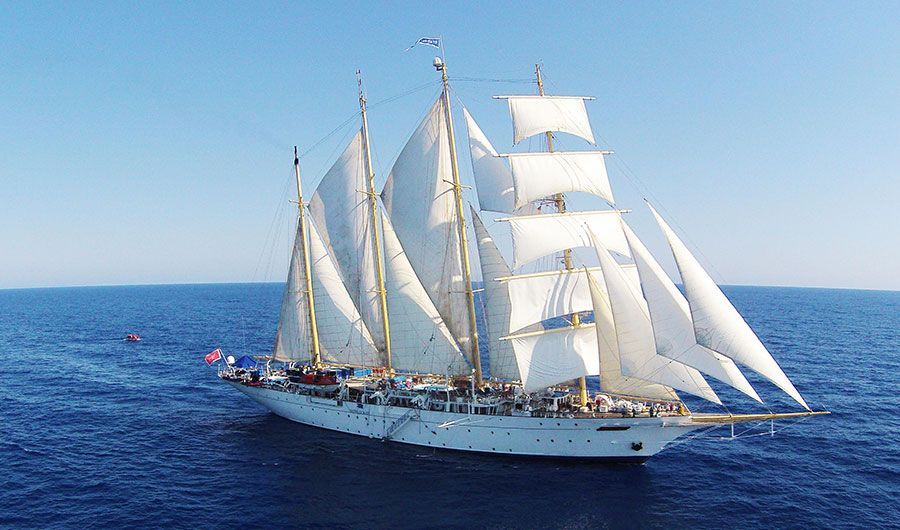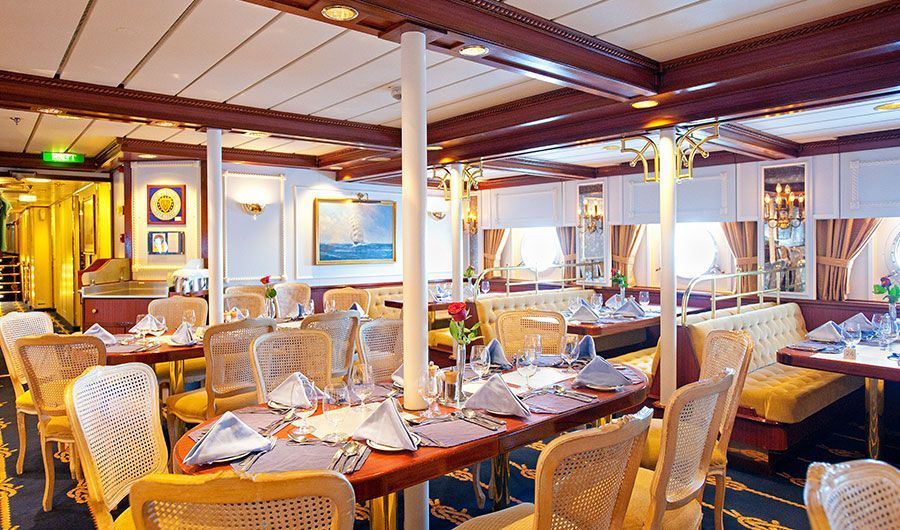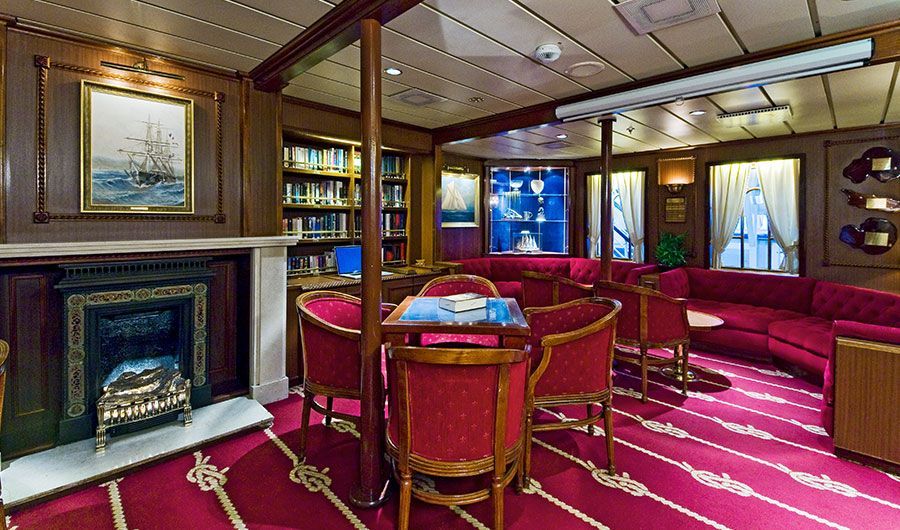 CALL TO BOOK:
0800 840 5800
CRUISE CODE:
ASA7467