The Canary Islands
12 nights round-trip cruise from Southampton (UK)
12 nights | 01 Dec 2021
The Canary Islands
12 nights | 01 Dec 2021
Flight from
Other regional airports may be available*
Madeira lies within an Atlantic archipelago to the west of Morocco. The Gulf Stream gives the island its warm year-round weather and flowers that bloom in riotous colour along its mountainous terrain. Madeira offers mountain walks with breathtaking views, trails on horseback, bird watching, big game fishing, boat trips, surfing, canyoning, scuba diving and whale and dolphin watching. Visit Monte Palace Tropical Garden, or Santa Clara Monastery, or just relax and enjoy the islands fabulous nature.
Nicknamed "the pretty island", La Palma offers some spectacular hiking. Volcanic landscapes reach above the clouds, dropping down into lush green valleys. Walk or cycle your way round these fantastic backdrops. On your way, you're sure to pass small towns and villages and their terraced crops of bananas.
Gran Canaria is the third-largest island in the Canaries. It lives up to its cliché as a continent in miniature, with a dramatic variation of terrain, ranging from the green and leafy north to the mountainous interior and desert south. Gran Canaria can keep the adrenalin pumping, with scope for hiking, horse trekking and water sports. Culture vultures can be similarly satiated by the museums, churches and historic towns.
To make the best of your Lanzarote cruise and if you can tear yourself away from your sunbed you should explore the island's spectacular moon-like volcanic landscape, best seen from the Fire Mountain in the Timanfaya National Park. Head north instead of southwest and you will discover wonderfully verdant Haria – 'the valley of a thousand palms' and can enjoy panoramic views from Mirador del Rio.
Lisbon is a stately city of Neoclassical buildings and wide plazas. Eternally linked to the sea, Lisbon's magnificent harbour is spanned by the longest suspension bridge in Europe. Other landmarks include the World Heritage Sites of Belém Tower and Jerónimos Monastery, both built in Lisbon's native Manueline architectural style.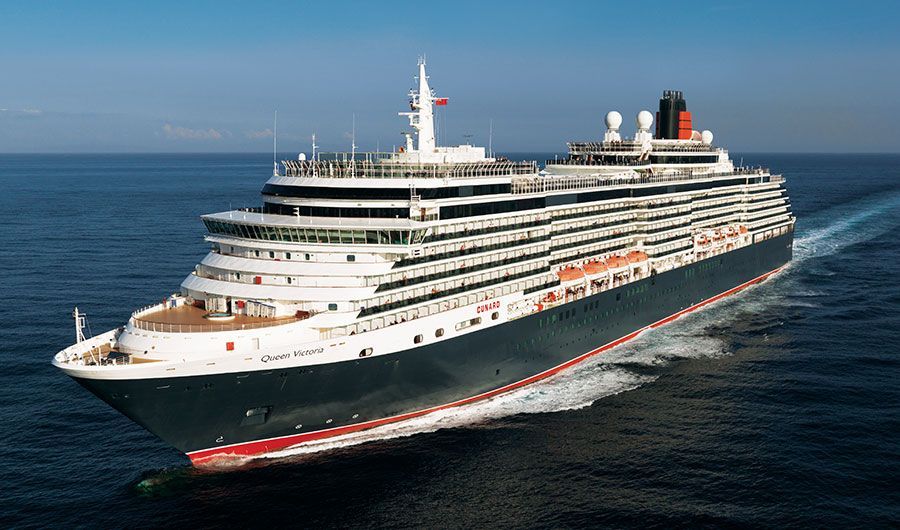 There's something distinctly refined and regal about a Cunard cruise and the beautiful Queen Victoria certainly upholds the fine traditions of this luxury line. Even before you board this beautiful ship you'll note the trademark black and red livery which, together with her sleek modern design, immediately sets the theme of proud cruising heritage married with innovative features for today's cruise guests. From her plush, elegantly decorated public rooms to her gourmet dining and luxurious, spacious cabins, Queen Victoria exudes class. The range of options for high-quality entertainment and enrichment, as well as serene relaxation make for the cruise holiday of a lifetime.