Amsterdam Short Break
7 nights round-trip cruise from Southampton (UK)
7 nights | 01 Jan 1970
Amsterdam Short Break
7 nights | 01 Jan 1970
Flight from
Other regional airports may be available*
St Peter Port is set on the island of Guernsey surrounded by beautiful sprawling countryside. This charming village is home to a number of historical buildings and attractions. Visit the Fort Grey, Martello tower with views across the stunning bay, the ship wrecked museum, castle Carey or Castle Cornet. Walks through the countryside lead you to sheltered bays and cliff tops overlooking the scenic island.
Called the Venice of the North because of the picturesque criss-crossing canals on which you can enjoy fascinating and romantic boat rides, Bruges actually has a character all its own. Bruges is rightly famous for its exquisite lacework, tasty chocolate and huge range of local beers while, from Zeebrugge, you can also visit another historic city, Ghent, the capital Brussels, and historic battlefield sites such as Waterloo and Ypres.
Cherbourg is a town in lower Normandy, France with a charming pedestrian old town filled with a maze of narrow alleys, shops and restaurants. While here, you can visit the La Cité de la Mer maritime museum, visit the nearby Château des Ravalet and see the ornate Basilique de la Trinité.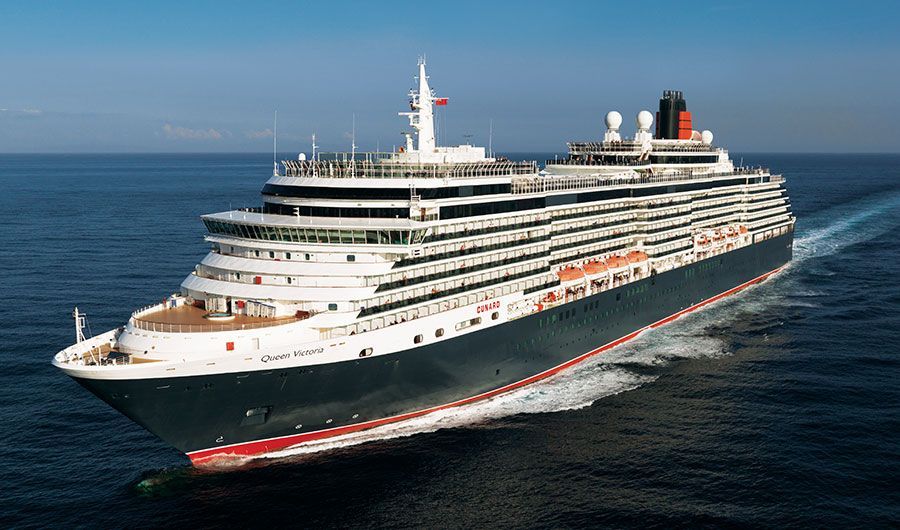 There's something distinctly refined and regal about a Cunard cruise and the beautiful Queen Victoria certainly upholds the fine traditions of this luxury line. Even before you board this beautiful ship you'll note the trademark black and red livery which, together with her sleek modern design, immediately sets the theme of proud cruising heritage married with innovative features for today's cruise guests. From her plush, elegantly decorated public rooms to her gourmet dining and luxurious, spacious cabins, Queen Victoria exudes class. The range of options for high-quality entertainment and enrichment, as well as serene relaxation make for the cruise holiday of a lifetime.