Mediterranean Highlights
14 nights round-trip cruise from Southampton (UK)
14 nights | 06 Jun 2021
Mediterranean Highlights
14 nights | 06 Jun 2021
Flight from
Other regional airports may be available*
Oporto is a charming historic city surrounded by narrow winding cobbled streets. Visit the historic area of Ribera, classified as a World Heritage Site for an insight into the local history by walking through 'a living museum' featuring architectural contrasts, traditional cafes, beautiful buildings, bars and restaurants.
Rubbing shoulders with movie stars is the image you get whilst in Cannes but this gracious city, with the palm-lined Boulevard de la Croisette's divine beaches, is more than that - it is also the gateway to Monaco and Monte Carlo. Also take time to venture into the old quarter of Le Suqet and head up the winding cobbled lane lined with charming local restaurants and the gorgeous medieval church.
Rome is often described as being the world's biggest open air museum - The Vatican's Sistine Chapel, St Peter's Basilica, the Colosseum, and the Trevi Fountain where a tossed coin promises your return to the Eternal City. Take a walking tour of its many historical landmarks and enjoy the food, the culture, the ambience, and the surrounding scenery. There is no doubt you'll learn the meaning of la dolce vita (the sweet life) when you visit Rome.
Colonized six centuries ago, Alghero is characterized by its mighty fortifications rising above an emerald sea. Visit the town and explore the medieval towers and beautiful churches or the spectactular coastal sea caves of Grotta di Nettuno located at Capo Caccia Bosa.
A gateway to so many Andalucian attractions and Costa del Sol resorts, Spanish port of Malaga stands out in its own right as a vibrant destination with its own unique character. Rising high above the city with spectacular views, are the ruins of the 14th century Moorish castle, and Malaga-born Picasso is recognised with a history of the artist's life at the city's fascinating Picasso Foundation.
They say the Rock of Gibraltar crouches over the sea Sphinx-like facing Africa. Many countries have fought for control of this passage between the Atlantic and the Mediterranean, resulting in a vibrant cultural melting pot. Narrow steep lanes are busy with English tourists, veiled Moroccan women in caftans, and Spanish residents. Stroll below the white cliffs among a profusion of palm, pine, and cypress. Go below to Gibraltar's caves, or up above to see the Rock's Barbary apes.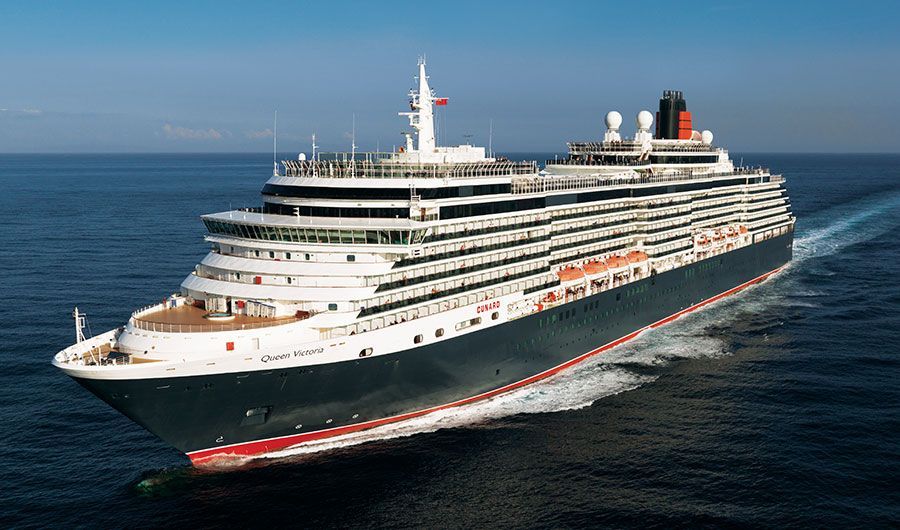 There's something distinctly refined and regal about a Cunard cruise and the beautiful Queen Victoria certainly upholds the fine traditions of this luxury line. Even before you board this beautiful ship you'll note the trademark black and red livery which, together with her sleek modern design, immediately sets the theme of proud cruising heritage married with innovative features for today's cruise guests. From her plush, elegantly decorated public rooms to her gourmet dining and luxurious, spacious cabins, Queen Victoria exudes class. The range of options for high-quality entertainment and enrichment, as well as serene relaxation make for the cruise holiday of a lifetime.