Barcelona and Monte Carlo
14 nights round-trip cruise from Southampton (UK)
14 nights | 17 Sep 2021
Barcelona and Monte Carlo
14 nights | 17 Sep 2021
Flight from
Other regional airports may be available*
In Cadiz you enter another world of different cultures brought together. La Giralda the beautiful Gothic cathedral, is in Sevilles historic Jewish quarter Santa Cruz which also has the whitewashed houses and exquisitely coloured bougainvillea that everyone associates with this lovely city. Try walking the narrow lanes to find hidden gems along way before stopping for some locally made wine and tapas.
The tiny Principality of Monaco has a fairy-tale palace, millionaire ambiance and movie star good looks. Monte Carlo surrounded by yachts bobbing in La Condamine harbour is the jewel in the crown. Sip a Monaco cocktail of grenadine, lemonade and while you soak up the sheer ambiance of the place. Visit the Prince's Palace, the Oceanographic Museum or the 'must see' when in Monte Carlo the Grand Casino.
Surrounded by coastal villages and rural countryside, La Spezia is a busy, bustling city. It offers good-value restaurants and some renowned museums. The colourful fishing villages of Cinque Terre are easily accessible by train, and you can walk along the coast path that connects them to enjoy a stunning view of the sea.
They say the Rock of Gibraltar crouches over the sea Sphinx-like facing Africa. Many countries have fought for control of this passage between the Atlantic and the Mediterranean, resulting in a vibrant cultural melting pot. Narrow steep lanes are busy with English tourists, veiled Moroccan women in caftans, and Spanish residents. Stroll below the white cliffs among a profusion of palm, pine, and cypress. Go below to Gibraltar's caves, or up above to see the Rock's Barbary apes.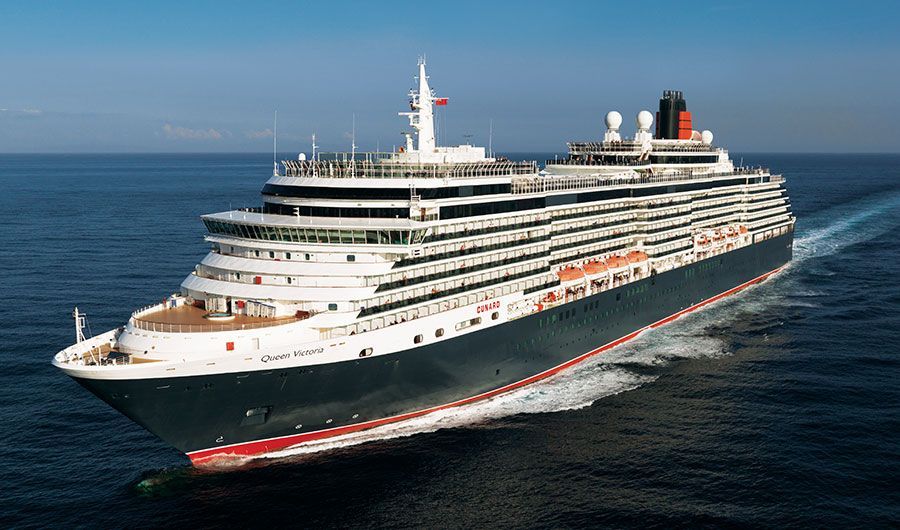 There's something distinctly refined and regal about a Cunard cruise and the beautiful Queen Victoria certainly upholds the fine traditions of this luxury line. Even before you board this beautiful ship you'll note the trademark black and red livery which, together with her sleek modern design, immediately sets the theme of proud cruising heritage married with innovative features for today's cruise guests. From her plush, elegantly decorated public rooms to her gourmet dining and luxurious, spacious cabins, Queen Victoria exudes class. The range of options for high-quality entertainment and enrichment, as well as serene relaxation make for the cruise holiday of a lifetime.