Exotic Eastern Escape: Luxury Rail Journey & Japan Adventure
Includes a Cunard Voyage from Singapore to Tokyo
Exclusive to Imagine Cruising | All-Inclusive Eastern & Oriental Express Rail Journey & Mount Fuji Tour
28 nights | 19 Mar 2021
Exotic Eastern Escape: Luxury Rail Journey & Japan Adventure
Includes a Cunard Voyage from Singapore to Tokyo
Exclusive to Imagine Cruising | All-Inclusive Eastern & Oriental Express Rail Journey & Mount Fuji Tour
28 nights | 19 Mar 2021
Exotic Eastern Escape: Luxury Rail Journey & Japan Adventure
Includes a Cunard Voyage from Singapore to Tokyo
Exclusive to Imagine Cruising | All-Inclusive Eastern & Oriental Express Rail Journey & Mount Fuji Tour
28 nights | 19 Mar 2021
Get The Full Experience...
Take the Eastern & Oriental Express through the beautiful Malay Peninsula and see the famous Bridge on the River Kwai before enjoying highlights of the Orient and Japan's glorious Mount Fuji.
Bangkok, a city of teeming street markets, lively bars, Buddhist temples and a few surprises up its sleeve is where you'll begin this enthralling Oriental adventure. From here you'll take the Eastern & Orient Express train through the beautiful Malay Peninsula, passing paddy fields and rainforests and stopping for a tour of the Bridge on the River Kwai, made famous in the classic WWII film. Reaching thrill-a-minute Singapore, your next destination, you'll have three days to explore this city before you embark Queen Elizabeth and tour some of Vietnam's coastal hotspots including the Parisian-flavoured Ho Chi Minh City. Sailing next to Hong Kong you'll discover one of the world's most iconic harbours, dotted with traditional junk boats and watched over by a wall of glittering skyscrapers. The cultural melting pot of Manila then awaits, before you head to the rugged island gems of Taiwan. Disembarking in the neon-infused capital of Tokyo, you'll take in the wondrous sight of sacred Mount Fuji and sail across nearby Lake Ashi on whose shore you'll find Shinto shrines. Finally you'll be whisked back to Tokyo on the bullet train.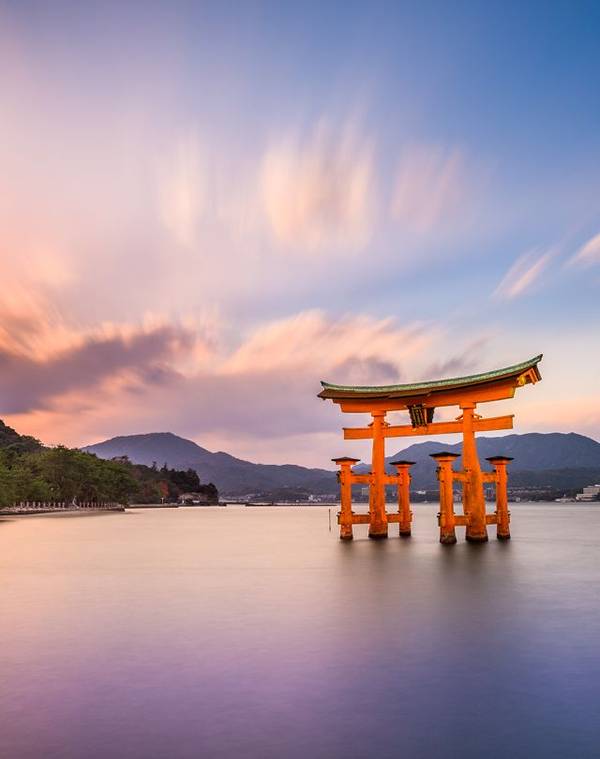 Package Includes
1 night five-star hotel stay in Bangkok at the Tower Club at Lebua
3 night all-inclusive luxury Eastern & Oriental Express rail journey from Bangkok to Singapore including:
All meals, house wine, house spirits, beer and soft drinks
Off train excursions with a guided cruise along the River Kwai
3 night five-star hotel stay at the Royal Plaza on Scotts Singapore
19 night full-board cruise on board Queen Elizabeth
2 night hotel stay at the Grand Nikko Tokyo Daiba
Fully escorted tour of Mount Fuji including the Hakone Ropeway Cable Car
Fully escorted boat trip across Lake Ashi
High-speed Bullet Train to Tokyo
All transfers
All flights (London departure - regional flights available)
ATOL protected
Flight from
Other regional airports may be available*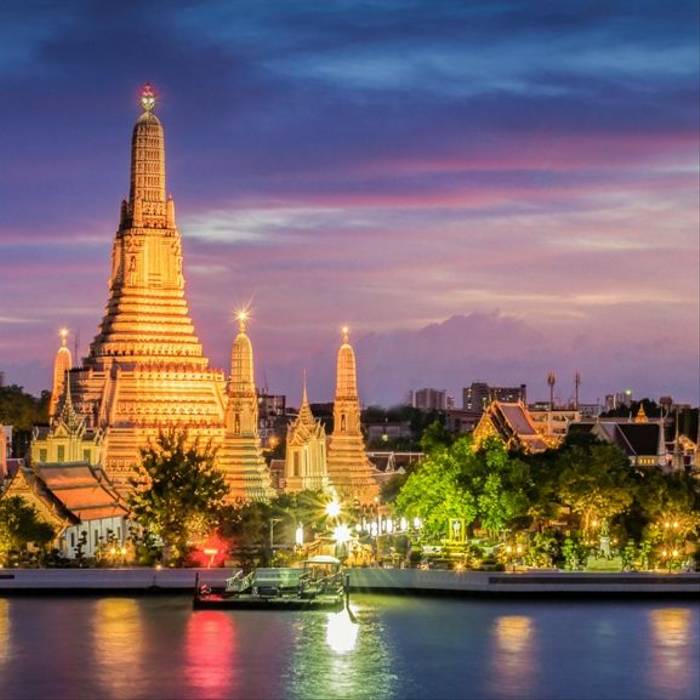 Bangkok, Thailand's balmy capital, is where you'll find a typical Far East fusion of the modern and the traditional. Riverside Buddhist temples stand opposite gleaming high-rises and lively bars spill onto the streets. See the gold-festooned Grand Palace with its Buddha statue carved out of jade, take a dinner cruise on the Chao Phraya River at sunset or mingle with the backpackers and locals among the stalls of Khao San Road.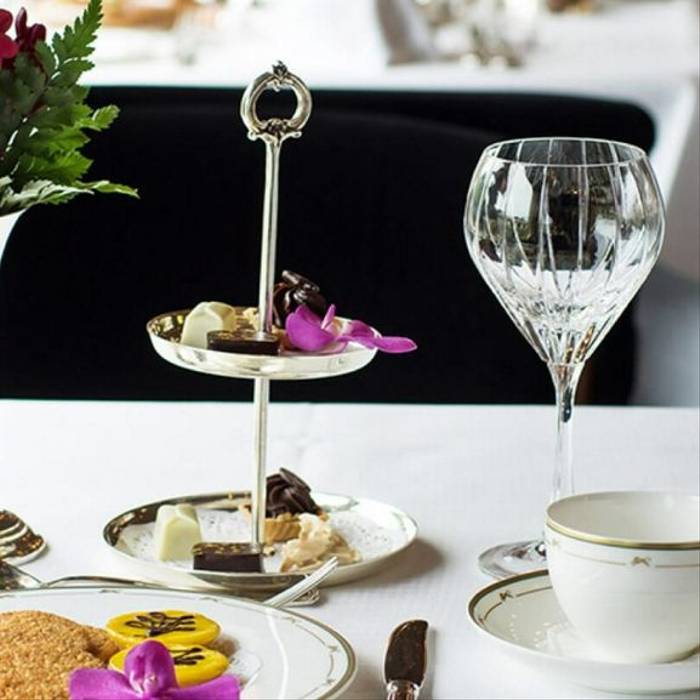 Bangkok
- Embark Eastern & Oriental Express
Today you'll board the elegant green and gold carriages of the Eastern & Oriental Express for an unforgettable journey through the heart of the Malay Peninsula. Savour its sublime comfort and admire its elegant décor of cherrywood panelling, Thai silks and Malaysian embroidery. You'll wake up to a continental breakfast served in your cabin, while there are sumptuous meals for lunch and dinner too.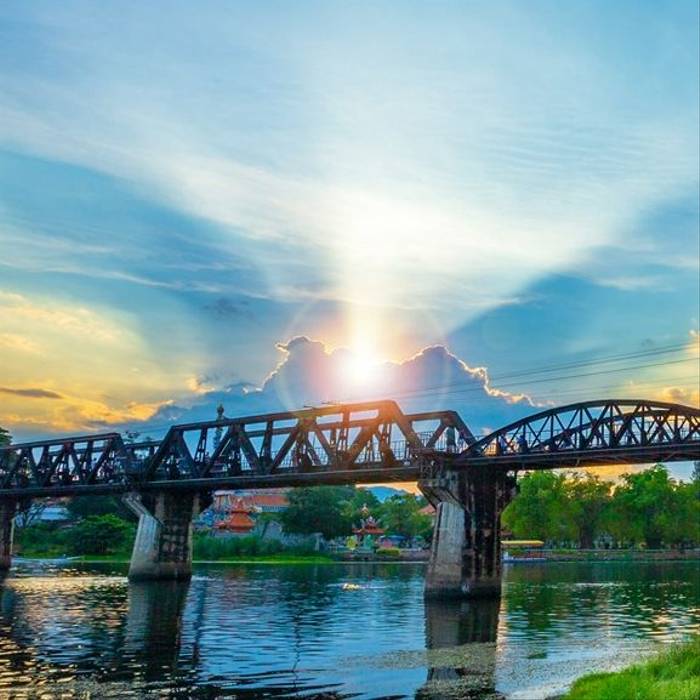 Immortalised in the film The Bridge on the River Kwai, the railway bridge over the Khwae Yai River was forcibly built during WWII by Allied prisoners of war, with many dying during the process. Today you'll visit the site of the bridge at Kanchanaburi in Thailand, get a guided tour along the river and check out the war museum which details the harsh conditions in which the prisoners lived, as well as the Thai-Burma Railway Museum.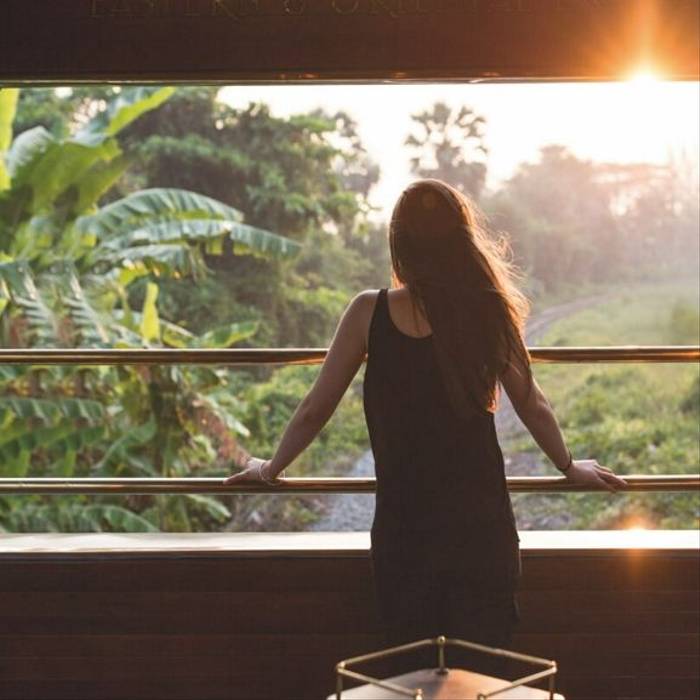 You'll call at Kuala Kangsar, a royal town in the Malaysian state of Perak, which is home to the Ubudiah Mosque. An enchanting building topped with a gold onion dome surrounded by a cluster of minarets, it might even be the most beautiful mosque in Malaysia. You'll also travel by bus to nearby Labu Kabong where you'll discover rural life and be given a friendly welcome ceremony by villagers.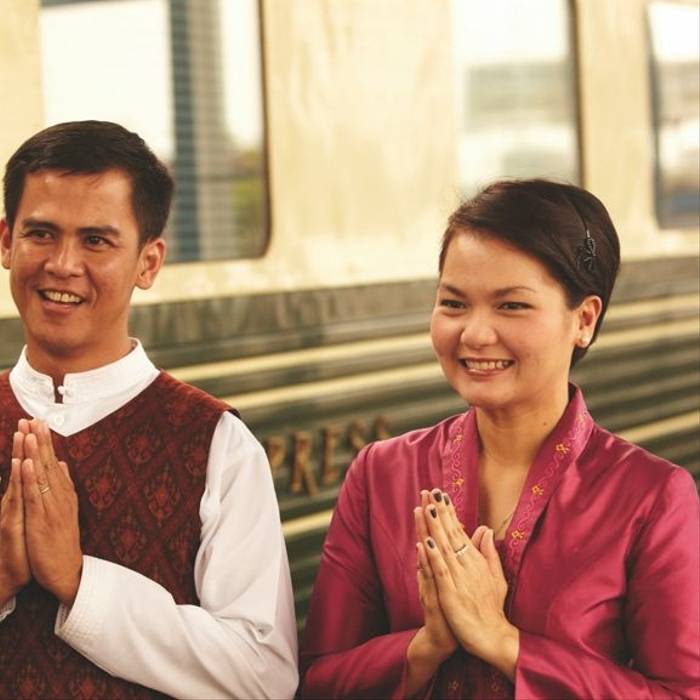 Singapore
- Disembark Eastern & Oriental Express and Hotel Stay
Say goodbye to the plush confines of your train carriage and hello to Fast-paced Singapore, a city with one foot firmly in the future. From the otherworldly structures of Gardens by the Bay to hawker centres selling the Orient's tastiest dishes, it's a dazzling fusion of cultures that you'll find irresistible. Today you could visit Chinatown Food Street for some perfectly cooked roasted duck with noodles or the best chicken satay skewers in town.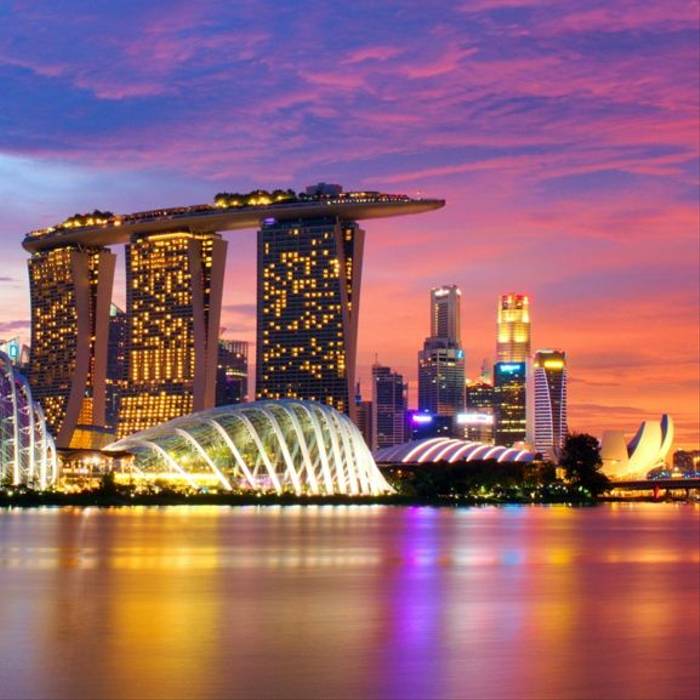 A slice of Las Vegas in the Orient, the Marina Bay Sands complex in Singapore is undoubtedly one of its biggest draws and somewhere to spend an eventful day. It's a vast entertainment emporium that's home to malls, museums, theatres and a huge casino. Lying like a vast slab across the pillars of its three main towers, the SkyPark is a stunning archaeological feat. It even has an infinity pool where you can take a swim and relax on a sun-lounger while admiring breathtaking views of the city.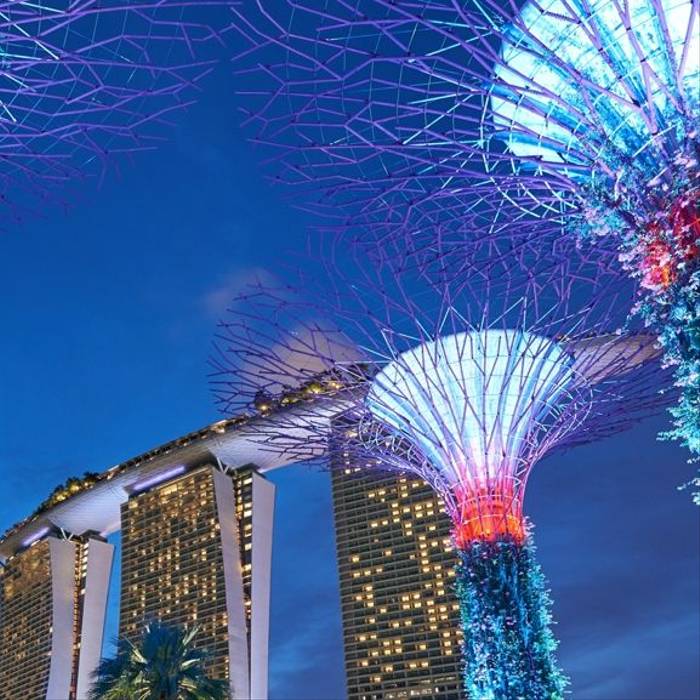 Today you could explore Gardens By The Bay, one of Singapore's most popular tourist attractions since opening in 2012 and part of the city's plans to increase the amount of greenery in the city. The star of the show is the Supertree Grove, an area featuring tree-like structures that become an enchanting light show at night. An elevated walkway allows you to meander through the tropical foliage and admire the horticultural oddities.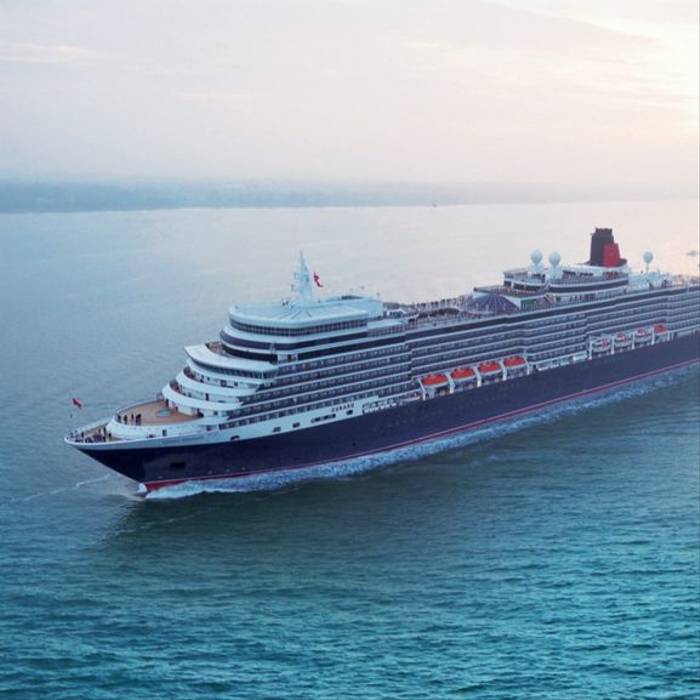 Singapore
- Embark Queen Elizabeth
Today you'll embark Queen Elizabeth, the newest cruise liner in the prestigious Cunard fleet. Decked out in an art deco style throughout, it evokes a 1930s elegance, with a croquet lawn on the games deck and gleaming chandeliers fit for a state ballroom. For a real sense of occasion, indulge in a traditional afternoon tea served by impeccably dressed white-gloved waiters.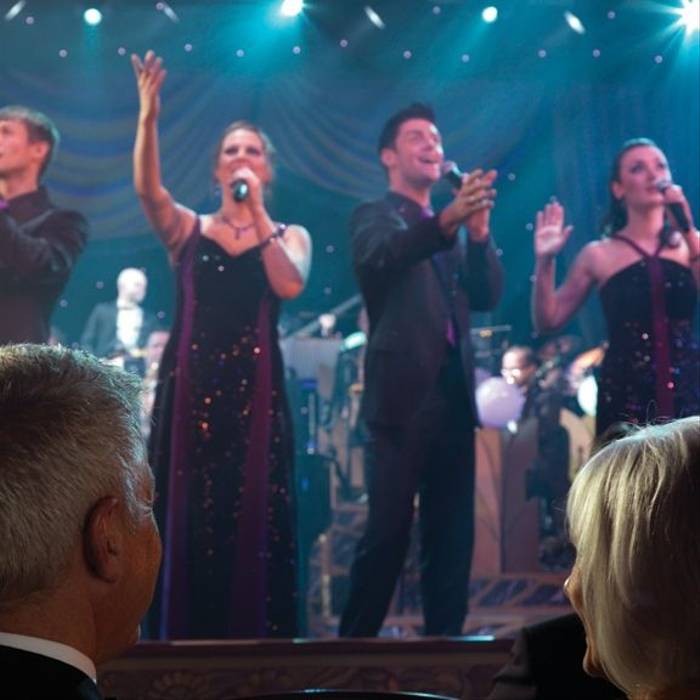 The entertainment options on board Queen Elizabeth are perfectly attuned to the ambience of the ship. Get into the swing of a vibrant West End show performed by one of the most talented casts at sea at the Royal Court Theatre.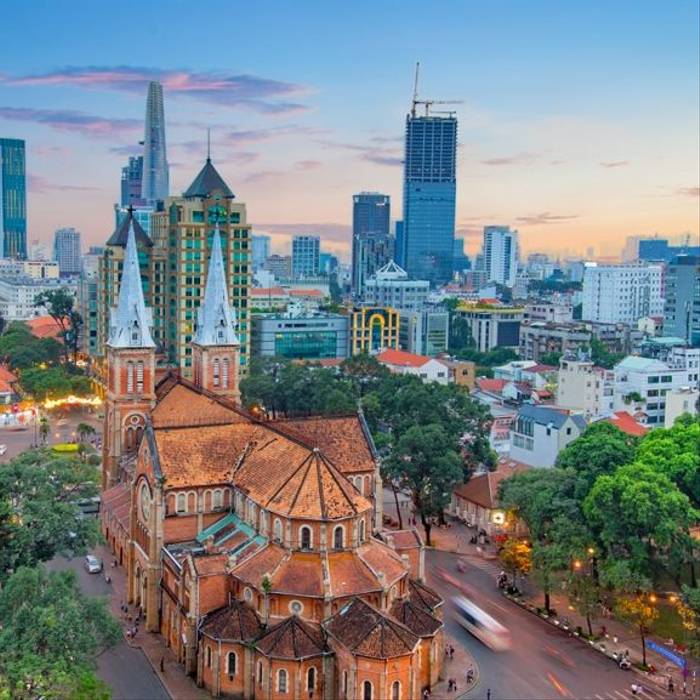 Formerly known as Saigon, Ho Chi Minh City is the most populous in Vietnam and, like the country's capital, Hanoi, has a Parisian flavour due to years of French colonialism. From traditional Oriental pagodas to red-brick 19th century cathedrals, its streets offer up an appealing mix of architectural styles. Watch a traditional water puppet show or take a tour of the Cu Chi tunnels, inhabited by many of the city's residents during the Vietnam War.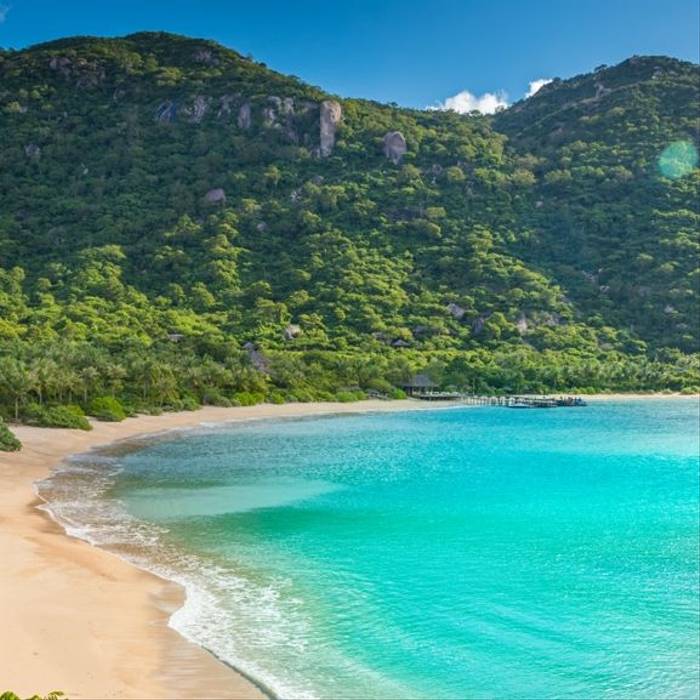 Today you'll visit the popular tourist destination of Nha Trang in the South Central Coast region of Vietnam. Nha Trang Bay is widely considered to be one of the most beautiful bays in the world while the biggest draw is the Long Son Pagoda, a Buddhist Temple loomed over by a giant Buddha statue made from pristine white concrete. The area is also known for its beaches and scuba diving and is a popular destination for backpackers.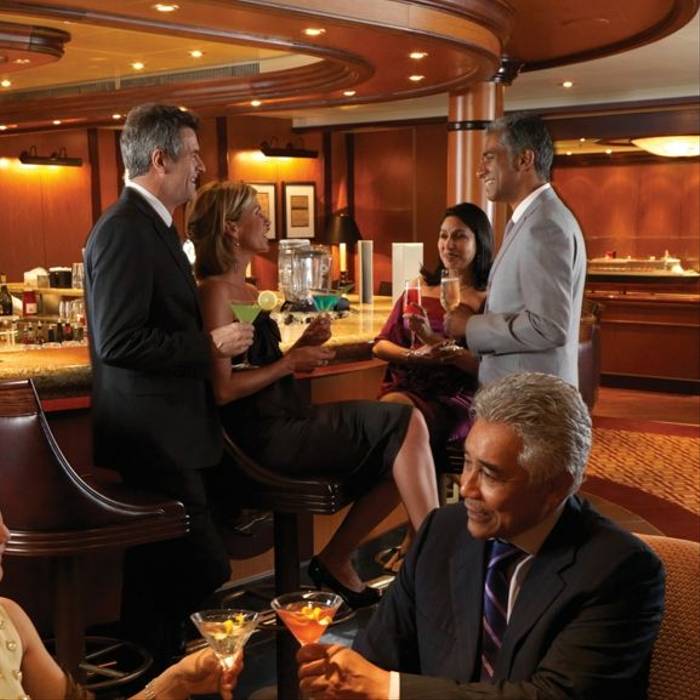 You'll never tire of the menu options at the ship's myriad dining options. From international dishes at the intimate Britannia Restaurant, the main dining room, to classic British fare at the Red Lion pub, as well as pizza and pasta at the Lido buffet, you'll be consistently well-fed. For a few post dinner drinks you could head to Gin & Fizz for a glass of chilled Prosecco, or sip a cognac at Churchill's cigar lounge.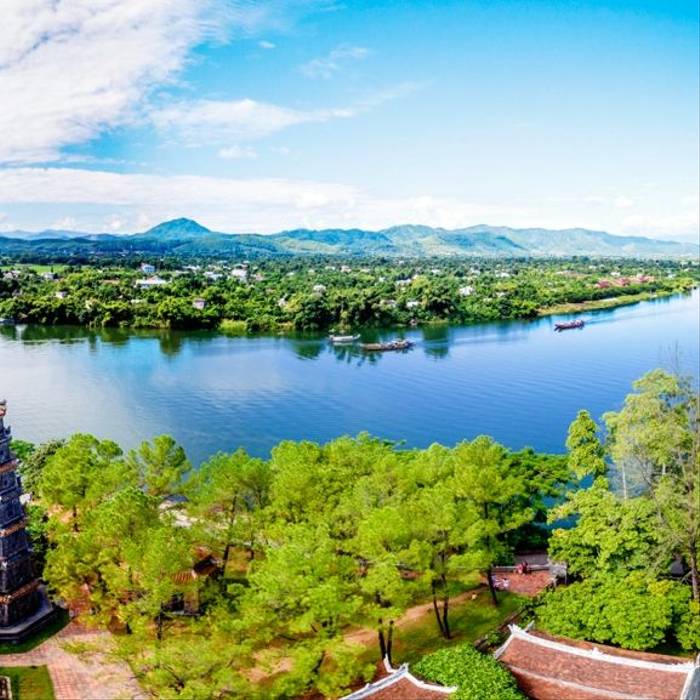 From the port of Chan May you'll be able to explore the cities of Hue or Da Nang. Hue is home to the Imperial City, a 19th century citadel that was once the capital of Vietnam. It's surrounded by a moat filled with water directed from the nearby Perfume River, so-called because during autumn its surface is coated with flowers that fall into it from orchards upstream. Da Nang is the fifth largest city in the country. Explore its natural beauty by taking a cable car into the Ba Na Mountains.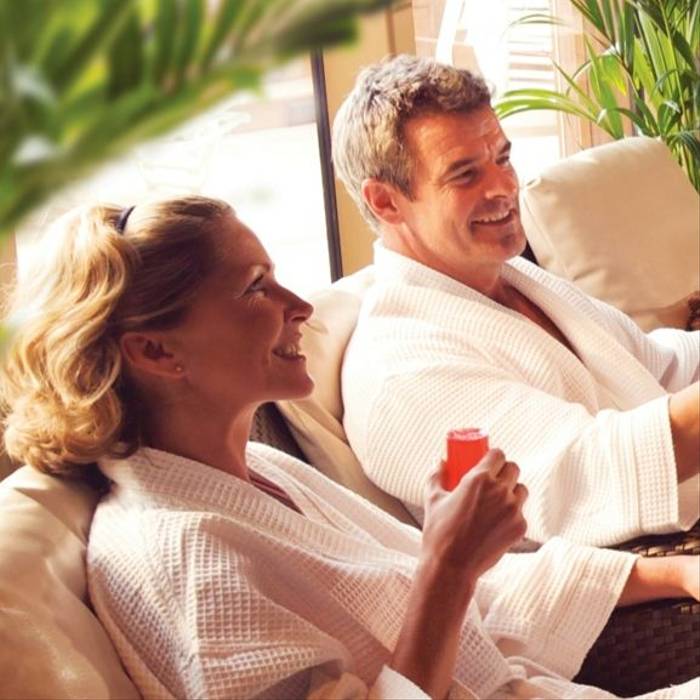 Each day on the ocean you'll find a new part of the ship to explore or an activity to try out. Whether you're brimming with energy or in the mood for some laid-back tranquillity, you'll be catered for on the Queen Elizabeth. Take a blissful break in the spa, put some finesse in your golf-putting technique or sink into a comfy chair at one of the lounges where you'll be able to watch major sporting events, from live Premier League football to Formula One.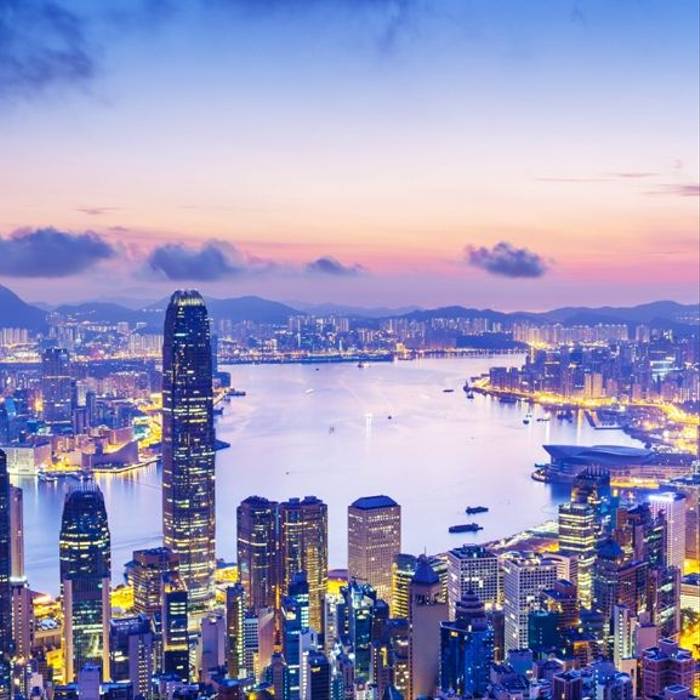 Famed for its densely packed skyline wedged between forested hills and an iconic harbour dotted with junk boats, Hong Kong is one of the Far East's most celebrated cities. Here you'll find colonial architecture sitting alongside geometrical designs like the Bank of China Tower. Take a vertigo-inducing tram ride up to The Peak, Hong Kong's highest point, and get a stunning panoramic view of Victoria Harbour.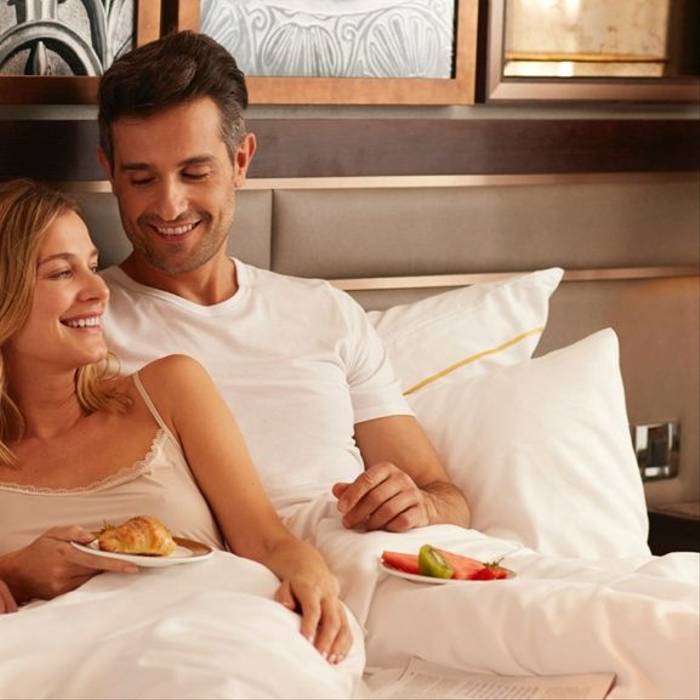 Dine, relax and rest in timeless style and luxury. Every suite and stateroom is your own personal oasis where you can enjoy 24 hours complimentary room service dining. Unwind in your own comfortable space and dream of what's to come.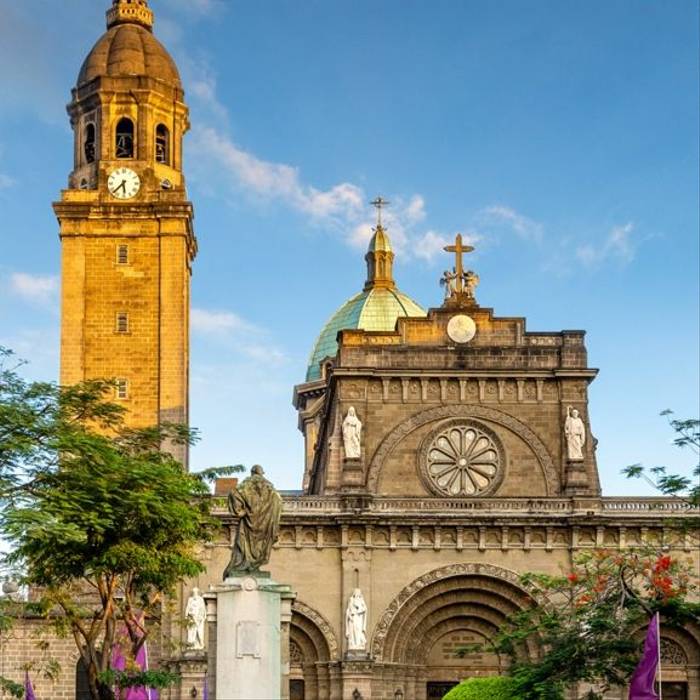 The capital of the Philippines is a vibrant blend of Oriental, American and Spanish influences. Explore lively streets that are lined with coconut palms and enlivened by the constant presence of colourful Jeepney buses, a national icon and the easiest – and cheapest – way to get around this city. Intramuros, a walled city from the Spanish colonial era, is a good way to while away an hour or two or you could wander around Makati, the main shopping district and home to the Ayala Museum.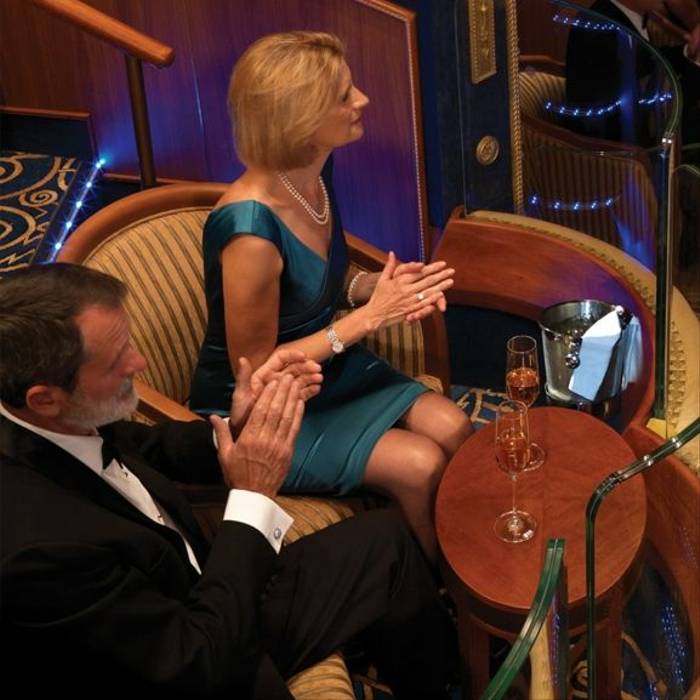 You'll find some of the most talented performers at sea on board the Queen Elizabeth. Settle in at the Royal Court Theatre and see them shine in everything from dazzling West End-style musicals to Shakespeare plays. You'll also be treated to illusionists, stand-up comedians and singers from several genres, all carefully selected by Cunard to give passengers an experience they'll treasure forever.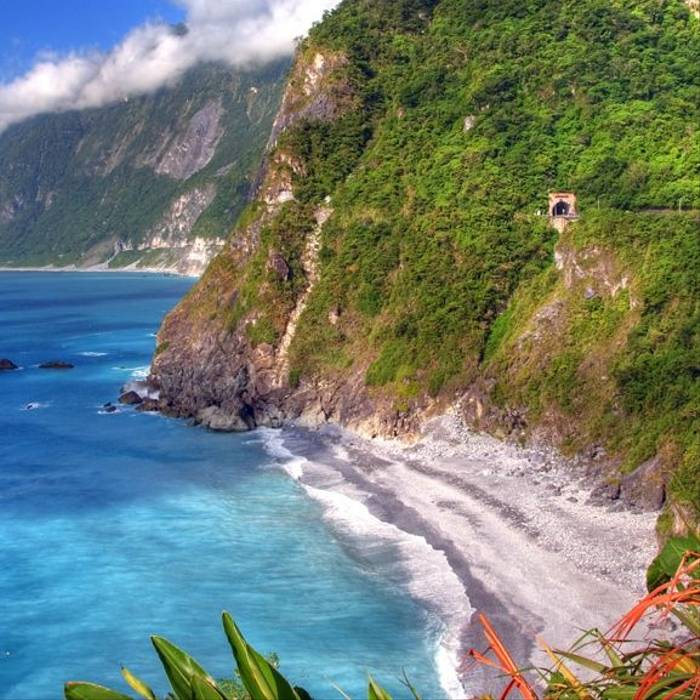 Situated on Taiwan's scenic east coast, this craggy mountainous county is often cloaked in low-lying cloud and serves as a welcome respite to Taiwanese city dwellers who flock here for its comparatively peaceful environment. Appreciate the terrain by visiting one of Hualien's several national parks such as the Taroko National Park where the turbulent Liwu River has cleaved deep gorges into the rock.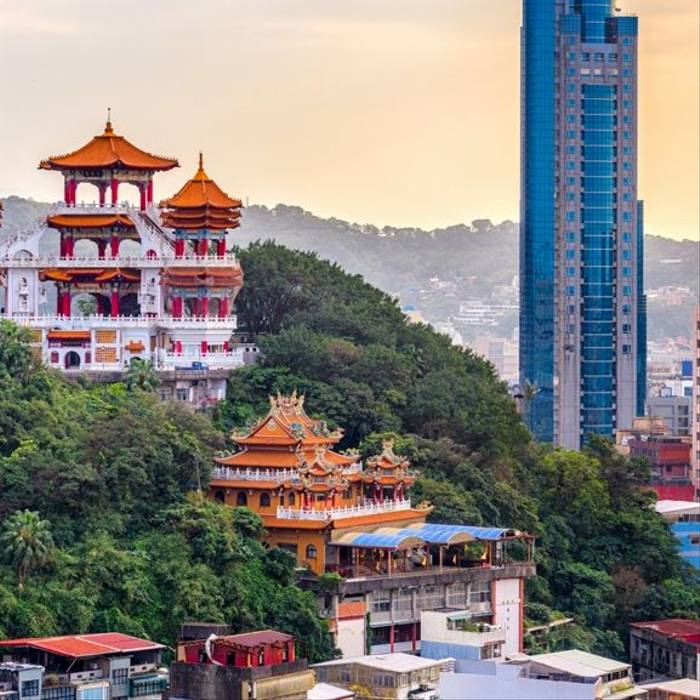 The port city of Keelung is situated just a few miles away from the Taiwan capital Taipei, a city of classic oriental architecture, temples devoted to Chinese folk religions deities and soaring skyscrapers. It's also home to the distinctive Taipei 101 building, the tallest in the world from 2004 until 2010. The shopping district of Ximending is a place that truly ignites after dark, with people flocking to bustling streets that are a riot of flickering neon.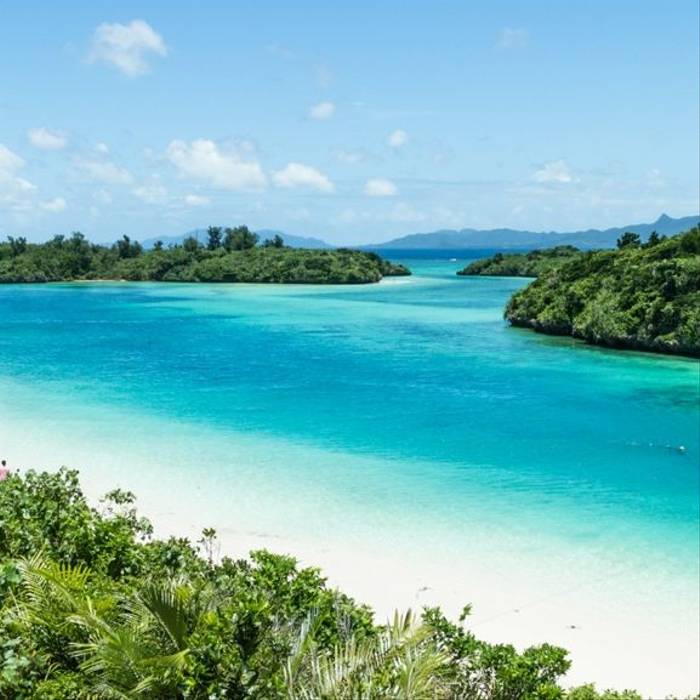 Your first stop in Japan is Ishigaki in Japan's Yaeyama Islands. Surrounded by coral reefs and azure waters, it's perfect for snorkelling and diving - check out the island's famed manta rays which congregate en masse around Manta Scramble near Kabira Bay.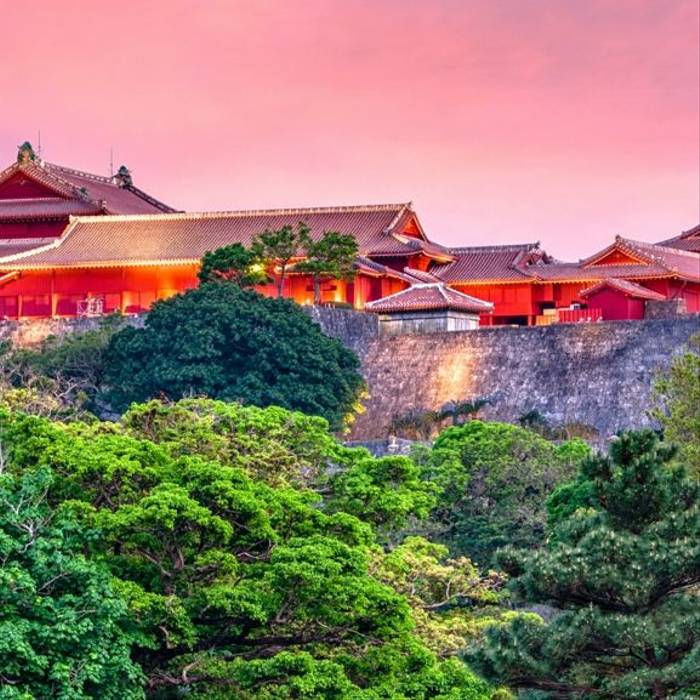 Naha is home to Shuri Castle, meticulously rebuilt in the 1990s after it was almost completely destroyed during WWII. It was once home to the rulers of Ryukyu Kingdom and it maintains a regal interior with ornate gold dragons and the thrones that can now be seen by the public. There's also Okinawa Museum, which contains all you need to know about the Okinawa region, from ancient exhibits to local works of art.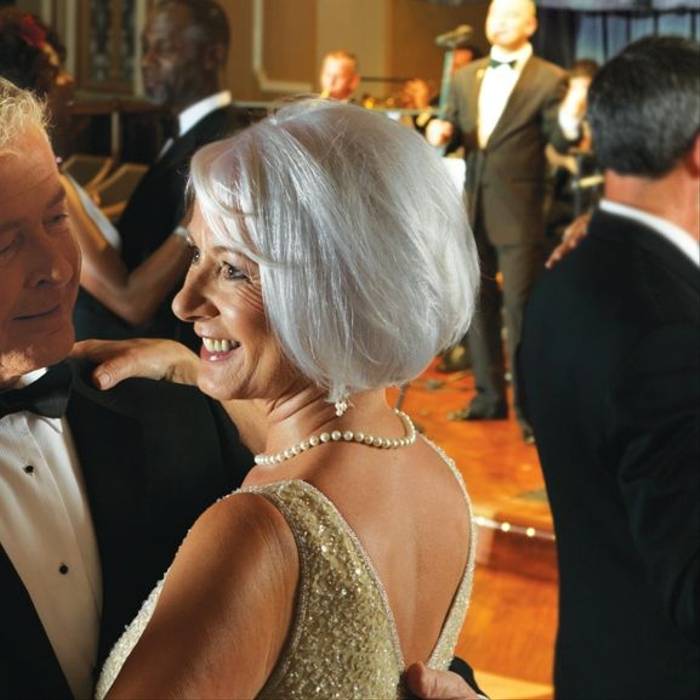 Themed Gala Balls in the Queen's Room are the social highlights of a cruise and an excuse to dress the part. There's a traditional Black & White Ball, Masquerade Ball, as well as a Roaring Twenties Ball and a hat-focused Ascot Ball. An eight-piece orchestra sets the tempo for an evening of dancing. Join in, whether you've got two left feet or you're a budding Fred Astaire.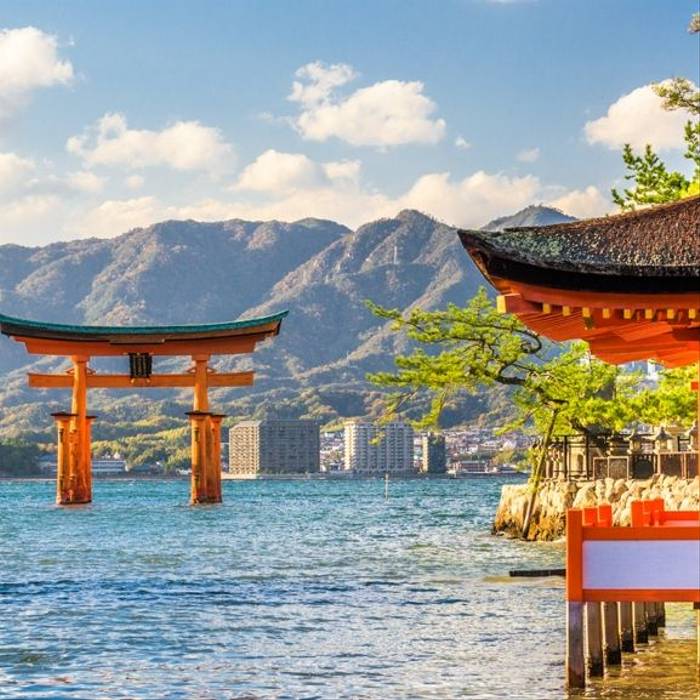 Surrounded by natural beauty, Hiroshima is a thriving, modern city, much of it having been rebuilt after WWII. The Chugoku Mountains surround the city with rivers, valleys, plains and basins landscaping the area, whilst The Peace Memorial Park and Museum recall the city's tragic past. Miyajima Island, a short ferry ride away, offers one of the country's most alluring and oldest Buddhist and Shinto shrines.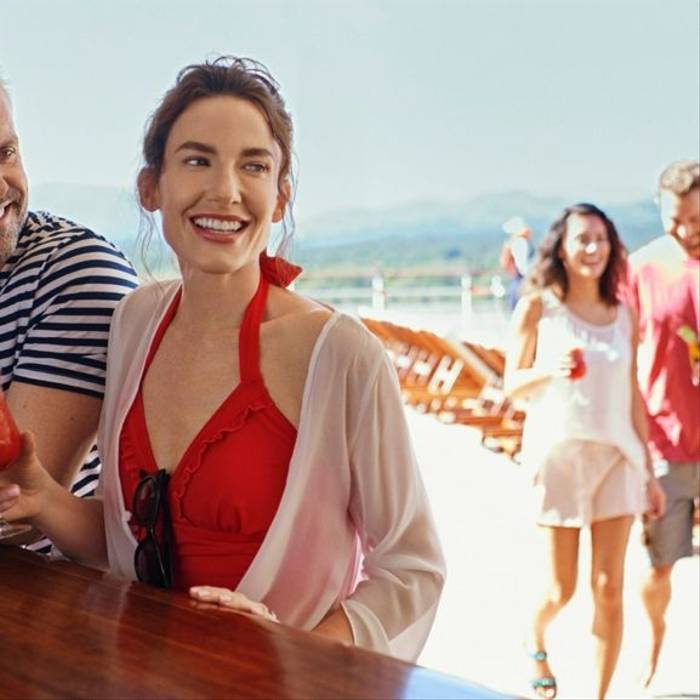 As a sociable way to stay fit, healthy and energised you could take pilates, yoga or t'ai chi classes while breathing in the cool sea air on deck. There are also aerobics, spinning classes, boot camps, or a personal trainer could put you through your paces at the well-equipped gym.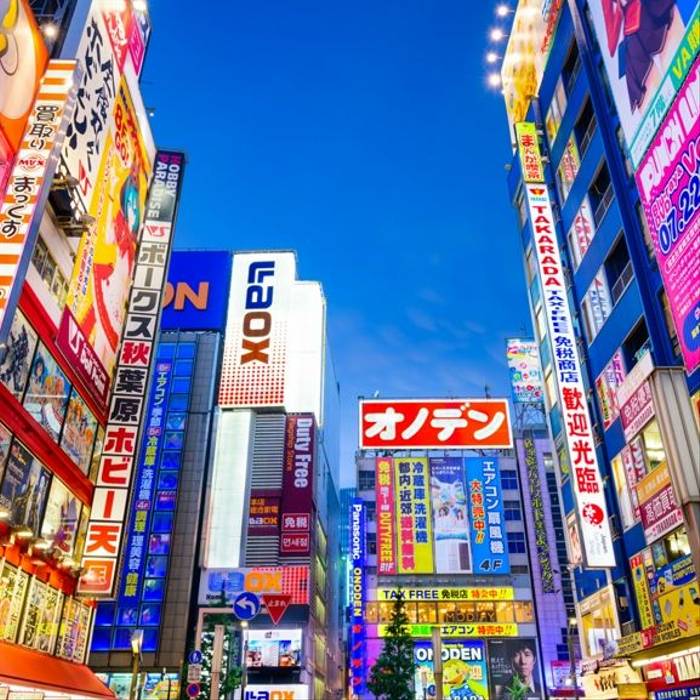 Tokyo
- Disembark Queen Elizabeth and Hotel Stay
Neon-infused Tokyo is Japan's dynamic and densely packed capital, where cutting edge technology and time-honoured traditions live side by side and where high-tech vending machines selling the unidentifiable and the bizarre sit alongside ornate Buddhist shrines. Wander the upmarket shopping district of Ginza and see Japan's outlandishly dressed youth parade the streets of fashionable Shibuya at night.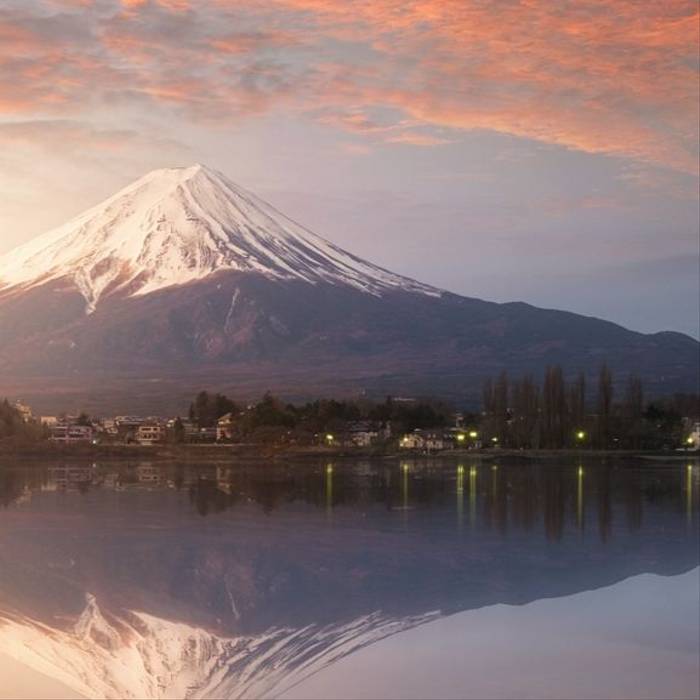 Tokyo
- Hotel Stay and Tour
After the hustle and bustle of Tokyo, you'll absorb the serene flipside of Japan with a scenic drive out to the countryside surrounding Mount Fuji. Here you'll get a panoramic view of what is probably the world's most perfectly conical volcano. This excursion also includes a trip on the Hakone Ropeway Cable Car and a boat cruise on Lake Ashi, which lies in the shadow of the mountain.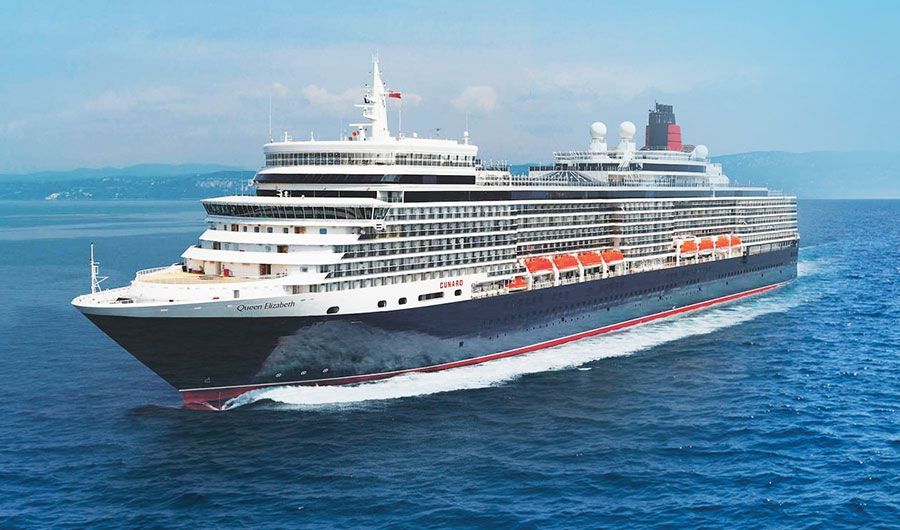 When Her Majesty the Queen conducted the naming ceremony in her own honour in October 2010, she continued a marvellously regal formal cruising tradition. Cunard has maintained all the refined styling, amenities and service associated with the Golden Era of cruise sailing and added modern facilities, leisure and entertainment opportunities. Stunning accommodation and the most exceptional fine dining you'll ever experience at sea are highlights of the glorious Queen Elizabeth cruise ship. Dance in the grand ballroom, enjoy afternoon tea served by white-gloved waiters, watch extravagant stage shows in opulent theatre surroundings or simply relax and revitalise beside one of the two lovely pool areas.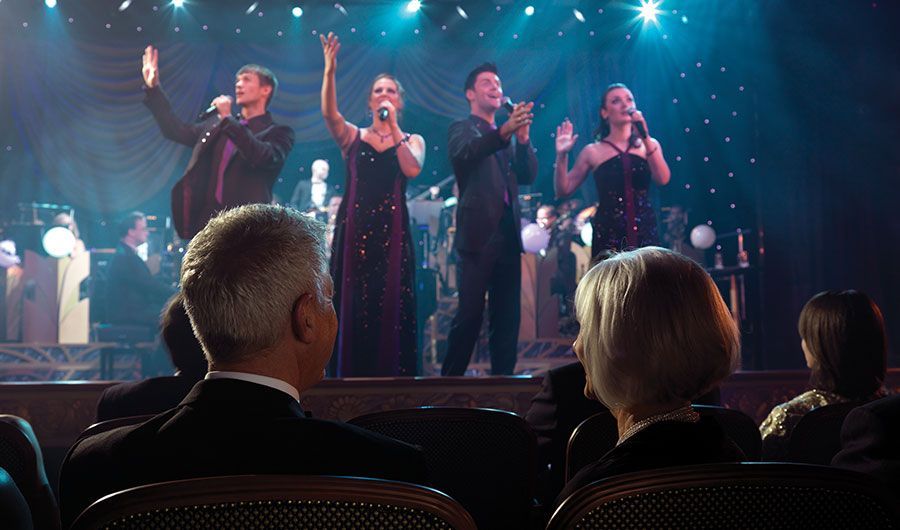 Queens Room
Head here for traditional afternoon tea or to dance the night away at one of the glamorous balls.
The Garden Lounge
Designed to have the feel of a Kew Gardens conservatory, this is the perfect place to sit back and relax.
Commodore Club
Enjoy a signature cocktail with canapés before dinner while taking in glorious panoramic views.