Icons of India & Japan's Cherry Blossom
Includes a Cunard Voyage from Singapore to Hong Kong
Fully Escorted Tours of India and Japan
17 nights | 19 Mar 2021
Icons of India & Japan's Cherry Blossom
Includes a Cunard Voyage from Singapore to Hong Kong
Fully Escorted Tours of India and Japan
17 nights | 19 Mar 2021
Icons of India & Japan's Cherry Blossom
Includes a Cunard Voyage from Singapore to Hong Kong
Fully Escorted Tours of India and Japan
17 nights | 19 Mar 2021
Get The Full Experience...
Take in the architectural wonders of India's Golden Triangle and savour the Far East's most thrilling cities before witnessing the snow-capped splendour of Japan's Mount Fuji.
Discover India's most celebrated destinations on a fully escorted Golden Triangle tour that begins in its historic capital, Delhi. From there you'll travel to Agra to see the iconic Taj Mahal before exploring the archaeological wonders of Jaipur. Flying to Singapore you'll find a glittering city with a visually arresting mix of futuristic architecture and otherworldly botanical gardens. Embarking Queen Elizabeth, a ship famed for its elegant art deco interior, you'll then head for Vietnam's Ho Chi Minh City whose streets are a charming mix of French colonial buildings and ornate pagodas. Exploring this beautiful country further, you'll call at the popular beach-side city of Nha Trang and then Chan May from where you'll be able to explore nearby Hue or Danang. Disembarking Queen Elizabeth in the dynamic harbour city of Hong Kong, you'll then fly to Tokyo, a neon-lit metropolis that fuses time-honoured traditions with the cutting-edge.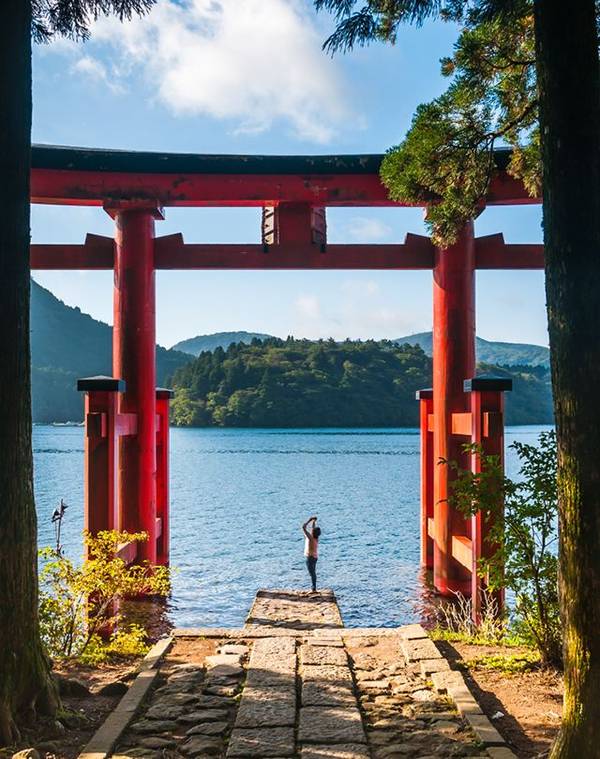 Package Includes
3 night five-star hotel stay in Delhi with a fully escorted tour of Jama Masjid Mosque, Raj Ghat, Humayun's Tomb, Qutub Minar and more
1 night five-star hotel stay in Agra with a fully escorted tour of the Taj Mahal, Agra Fort and Fatehpur Sikri
2 night five-star hotel stay in Jaipur with a fully escorted tour of Amber Fort, Hawa Mahal, the City Palace, Jantar Mantar Observatory and more
1 night five-star hotel stay in Singapore at the Royal Plaza on Scotts
8 night full-board cruise on board Queen Elizabeth
2 night hotel stay at the Grand Nikko Tokyo Daiba
Fully escorted tour of Mount Fuji including the Hakone Ropeway Cable Car
Fully escorted boat trip across Lake Ashi
High-speed Bullet Train to Tokyo
All transfers
All flights (London departure - regional flights available)
ATOL protected
Flight from
Other regional airports may be available*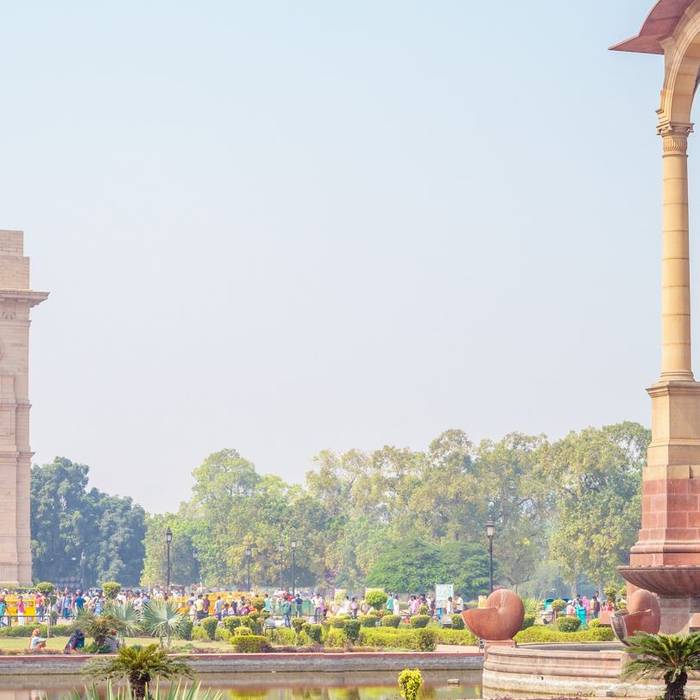 Welcome to Delhi, India's sprawling capital where you'll find UNESCO world heritage sites next to notable modern architecture like Statesman House or the florally inspired curves of the Lotus Temple. Watch the city's green and yellow auto-rickshaws weave through streets packed with people, animals and anything else besides, and sample the Mughlai cuisine, which originated here and has since been successfully exported to the world.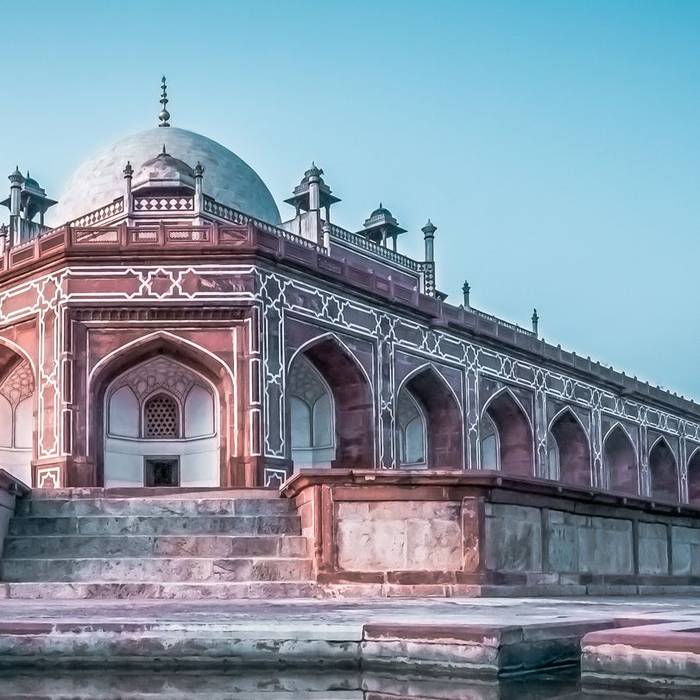 Delhi
- Hotel Stay and Tour
Begin your Golden Triangle discovery in Old Delhi where you'll enjoy a sightseeing tour of the Jama Masjid mosque, built by the same Mughal emperor that commissioned the Taj Mahal. You'll also see the Red Fort, the site of many battles over the centuries, and where the Indian prime minister makes an annual Independence Day speech to the nation. This martial structure looks as robust and imposing today as when it was built.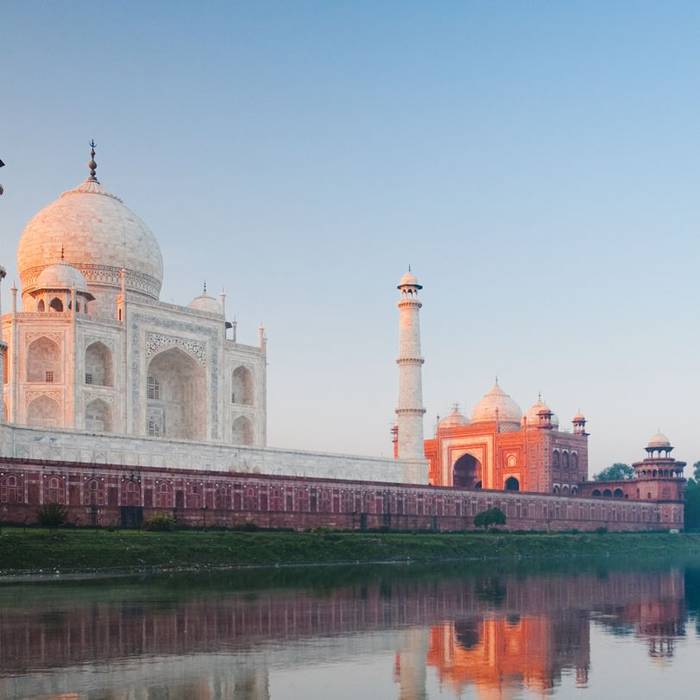 Agra
- Hotel Stay and Tour
Today you'll visit the inimitable Taj Mahal. Constructed by 20,000 artisans over a twenty year period, this mausoleum was dedicated to Emperor Shah Jahan's favourite wife, who died in childbirth. With its bulbous dome and soaring minarets, it's one of the world's most recognisable buildings. Complementing it is the symmetrical harmony of the surrounding gardens which feature fountains, marble benches and stone-paved raised pathways.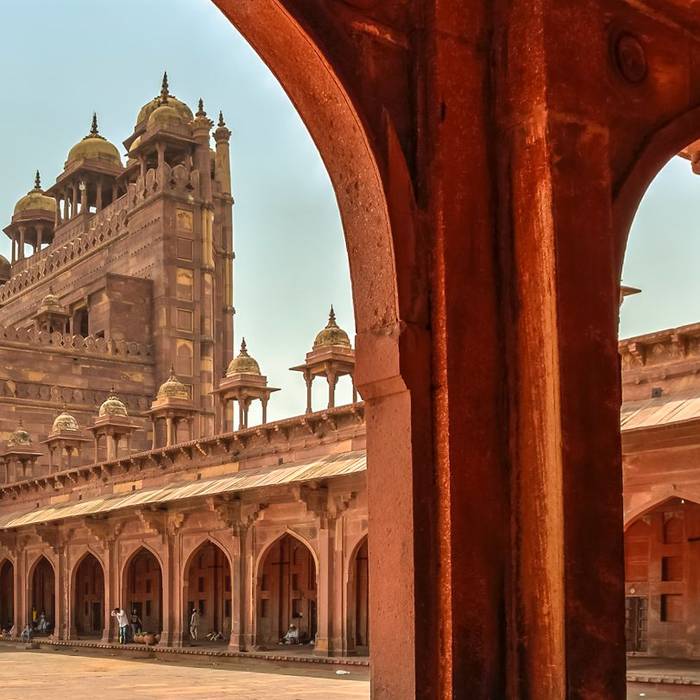 Jaipur
- Hotel Stay and Tour
On the way to Jaipur you'll stop off at Fatehpur Sikri, a deserted 16th century red sandstone city, the gateway of which is its famed domed archway, the Buland Darwaza. At the Rajasthan capital of Jaipur, known as the Pink City because of the colour scheme of many of its many historic buildings, you'll see wonderfully preserved architectural wonders that illustrate the incredible wealth of the rajas that once ruled this part of India.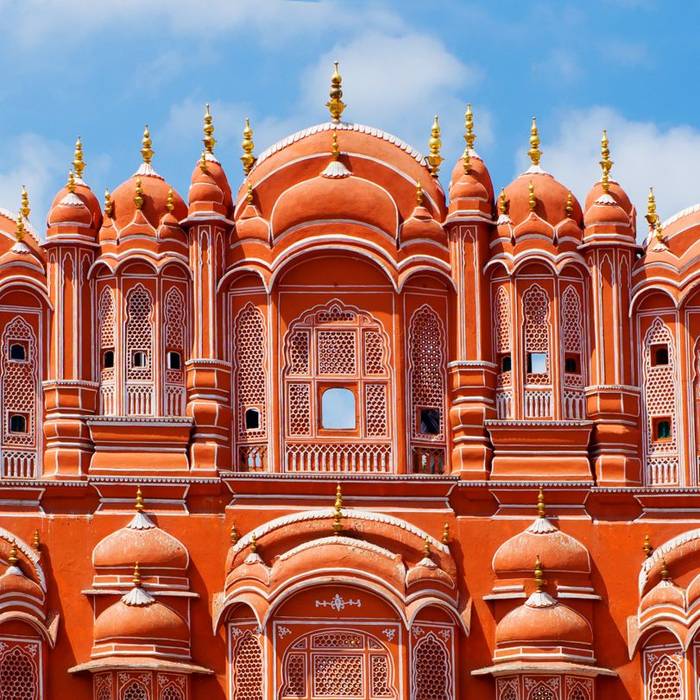 Jaipur
- Hotel Stay and Tour
Jaipur regularly ranks among the top destinations in India. A must-see is the Hawa Mahal, or 'Palace of Winds', a five-storey building festooned with small enclosed balconies from where royal ladies would discreetly observe everyday life and festivals in the street below. Jaipur is also home to the sweeping Amber Fort which spans a hilltop overlooking the tranquil Maota Lake. Jantar Mantar, an astronomical observatory built in the 18th century, features the world's largest stone sundial.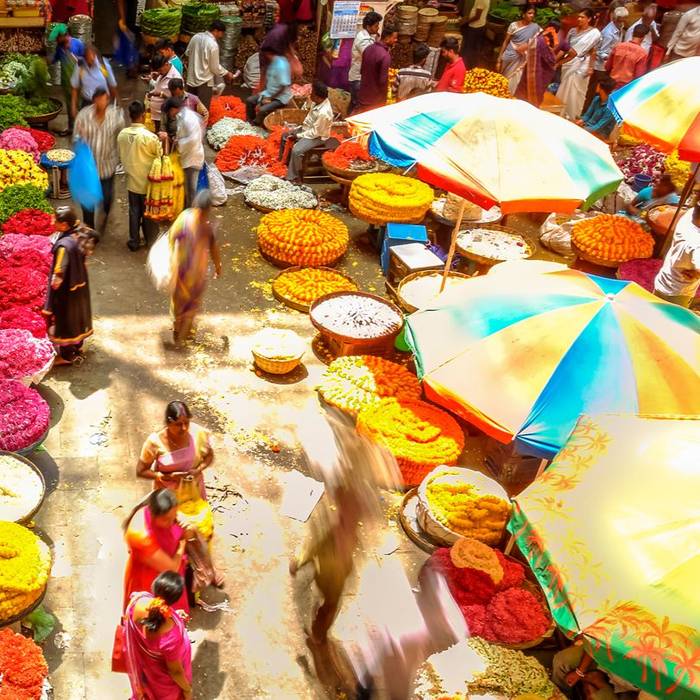 You'll have one more day to explore Delhi, a densely populated metropolis made up of several ancient cities that have melded into one over the centuries. Its profusion of architectural styles is tantalizing, but it's not just the old ones that catch the eye. The Lotus Temple, a Baha'i house of worship that welcomes people of all faiths, is one of the city's more modern buildings and is a remarkable design, resembling a half-open lotus flower.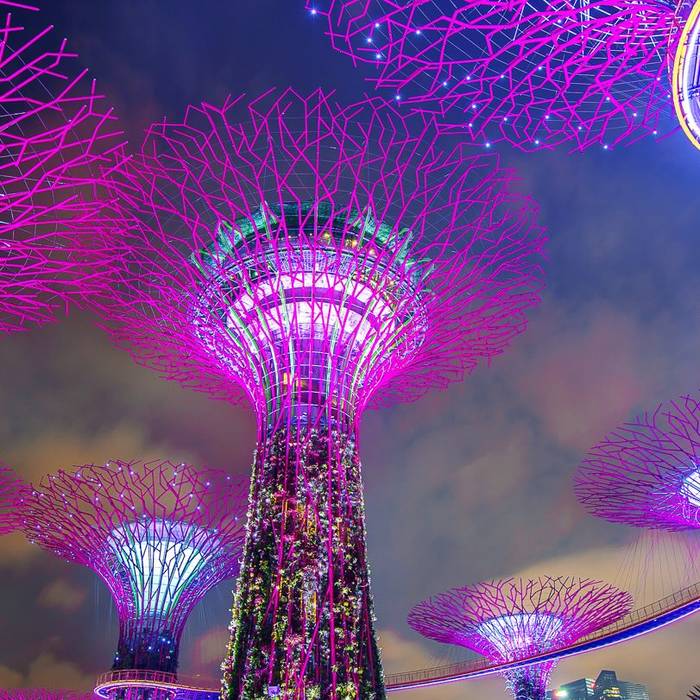 From Delhi you'll fly to Singapore, one of the Far East's most popular destinations thanks to its visually arresting mix of futuristic architecture and otherworldly botanical gardens. Treat your taste buds at one of over 200 stalls hawker stalls in the Chinatown Complex, home to the cheapest Michelin-starred meal in the world. You could also visit the Marina Bay Sands resort, home to museums, parks and a giant casino - a slice of Las Vegas in the Orient.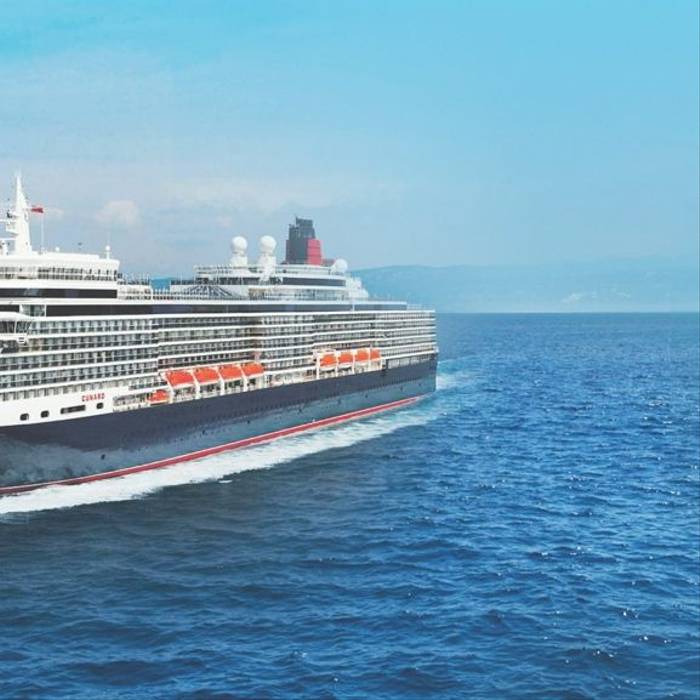 Singapore
- Embark Queen Elizabeth
Today you'll embark Queen Elizabeth, the newest cruise liner in the prestigious Cunard fleet. Decked out in an art deco style throughout, it evokes a 1930s elegance, with a croquet lawn on the games deck and gleaming chandeliers fit for a grand state ballroom. For a real sense of occasion, indulge in a traditional afternoon tea served by impeccably dressed white-gloved waiters.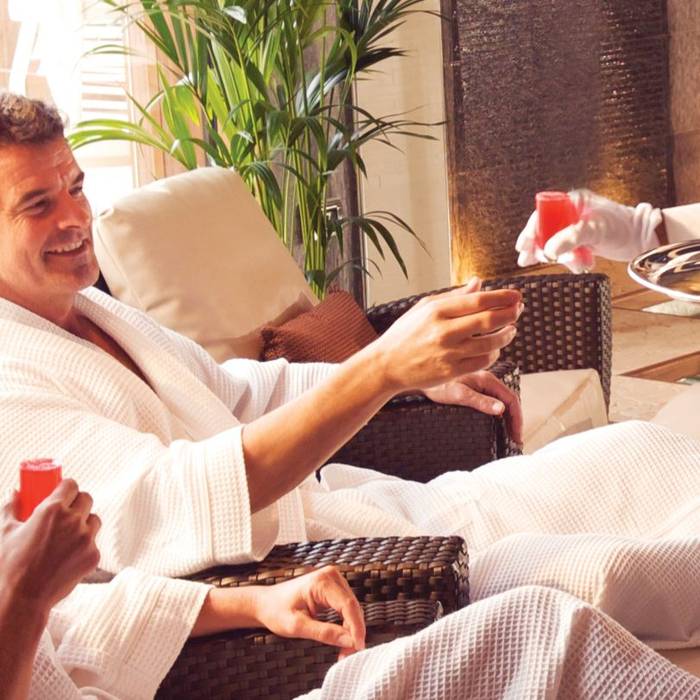 The entertainment options on board Queen Elizabeth are perfectly in sync with the ambience of the ship. Get into the swing of a vibrant West End show performed by one of the most talented casts at sea at the Royal Court Theatre. Or you could glam up and sip expertly mixed signature cocktails and delicious canapes at the Commodore Club.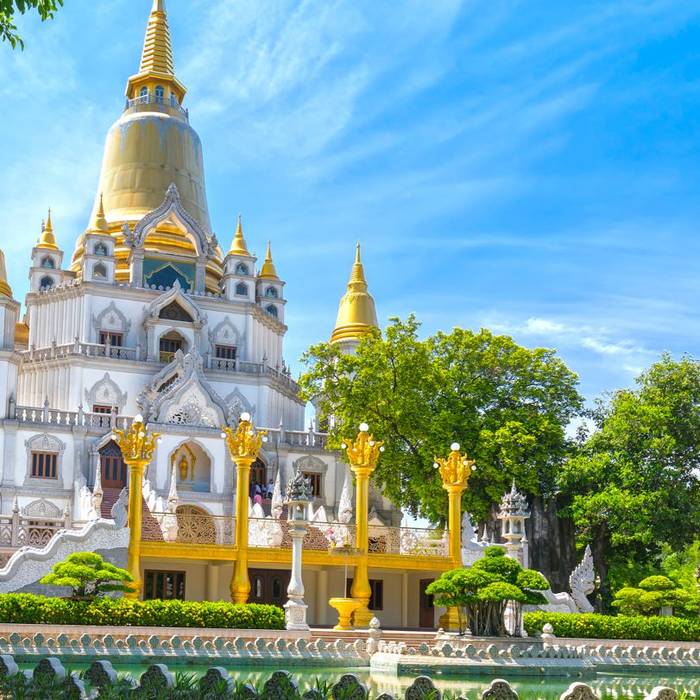 Formerly known as Saigon, Ho Chi Minh City is the most populous in Vietnam and, like the country's capital, Hanoi, has a Parisian flavour due to years of French colonialism. From traditional Oriental pagodas to red-brick 19th century cathedrals, its streets offer up an appealing mix of architectural styles. Watch a traditional water puppet show or take a tour of the underground Cu Chi tunnels, inhabited by many of the city's residents during the Vietnam War and now a major public attraction.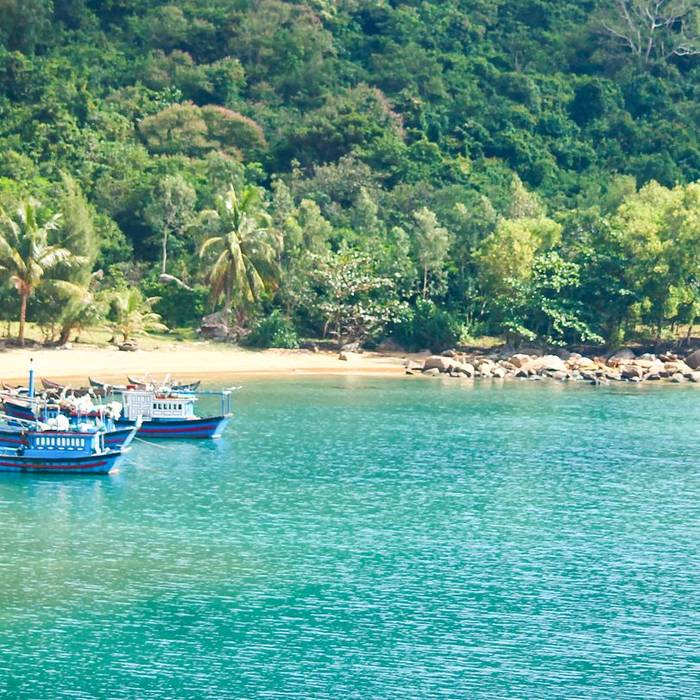 Today you'll visit the popular tourist destination of Nha Trang in the South Central Coast region of Vietnam. Nha Trang Bay is widely considered to be one of the most beautiful bays in the world while the biggest draw is undoubtedly the Long Son Pagoda, a Buddhist Temple loomed over by a giant Buddha statue made from gleaming white concrete. The area is also known for its beaches and scuba diving and is a popular destination for backpackers.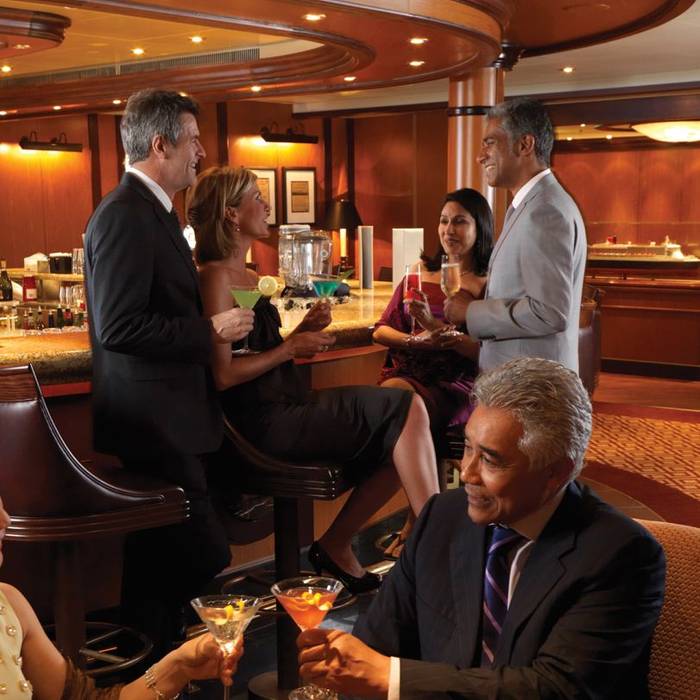 You'll never tire of the menus at the ship's many dining choices. From international dishes at the intimate Britannia Restaurant, the main dining room, to classic British fare at the Red Lion pub, as well as pizza and pasta at the Lido buffet, you'll be consistently well-fed. For a few post-dinner drinks you could head to Gin & Fizz for a glass of chilled Prosecco, or ensconce yourself in a cosy leather armchair at Churchill's cigar lounge and sip a fine cognac.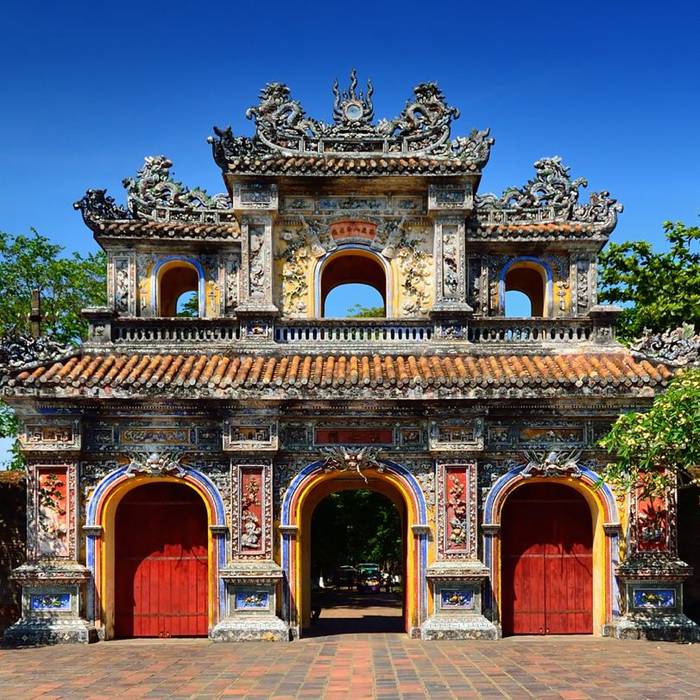 From the port of Chan May you'll be able to explore the cities of Hue or Danang. Hue is home to the Imperial City, a 19th century citadel that was once the capital of Vietnam. It's surrounded by a moat filled with water directed from the nearby Perfume River, so-called because during autumn its surface is coated with flowers that fall into it from orchards upstream. Danang is the fifth largest city in the country. Explore its natural beauty by taking a cable car into the Ba Na Mountains.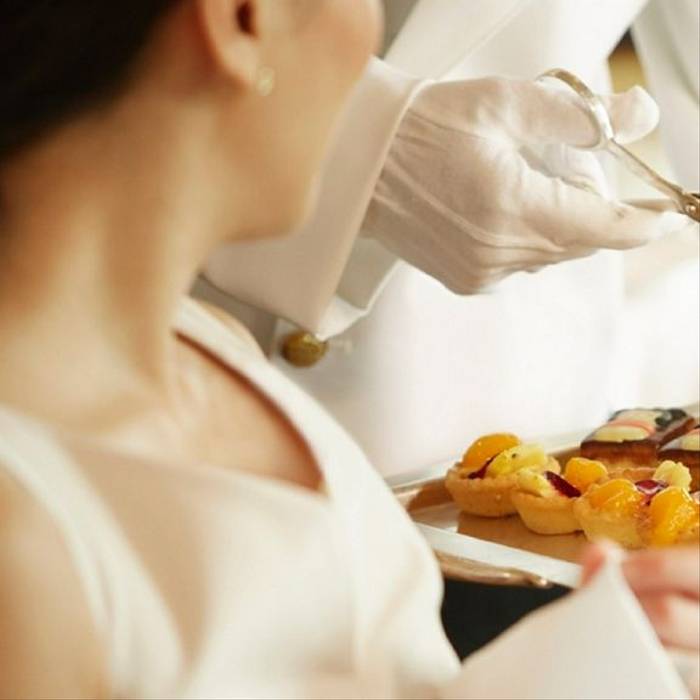 For those who want to stay active on board the Queen Elizabeth there are plenty of ways to work up a sweat. Stroll the Promenade Deck while breathing in the sea air or play table tennis, paddle tennis or practise your golf putting. There's also pilates, yoga or t'ai chi, not to mention spinning classes and even personal training sessions. For armchair sports fans, major events are screened in certain bars and lounges, and all staterooms and suites.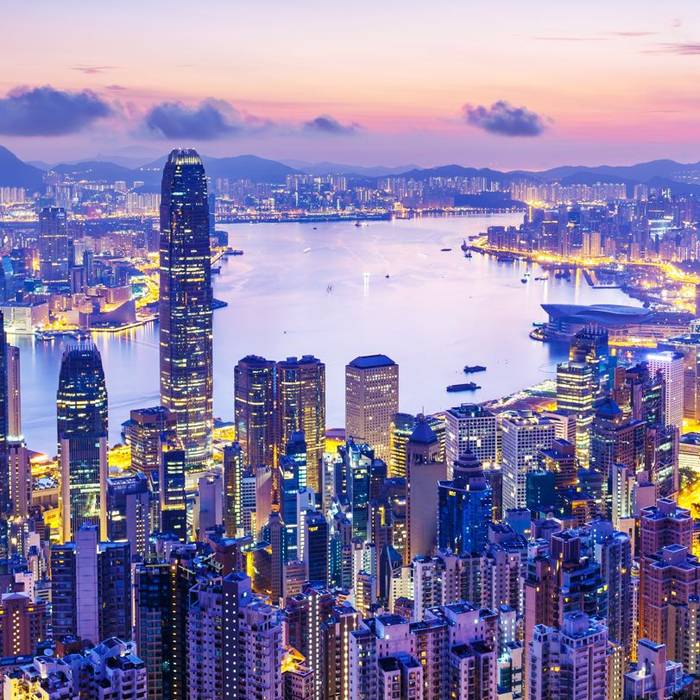 Famed for its densely packed skyline wedged between forested hills and an iconic harbour dotted with junk boats, Hong Kong is one of the Far East's most celebrated cities. Here you'll find well-kept colonial architecture sitting alongside geometrical designs like the Bank of China Tower. Take a tram up to The Peak, Hong Kong's highest point, and admire breathtaking views of the harbour, or delve into bric-a-brac of every description at the night market on Temple Street.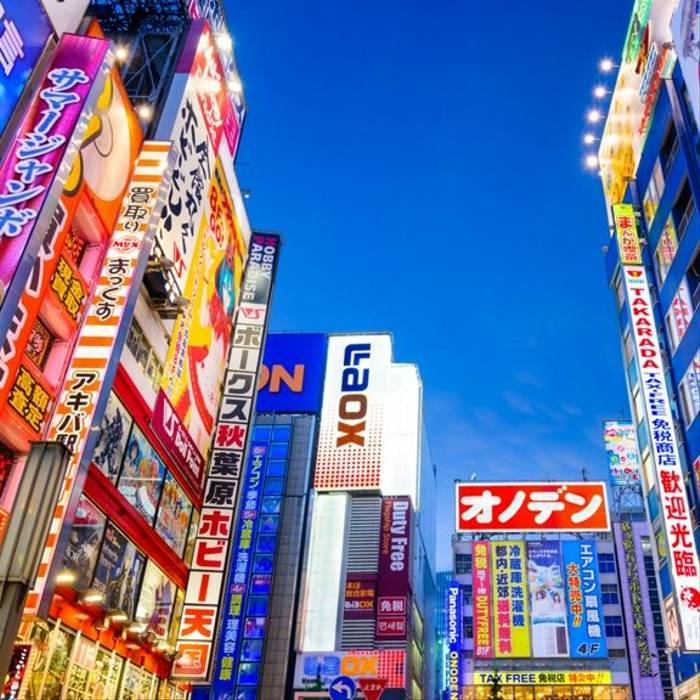 Hong Kong
- Disembark Queen Elizabeth and Tokyo Hotel Stay
Neon–infused Tokyo is Japan's dynamic and densely packed capital, where cutting edge technology and time-honoured traditions live side by side and where hi-tech vending machines selling the unidentifiable and the bizarre sit alongside ornate Buddhist shrines. Wander the upmarket shopping district of Ginza, or witness Japan's outlandishly dressed youth parade the streets of fashionable Shibuya at night.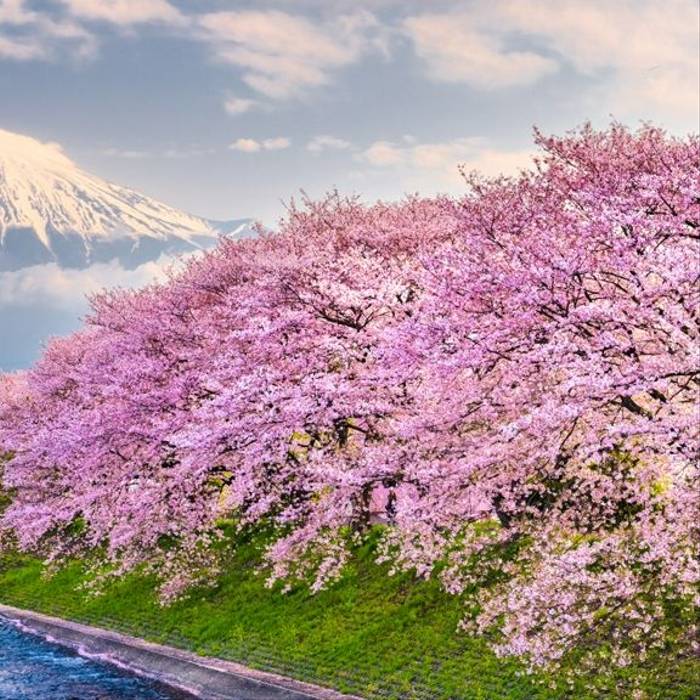 Tokyo
- Hotel Stay and Tour
After the hustle and bustle of Tokyo, you'll absorb the serene flipside of Japan with a scenic drive out to the countryside surrounding Mount Fuji. Here you'll get a panoramic view of what is probably the world's most perfectly conical volcano. This excursion also includes a trip on the Hakone Ropeway Cable Car and a boat cruise on Lake Ashi, which lies in the shadow of the mountain. You'll then be whisked back to Tokyo on the bullet train before flying home the next day.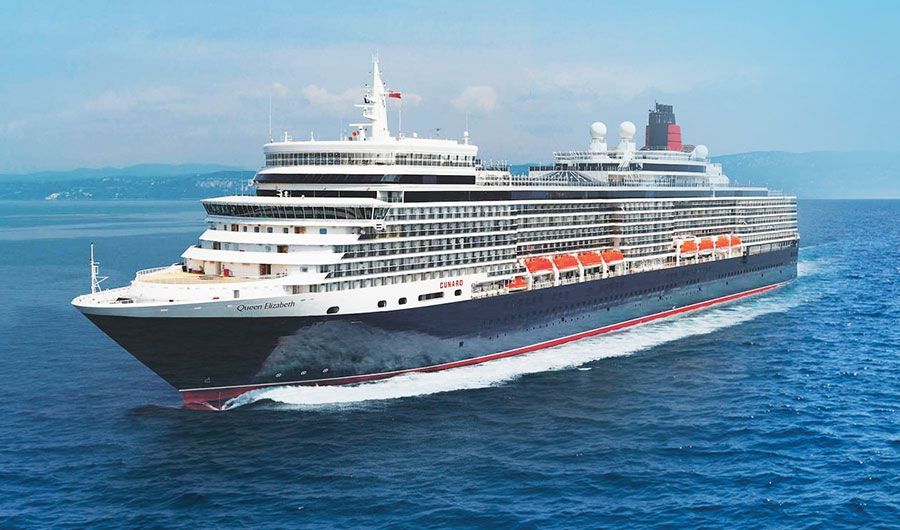 When Her Majesty the Queen conducted the naming ceremony in her own honour in October 2010, she continued a marvellously regal formal cruising tradition. Cunard has maintained all the refined styling, amenities and service associated with the Golden Era of cruise sailing and added modern facilities, leisure and entertainment opportunities. Stunning accommodation and the most exceptional fine dining you'll ever experience at sea are highlights of the glorious Queen Elizabeth cruise ship. Dance in the grand ballroom, enjoy afternoon tea served by white-gloved waiters, watch extravagant stage shows in opulent theatre surroundings or simply relax and revitalise beside one of the two lovely pool areas.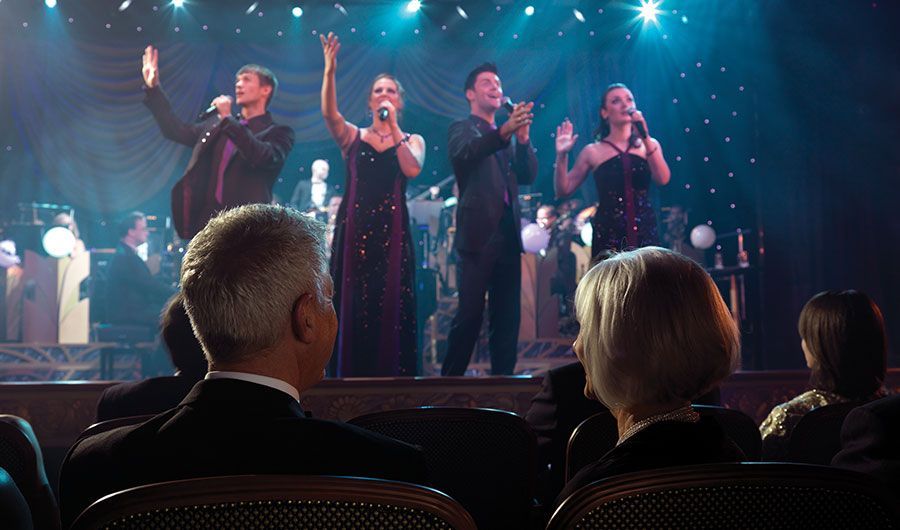 Queens Room
Head here for traditional afternoon tea or to dance the night away at one of the glamorous balls.
The Garden Lounge
Designed to have the feel of a Kew Gardens conservatory, this is the perfect place to sit back and relax.
Commodore Club
Enjoy a signature cocktail with canapés before dinner while taking in glorious panoramic views.