Up to $750 FREE on board spend per couple
Land of the Midnight Sun
Your Cruise Itinerary
Embark your ship - Grand Princess
Embark your ship - Grand Princess
Known as 'The city between seven mountains' – take a cable car up Mount Ulriken to find a magnificent panorama of the city, coastal landscape, fjords, cascading waterfalls, and jagged mountains. A trip to the private island of Holmen promises a 'seafood safari' including fresh lobster, crab, scallops, and langoustines.
Skjolden is a small village surrounded by high forested mountains, calm waters and welcoming locals. Walks to Sengjaberget allow you to view the beautiful fjord village, Northern Europe's highest mountain ranges, the biggest glacier on mainland Europe and learn how people have lived and worked in this rough landscape. Guided kayak trips will allow you to explore more of this beautiful area, with a trip around the rugged shoreline taking in the mountains and waterfalls and if you're lucky seeing the wild seals.
Olden is a small tranquil village surrounded by rolling landscapes. Stunning valleys contrast against magnificent glaciers, cascading waterfalls, towering mountain ranges and quaint farming villages. The village is alive with activity, local trade and contemporary buildings. Olden is the gateway to the largest glacier in Europe's mainland, Jostedal Glacier. This stunning 37 mile Glacier is breathtaking and will amaze and dazzle you.
Honningsvåg is the last village before Norway's mysterious North Cape and is the gateway to stunning natural landscapes. Honningsvåg is surrounded by magnificent snow-capped mountains, deep crystal fjords and an abundance of wildlife and marine life. Hike into the surrounding areas and find yourself wandering past reindeer, over stone bridges where cascading streams flow into the icy waters and picturesque views of this stunning country.
Tromsø is a lively place, with more pubs per capita than any other Norwegian town. Its beautiful snowy peaks are an excellent backdrop for hiking in summer and skiing and dog-sledding in winter. The cathedral and botanical gardens offer a more relaxing option, while buskers will brighten your journey across town.
The picturesque village of Gravdal lies on Vestvågøy Island, part of the Lofoten Archipelago known as the magical islands. It sits at the bottom of a steep slope, surrounded by immense mountainous landscape blanketed in green forest. The village offers white sandy beaches as well as lakes perfect for fishing in.
Ålesund is one of Norway's most beautiful towns, renowned for its Jugend style architecture and art nouveau style. Alesund's layout is unique as it is built on islands stretching out into the sea with scenic views of the fjords and Sunnmore Alps. This is the perfect destination for hikers, bird-watchers and people who appreciate natural beauty.
Haugesund is a city surrounded by stunning landscapes, majestic mountains, picturesque fjords, cascading waterfalls and magnificent glaciers. Haugesund is home to Norways longest pedestrian streets lined with shops, museums, galleries and an abundance of restaurants for tourists to enjoy. The landscape offers fishing trips, hikes to hidden waterfalls and panoramic views of the harbour and fjords.
Disembark your ship - Grand Princess
Disembark your ship - Grand Princess
Grand Princess
Elegant, beautifully designed and with all the facilities you could ever want, the Grand Princess is an ideal choice for everyone. Busy and active with fun for all the family – or quiet and peaceful for that perfect romantic getaway, you'll find space to enjoy your holiday the way you want on this gorgeous cruise ship. There's the brilliant Movies Under the Stars® giant poolside screen showing the latest releases as well as big-name pop concerts and sporting events, the lavish Princess Theatre with its talented singers and dancers, as well as the luxurious adults-only Sanctuary, a real haven of tranquillity.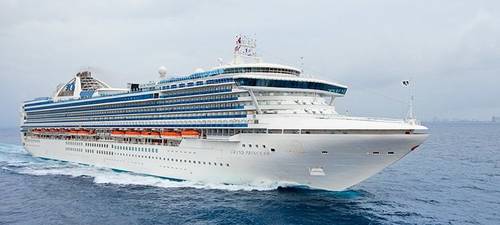 Key Facts
Entered service: 01/05/1998
Number of Decks: 13
Passenger Capacity: 2,600
Total Crew: 1,100
Number of Cabins: 1,300
Wheelchair Accessible Cabins: Yes
Number of Pools: 4
Number of Restaurants: 6
Kids Club: Yes
Formal Nights: Yes
Prices per person from
Other regional airports may be available*