Luxury Blue Train Journey & Victoria Falls Adventure
Includes an All-Inclusive Five-Star Voyage
All-Inclusive Luxury Rail Journey | Trio of Victoria Falls Tours
20 nights | 03 Feb 2021
Luxury Blue Train Journey & Victoria Falls Adventure
Includes an All-Inclusive Five-Star Voyage
All-Inclusive Luxury Rail Journey | Trio of Victoria Falls Tours
20 nights | 03 Feb 2021
Luxury Blue Train Journey & Victoria Falls Adventure
Includes an All-Inclusive Five-Star Voyage
All-Inclusive Luxury Rail Journey | Trio of Victoria Falls Tours
20 nights | 03 Feb 2021
Get The Full Experience...
From one of the Seven Natural Wonders of the World, to the exquisite luxury of the iconic Blue Train, discover Africa's treasures on this incredible cruise holiday.
Feel Victoria Falls' roar reverberate in your chest as you enjoy your first tour walking beside this marvel. Then in the evening, sail out on a serene, sunset river safari on board the Lady Livingstone. Watch as the African sunset glows on the water and keep an eye out for hippos bobbing along while other nocturnal wildlife perform their ablutions. Finally enjoy a sumptuous three-course dinner on board the Royal Livingstone Express which glides into the depths of the Zambezi River Valley. The second part of your adventure sees you embark the Blue Train and experience all-inclusive luxury as you glide through Africa's dramatic and diverse landscapes all the while sampling regional meals and sipping complementary wines. Arriving in Cape Town, you'll disembark for an overnight hotel stay. To complete your Africa discovery, you'll voyage to cosmopolitan cities, beach resorts and bustling capitals on board the five-star Azamara Journey®.
Package Includes
1 night five-star hotel stay in Johannesburg at the Peermont D'oreale Grande
3 night hotel stay in Victoria Falls at The David Livingstone Safari Lodge and Spa
Fully escorted walking tour of Victoria Falls
Fully escorted Lady Livingstone river safari
Royal Livingstone Express train journey including a five-course dinner and drinks
1 night five-star stay at the Sheraton Pretoria Hotel
2 night all-inclusive luxury Blue Train journey from Pretoria to Cape Town with an off train excursion
1 night stay in Cape Town at The Portswood Hotel
12 night all-inclusive luxury cruise on board Azamara Journey®
Complimentary alcoholic and non-alcoholic beverages including house spirits, wine and international beers
Pre-paid gratuities and complimentary AzAmazing Evenings® event
Concierge services for personal guidance and reservations
2 nights in port in Cape Town
All hotel stays include breakfast
All transfers
All flights (London departure - regional flights available)
ATOL protected
Flight from
Other regional airports may be available*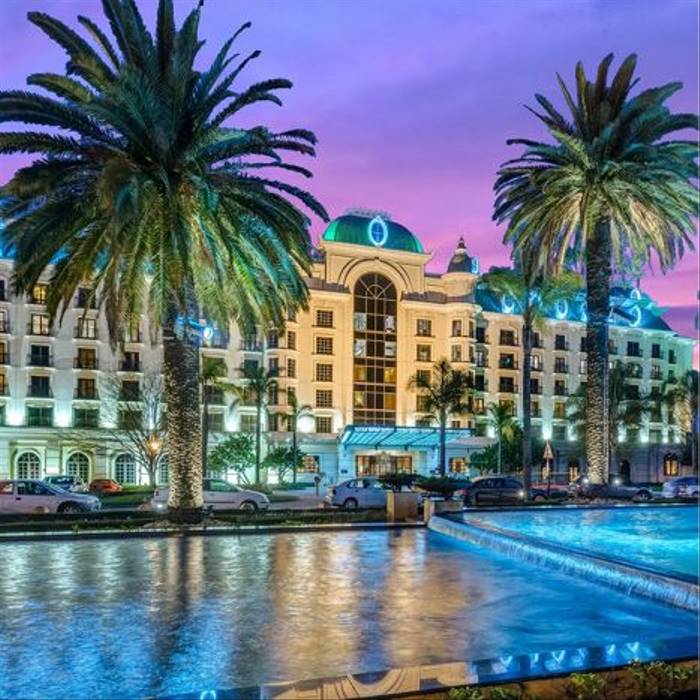 Johannesburg
- Hotel Stay
Begin your fantastic trip with an overnight stay in Johannesburg at the Hotel Peermont D'oreale Grande. Enveloped in luxury and coupled with state-of-the-art facilities, it's a perfect choice for guests looking for comfort and indulgence. Enjoy delicious food at the elegant Aurelia's restaurant, rejuvenate in the spa or simply sip on a delectable cocktail as you toast to your adventure ahead.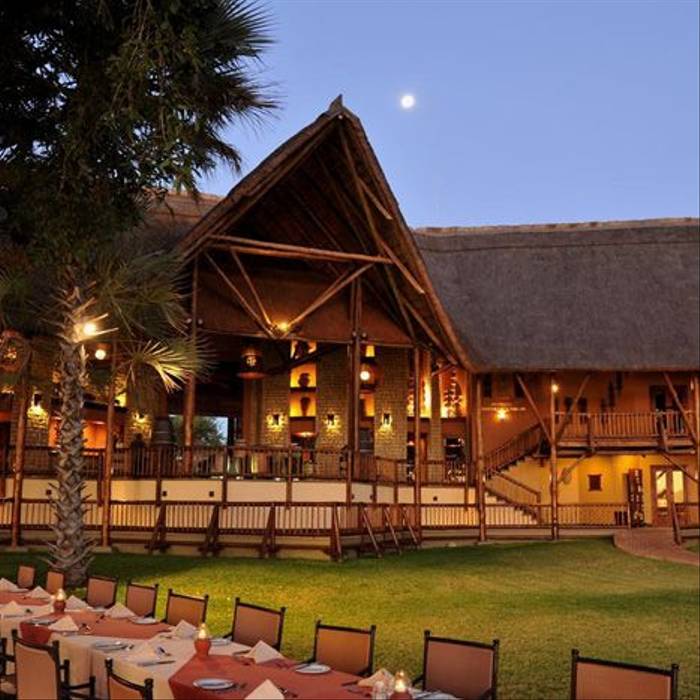 Victoria Falls
- Hotel Stay
Flying to Victoria Falls, you'll begin your unparalleled discovery of Africa's greatest sights. During your tours you'll enjoy a stay at the lavish David Livingstone Safari Lodge & Spa, a hotel that overlooks the grand Zambezi River. Spend days exploring the local area before evenings enjoying delicious Afro-Arabian cuisine in the Kalai restaurant, followed by a Sundowner whilst overlooking the glorious Zambezi.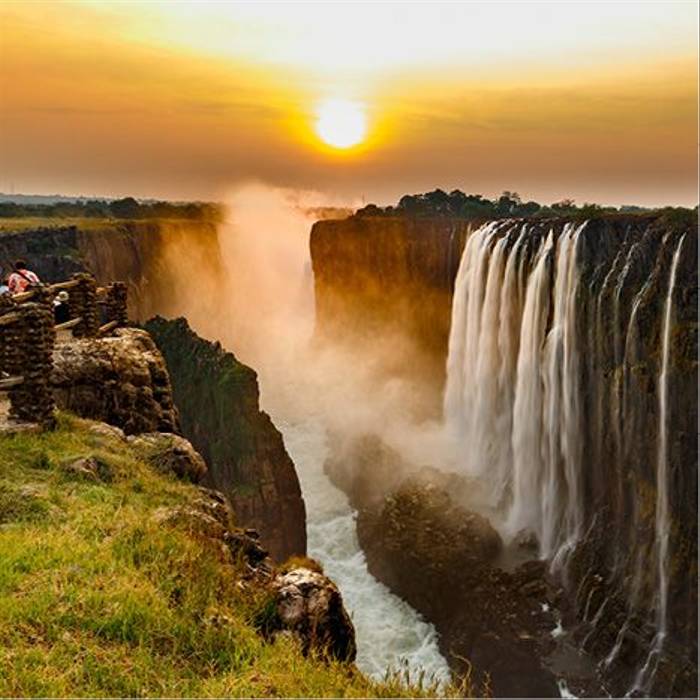 Victoria Falls
- Hotel Stay and Tour
Today you'll join a walking tour of Victoria Falls, the greatest curtain of falling water on earth. Walk amidst the lush rainforest, encountering increasingly spectacular views of the falls as it crashes over the cliff and plunges 108 metres into the whirlpool below. You'll then embark Lady Livingstone for a sunset cruise along the Zambezi River where you'll witness spectacular views of wildlife while sipping your complimentary drink.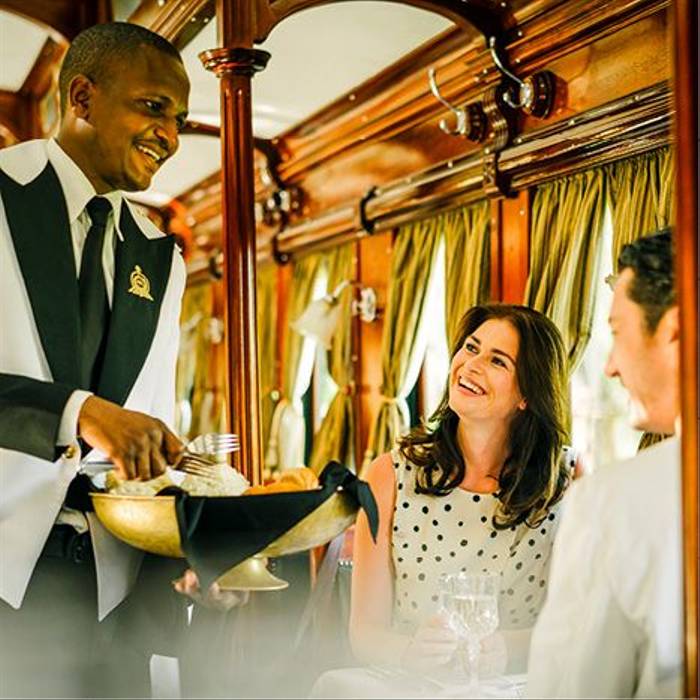 Victoria Falls
- Hotel Stay and Rail Journey
Take a trip back in time as you board the elegant Royal Livingstone Express Train. Comprised of five carriages, shrouded in vintage luxury and opulence, you will travel along the Mulobezi railway line through the heart of the Zambezi River Valley. During the ride, you will indulge in a fabulous fine-dining experience while keeping an eye out for giraffes, zebras or white rhinos – the perfect end to a magical holiday.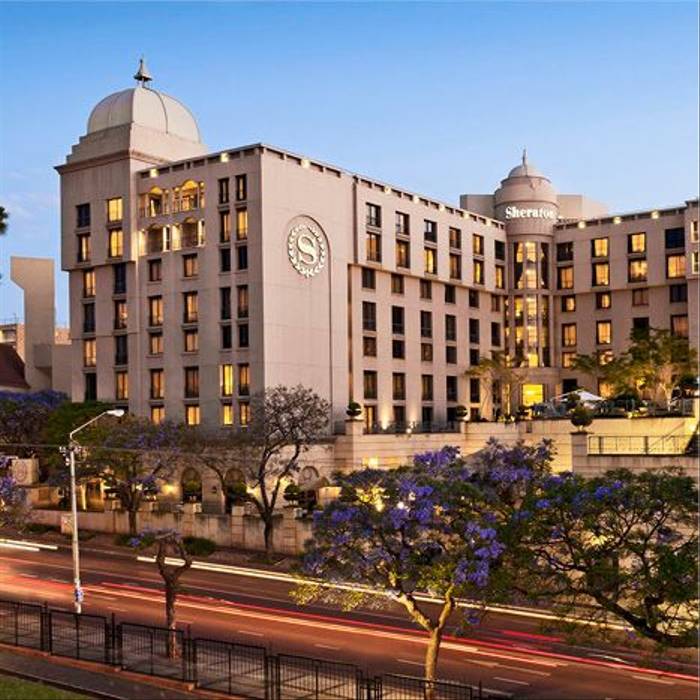 Next, you'll fly to Pretoria where you'll stay in the elegant Sheraton. From sumptuous buffets to reenergising body wraps, let the Sheraton take care of you from delicious dining to great relaxation. If you fancy appetising meals in sight of the Union Buildings – the official seat of South Africa's government - relax on the Union Terrace for tranquil views and a serene ambiance.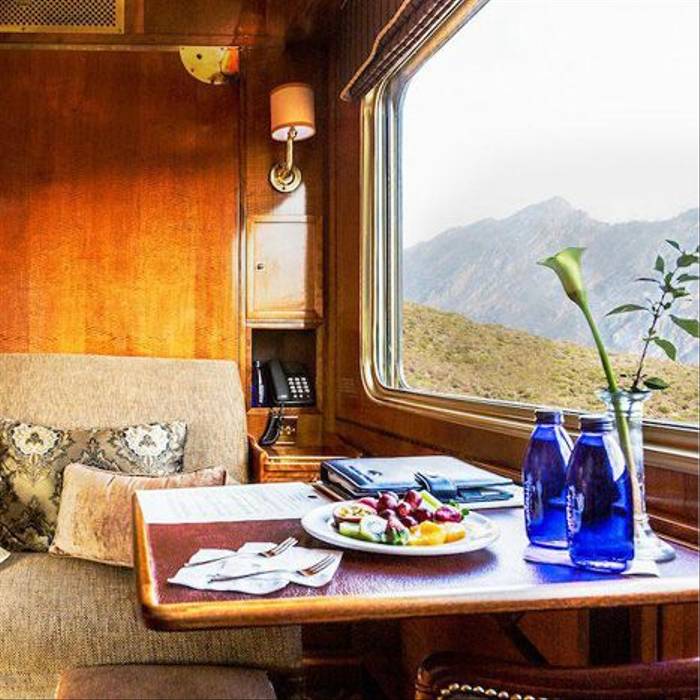 Pretoria
- Embark Blue Train
You'll transfer from your hotel to Pretoria, where you'll embark the iconic Blue Train for a journey to remember to Cape Town. The route from Pretoria to Cape Town is a journey of nearly 1,000 miles passing through some of the most diverse scenery on the African sub-continent. En route, you'll also enjoy a stop at Kimberley with a chance to explore the Open Mine Museum, before reaching colourful Cape Town.
Today you'll continue the luxury, all-inclusive journey that embodies style, class and elegance; from your indulgent suite with its opulent marble bathroom and sumptuous bedding; to the Cordon Bleu style dining using the finest, local ingredients, all served on delicate crystal or fine china.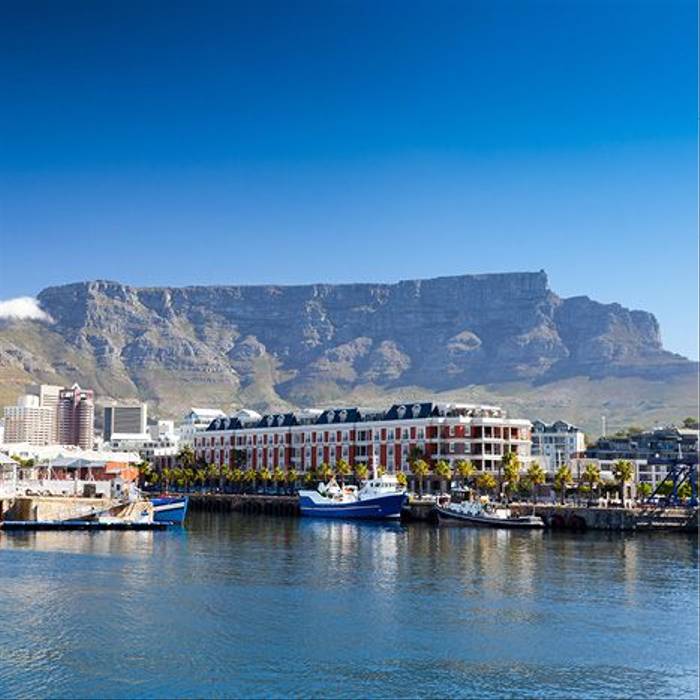 Cape Town
- Disembark Blue Train and Hotel Stay
Disembarking the Blue Train in Cape Town, you'll have an overnight hotel stay at The Portswood Hotel. Located on the Victoria and Alfred Waterfront, The Portswood Hotel is perfectly situated to explore the treats of Cape Town. After a long day of exploring, settle into your hotel at the Quarter Kitchen restaurant, enjoying classic Cape Malay cuisine that spices up your senses, before you settle in the cocktail bar and drink to your African discovery.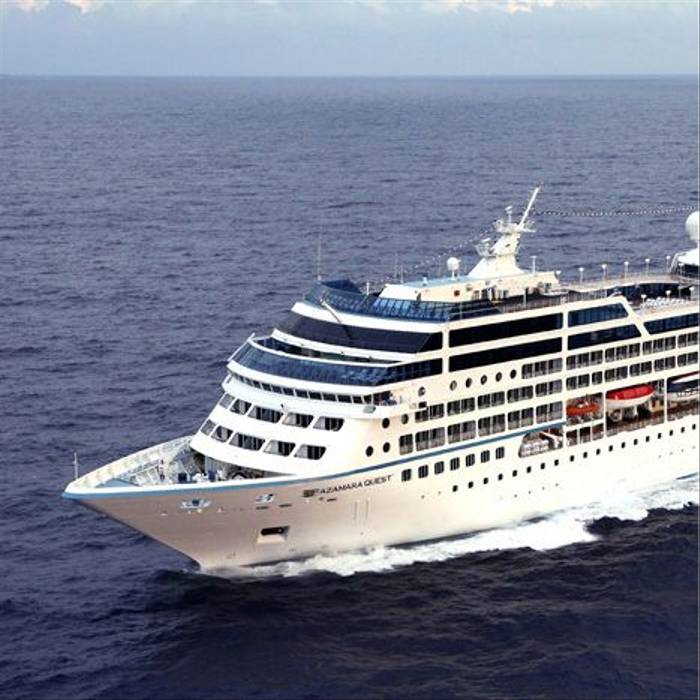 Cape Town
- Embark Azamara Journey®
Feeling more like a private club than a cruise ship, Azamara Journey's intimate atmosphere welcomes you with open arms, exquisite personal service and divine cuisine. The Azamara standard offers boutique hotel-quality service with unparalleled amenities during your sailing, so all you have to do is sit back, relax and voyage away to the less-travelled destinations on your cruise.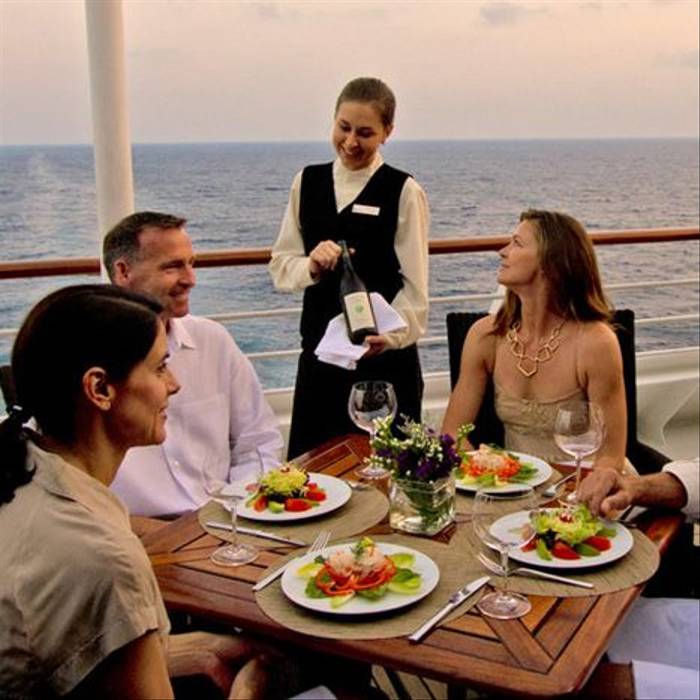 Whether you're craving light nibbles at an atmospheric tapas or five-course meals in an elegant restaurant, Azamara Journey® provides world-class dining for all your time on board. A couple of highlights include Aqualina Restaurant, an Italian eatery that embodies the life and soul of the country, and the Chef's Table where you can enjoy a guest lecturer during your exquisite five-course meal.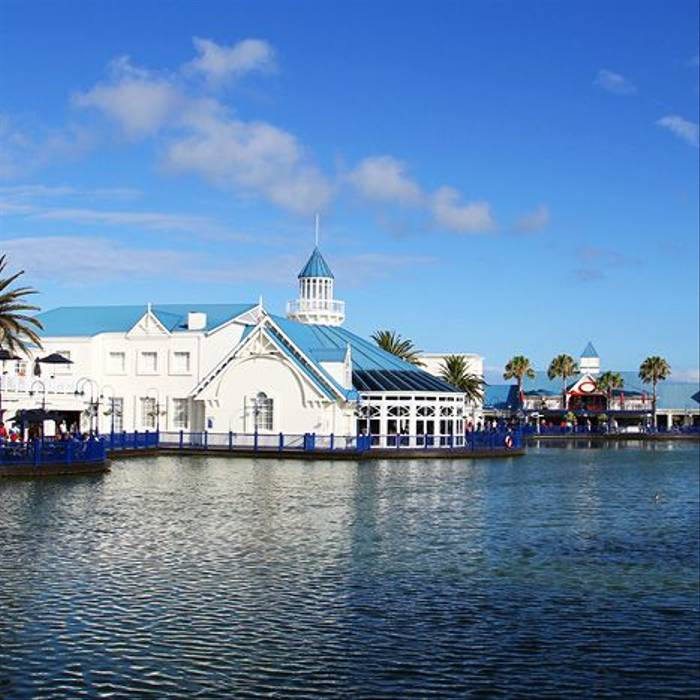 'The Friendly City' - Port Elizabeth is one of the largest cities in South Africa, situated in the Eastern Cape Province. It is a perfect location to take a day tour to the top game reserves in the country including Schotia, Shamwari, Addo Elephant Park, and Lalibela, or relax in the beautiful nature regions of Tsitsikamma and Baviaanskloof.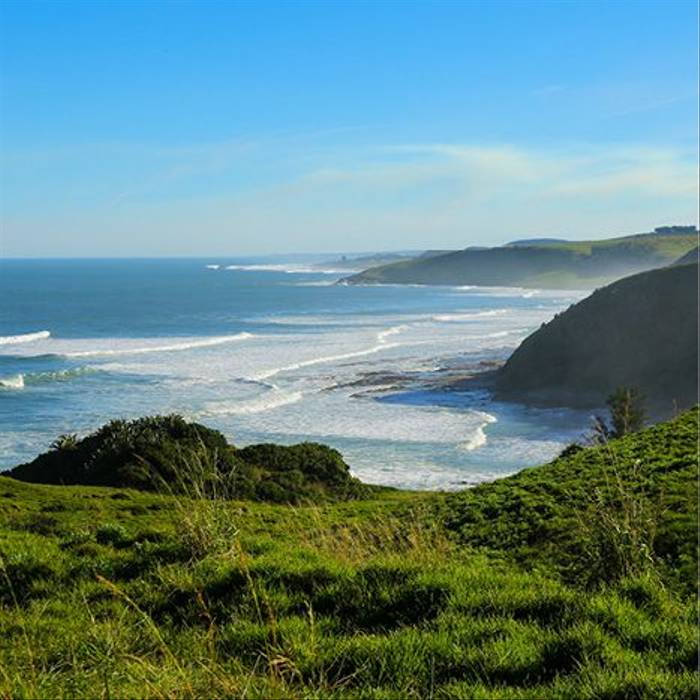 A city that still manages to retain some of its old-fashioned values blended with a laidback charm makes East London one of the most appealing cities on the South African coast. East London is all about its long, white stretches of sandy beaches. Visit the East London Aquarium and Ocean Viewing Deck the oldest aquarium in South Africa or the East London Coast Nature Reserve a gorgeous stretch of coast that extends from the Great Kei River in the north east all the way to the Tylomnqa River in the south west.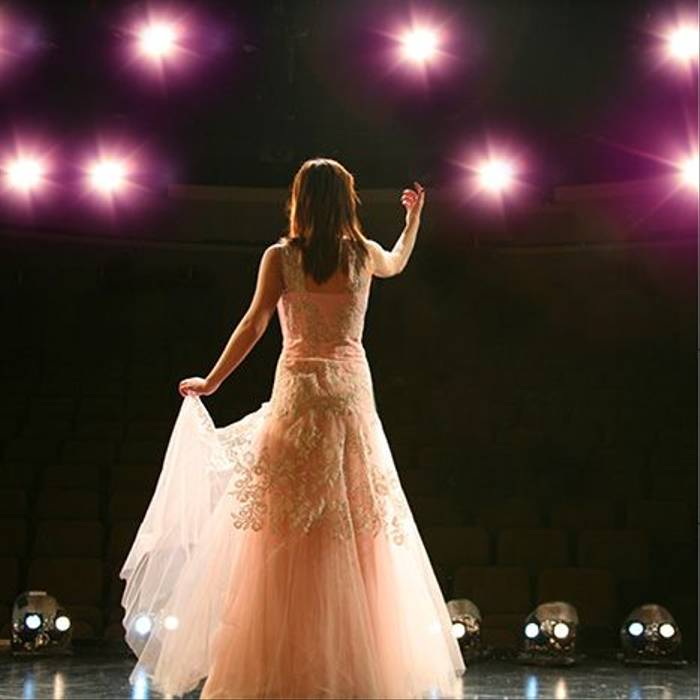 When you're not on shore, Azamara offers plenty to do on board. The day could be filled with quizzes, informative lectures from guest speakers then, in the evening, your activities could include dance lessons, magical cabarets and stunning theatre displays.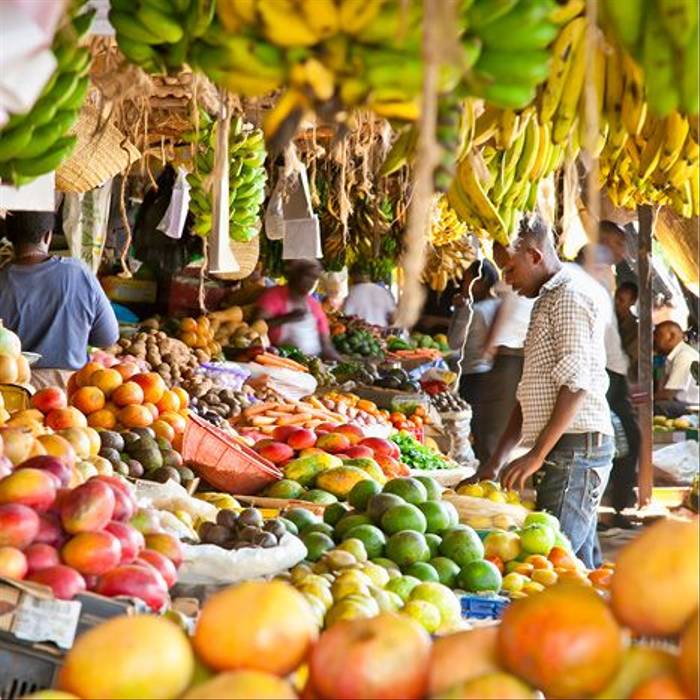 Pick up some seafood and spices at the colourful Municipal Market, and enjoy the excellent art galleries and museums. After all the exploring, take a well-earned break in a local café, or pick up some fresh fruit from a street vendor.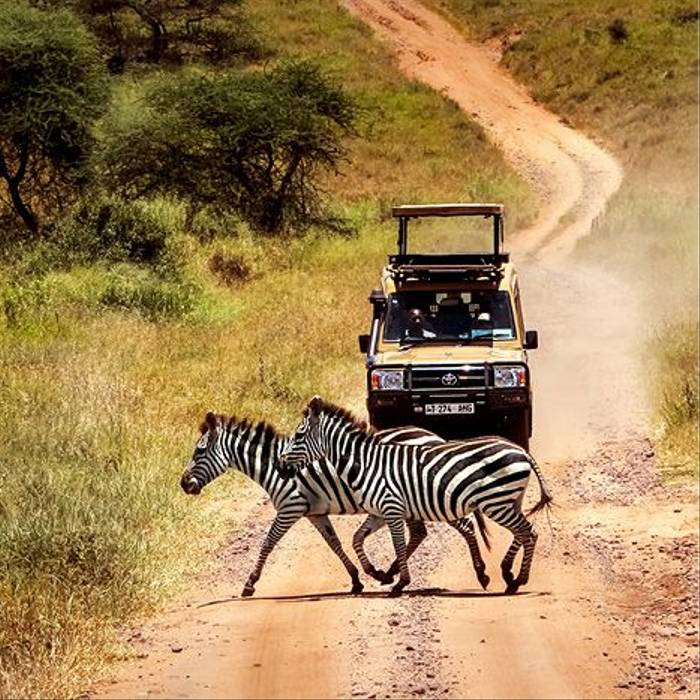 This small town on the northern coast of KwaZulu-Natal is a place of great natural beauty. The Richards Bay Park is a haven for nature-lovers, or there are beaches to relax on with calm, warm seas. For the more adventurous, the nearby game reserve, Hluhluwe–Imfolozi Park, is home to the Big Five.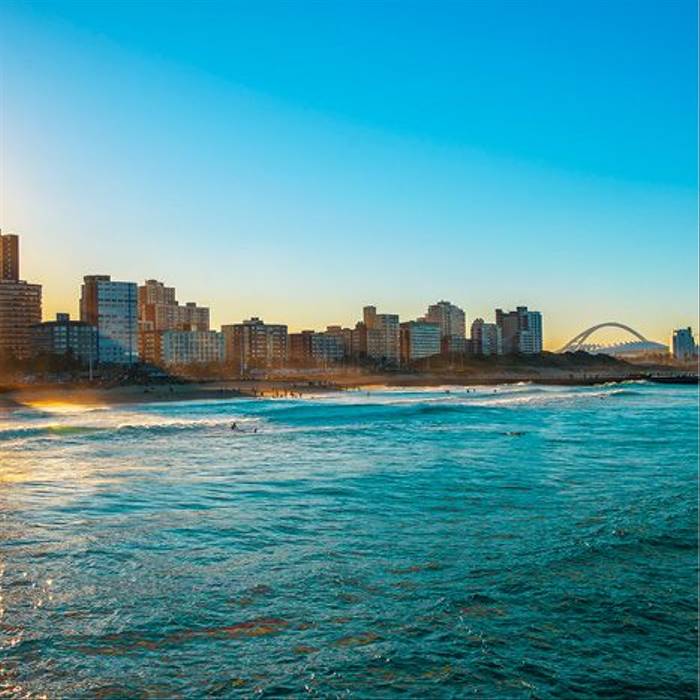 Durban is situated in the KwaZulu Province of South Africa and is the second largest city in South Africa. Locally known as Thekwini, Durban is South Africa's leading beach resort with ideal year-round beach weather and a relaxed atmosphere.
DAY 17 - 18
| 19 - 20 Feb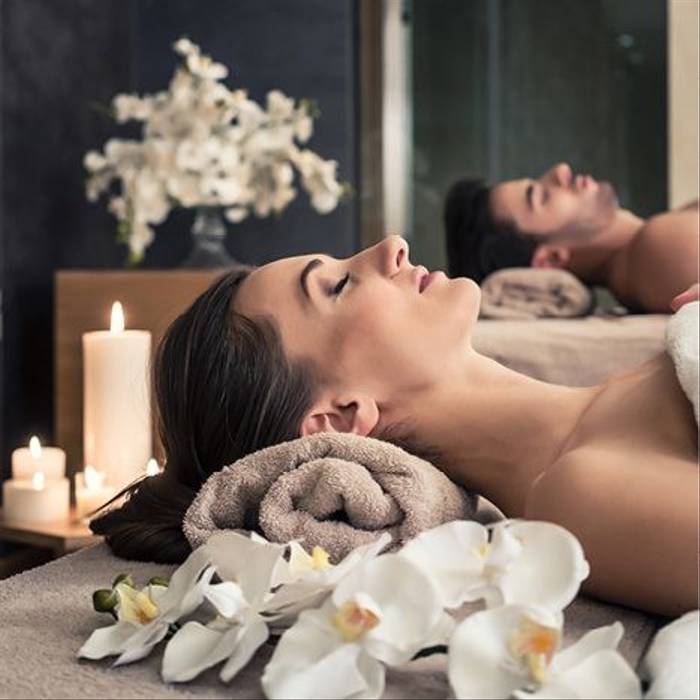 Wind down with your days at sea at the Sanctum Spa. Feel like a rejuvenating body wrap, soothing facial or even a muscle-melting massage? Head to this tranquil oasis. During your time here you could even relax in the hot salt water pool on the Sanctum Terrace where you can relax with stunning views out to sea.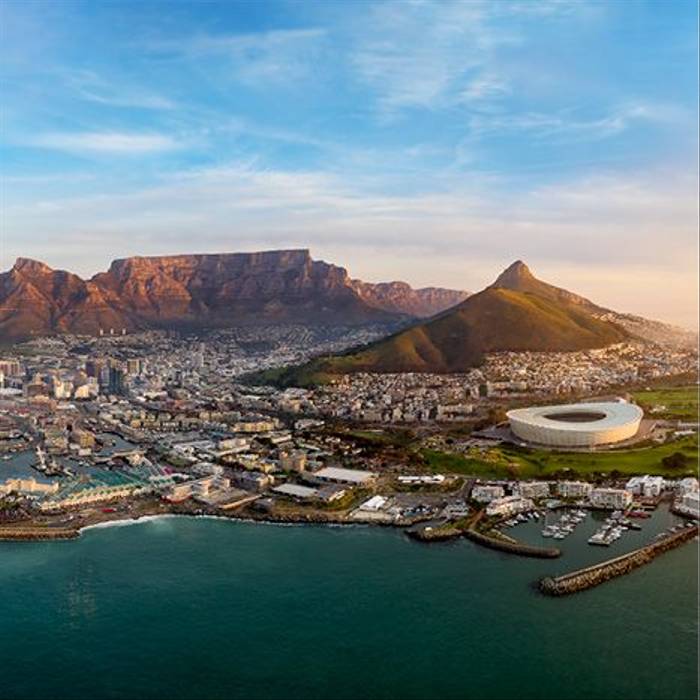 You'll arrive back in Cape Town and spend two nights on board the ship - plenty of time to explore its treasures. For a real sense of Cape Town, hop on a cable car to Table Mountain's summit. From here you'll have panoramic views, with tempting trails leading off through the vegetation, begging to be explored. Or head down to the Watershed, a buttercup yellow building with near-endless souvenir ideas, from unique jewellery to guitars made from oil cans.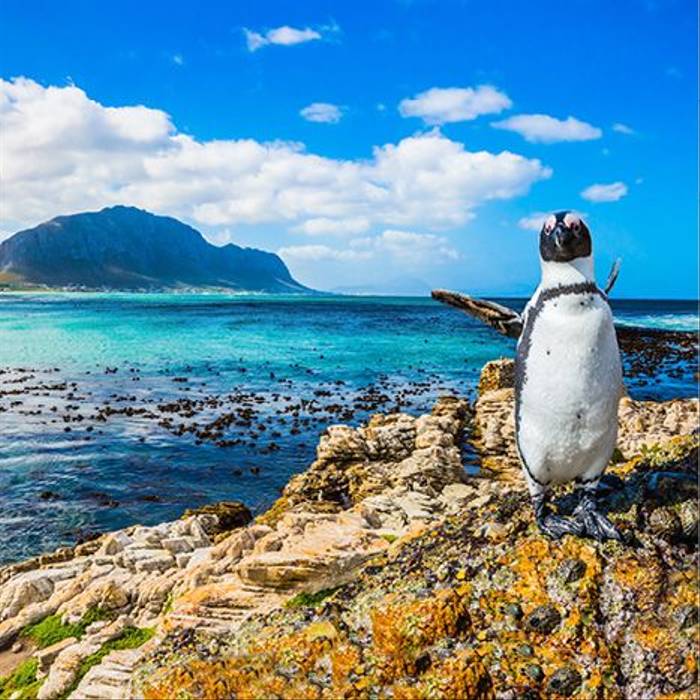 With so much history and culture to see around Cape Town, another day is yours to explore at leisure. Pay a visit to stunning Boulders Beach, sheltered by its ancient granite boulders means it's protected from the wind and large waves. One of Cape Town's most visited beaches and the only place in the world where you can experience a close encounter with African Penguins.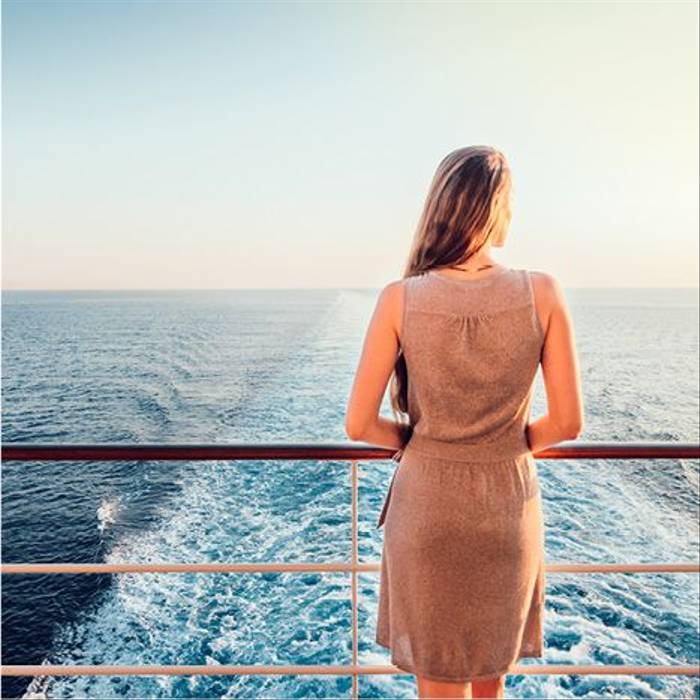 Cape Town
- Disembark Azamara Journey®
Today you'll disembark Azamara Journey® and fly home.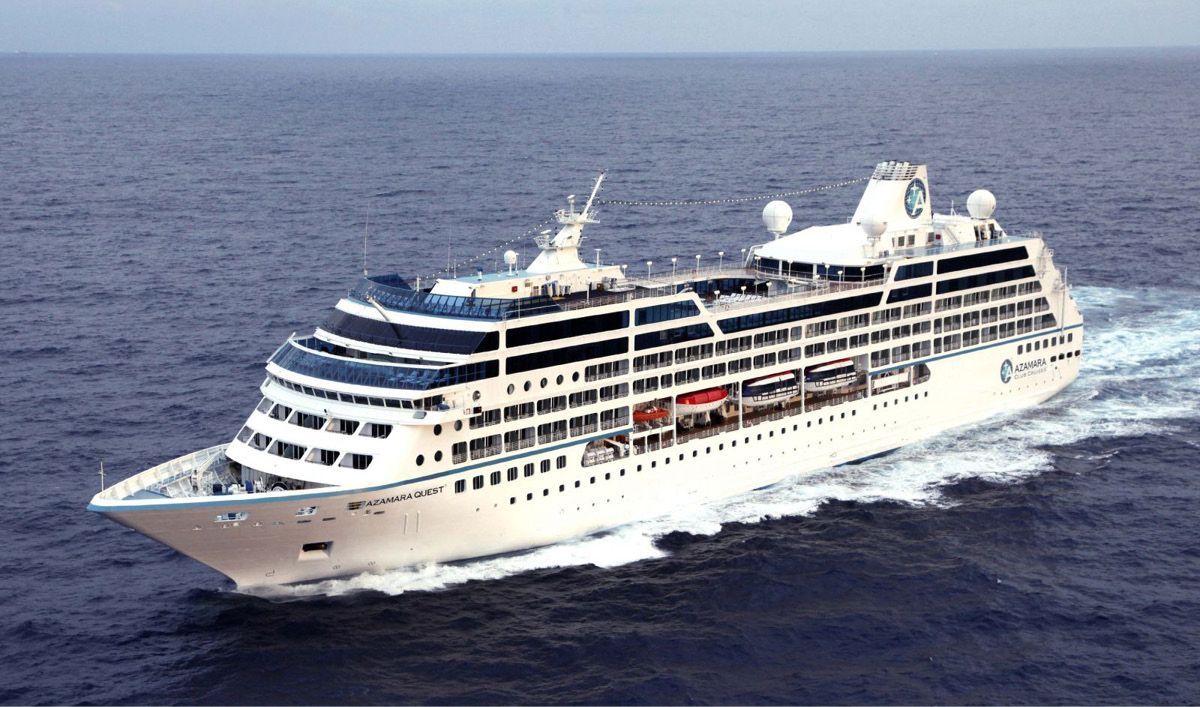 For the ultimate deluxe cruise holiday on a stunning ship, the Azamara Journey® is an excellent choice. The ship boasts friendly and efficient staff and a crew to passenger ratio of 2-to-1 to ensure your every need is catered for. For foodies, the Azamara offers a superb array of restaurants and eateries with culinary delicacies to tempt every appetite whether you enjoy formal dining or a more casual meal. With more balconies than many other cruise liners, there are plenty of places to sip a cool drink as the sun sets. For more lively nights, the high-quality entertainment won't disappoint with shows and cabaret in the elegant showroom.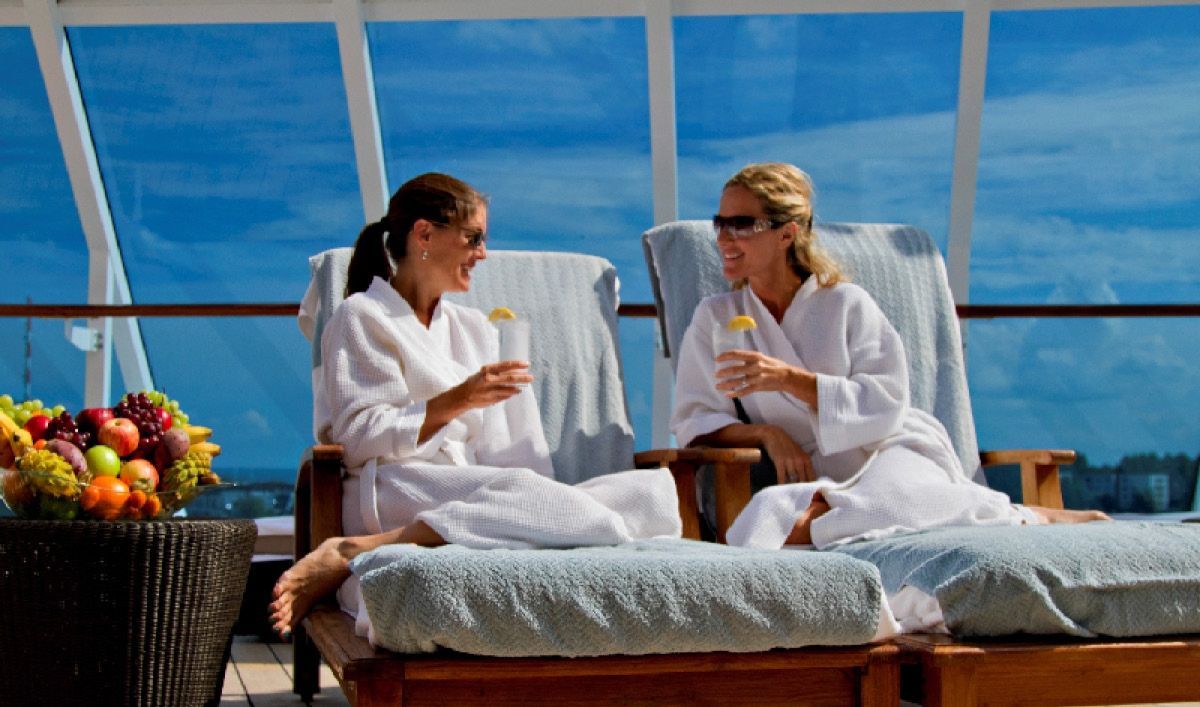 Sanctum Spa
Luxuriate with one of the many treatments at the spa including seaweed wraps and soothing facials
Aqualina Restaurant
Dine like the Italians do in this authentic restaurant where you can taste traditional Italian dishes
AzAmazing Evenings®
Delve further into the culture and history of a destination with these unique and unforgettable events