No-Fly Cunard & All-Inclusive Silversea Cruise with a North America Tour
Includes a Transatlantic Cruise on Board Cunard's Queen Mary 2 and an All-Inclusive Cruise on Board Silver Whisper
Price Reductions: Save up to £1,000 per couple | 10 Day Fully Escorted North America Tour
Get the full experience...
Treasure the feeling of a bygone era on your iconic transatlantic voyage on board Queen Mary 2, the world's only ocean liner.
Pass the days savouring delectable afternoon tea served by white-gloved waiters and the nights at glamorous balls. Arriving in New York, be whisked on a stunning discovery of North America visiting highlights in Washington DC and Philadelphia as well as enjoy the pinnacle of your tour: Niagara Falls. Shiver at the might of this natural feature where thousands of tonnes of water roar off a precipice every second. Fed by glacial mountain lakes, its frigid tempest still awes and inspires the masses today. On a Hornblower cruise you'll be enveloped by the shroud, getting soaked with its brilliance of billowing mist before being transported back in time at Niagara-on-the-Lake. Arriving back in the Big Apple, you'll embark the elegant Silver Whisper for your all-inclusive journey back to the UK. Admire the stunning beauty, rural charm and quaint Victorian architecture of Canada's coastline before crossing the North Atlantic back to Europe. Relish being waited on hand and foot by your personal butler, indulge in exquisite gourmet fare and raise complimentary glasses of your favourite tipple to celebrate the cruise holiday of a lifetime.
Package Includes
All transfers
Hotel Stays
3 night four-star hotel stay in New York
1 night four-star hotel stay in Watkins Glen
2 night four-star hotel stay in Niagara Falls
2 night four-star hotel stay in Washington DC
1 night four-star hotel stay in Philadelphia
Fully Escorted Tours
Entry to Corning Museum of Glass
Hornblower Niagara cruise, an intimate tour where you'll journey past all three of the falls
Scenic tour of Niagara-on-the-Lake including wine tasting
Tour of Washington DC
Tour of Philadelphia
Cruise
7 night full-board transatlantic cruise on board Queen Mary 2
14 night all-inclusive luxury cruise on board Silver Whisper
Pre-paid gratuities and complimentary WI-FI on board
In-suite butler service and fully stocked fridge
All-inclusive alcoholic and non-alcoholic beverages including fine wines and premium spirits whilst on board
At a glance


Prices from
Inside & Vista Suite
Price based on 21 May 2021 departure
Outside & Vista Suite
Price based on 21 May 2021 departure
Balcony & Veranda Suite
Price based on 21 May 2021 departure
Grill Suite & Silver Suite
Price based on 21 May 2021 departure
Here to help
Call to book:
0800 840 5800
Opening hours:
Mon to Sun: 9am to 8pm
Lincoln Memorial
The history of the US comes alive at the National Mall in Washington DC, a major tourist attraction and home to a number of symbolic monuments and buildings. Among them is the Lincoln Memorial, built in 1922 to honour the 16th president of the United States, Abraham Lincoln.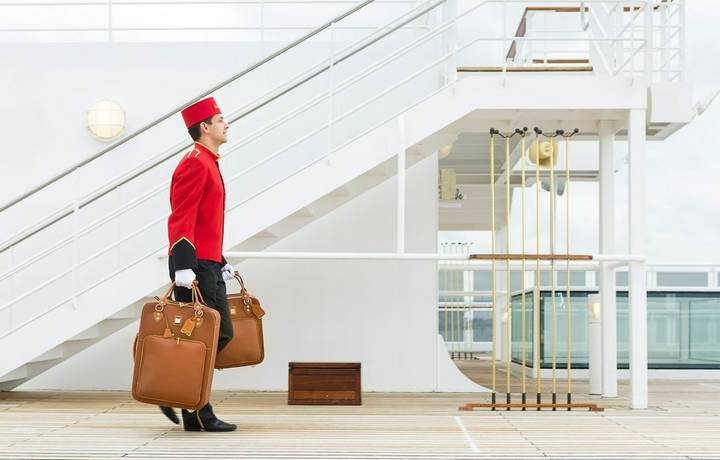 Southampton
- Embark Queen Mary 2
Experience an enchanting voyage unlike any other as you embark the regal Queen Mary 2 for your iconic transatlantic crossing to the epochal city of New York. Immerse yourself in effortless indulgence as you sip on refined cocktails, dance in the Queens Ballroom to the elegant sounds of the orchestra and savour delectable suppers, served on freshly pressed crystal-white linens, by white-gloved waiters.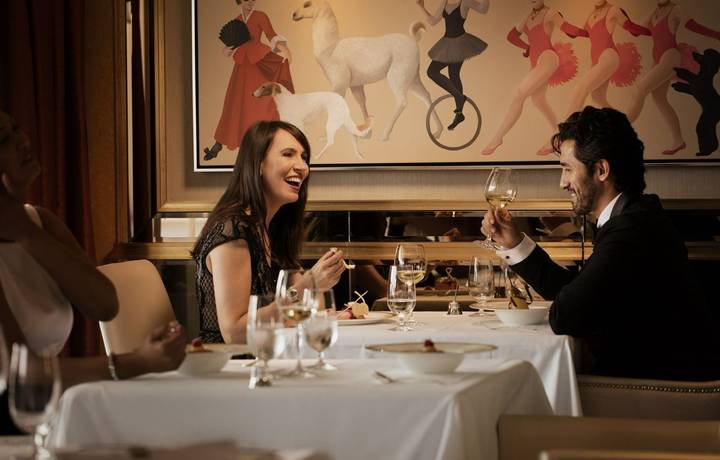 DAY 2 - 3
| 22 - 23 May 2021
Envisage spending six days at sea, experiencing true ocean travel, with exceptional White Star Service, on board the world's only true ocean liner. Your time on board is yours alone to indulge in the exquisite surroundings. Revel in a bygone era at the Captain's Collections and sip world-class wines, or if you wish to while away the time like a true ocean liner passenger, you could head to the Commodore Club for your pre-dinner tipple. Complete with the soothing tones of the pianist filling the air, enjoy spectacular views of the sparkling ocean absorbing the setting sun.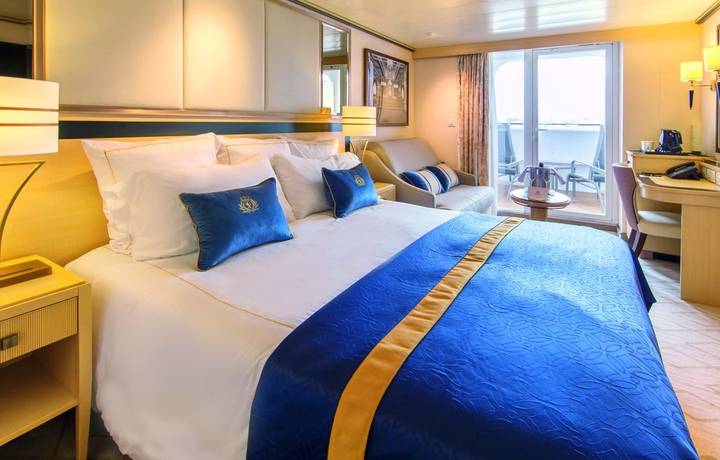 DAY 4 - 5
| 24 - 25 May 2021
Take comfort in the plush surroundings of your stateroom. Elegantly decorated and detailed with modern amenities, it has everything you need in order to feel right at home. Have a wonderful night's sleep tucked up in lavish bedding, finished with pillows specially chosen from a seven-pillow menu.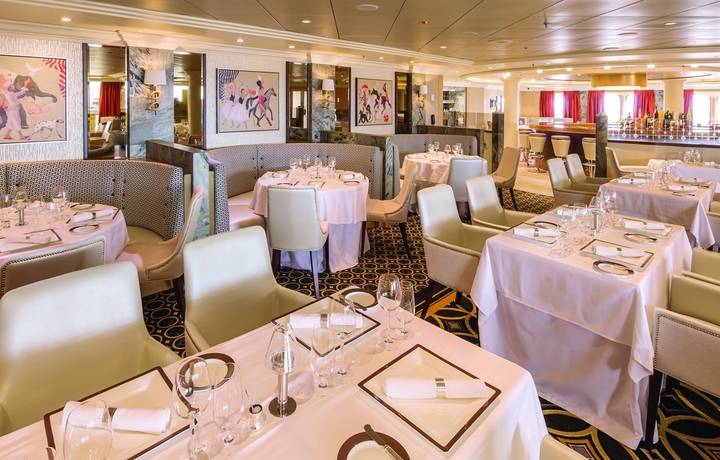 DAY 6 - 7
| 26 - 27 May 2021
Join the ranks of the fabulous and the famous including Audrey Hepburn and Frank Sinatra who once sailed the same transatlantic crossing. These legendary celebrities dined in the timeless restaurants, wandered the polished promenade and raised a glass of champagne in the signature lounges and so could you.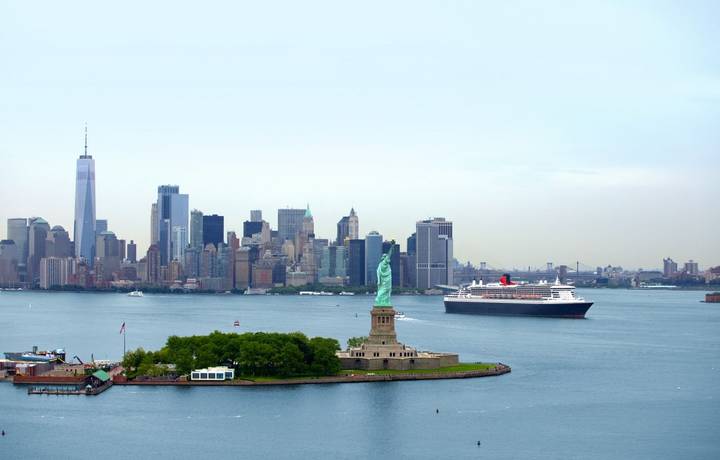 New York
- Disembark Queen Mary 2 and Hotel Stay
From an iconic cruise to an iconic city, you'll arrive in New York. Known for its captivating skyline, Broadway theatres, vibrant squares, alluring museums and sprawling parks, the Big Apple is a treasure trove begging to be explored. Embark a ferry ride to Liberty Island to witness the awe-inspiring sight of Lady Liberty, lose yourself in astounding masterpieces in the Metropolitan Museum of Art or enjoy a picnic in the picturesque surroundings of Central Park.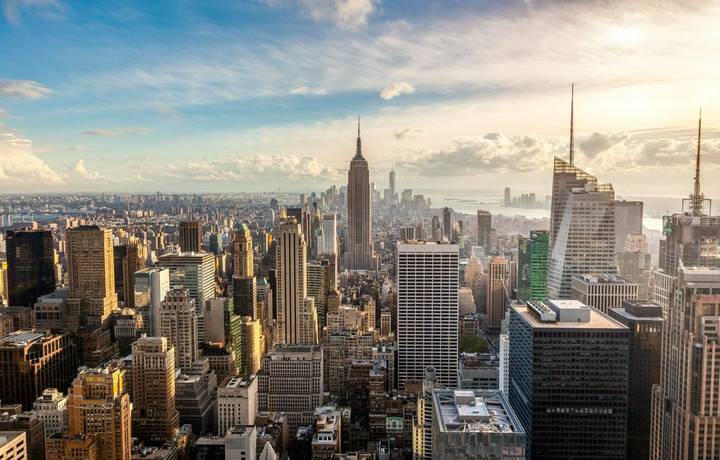 Fully rested, another day is yours to explore the magic of New York. Embrace the chaos in Times Square, alive with the multicoloured hues of electric billboards, savour the delectable flavours of a famous New York, deep-pan pizza, or soak in the atmosphere of a classic theatre show on Broadway. Of course, you could also head off the beaten track and delve into the hidden gems of the city, enjoy mesmerising panoramic views above Times Square from a hidden cocktail bar, enjoy a walk through pink-cloaked trees and find the bronze statue of Alice in Wonderland, or visit the Whispering Galleries at Grand Central Station and share secrets with your loved one.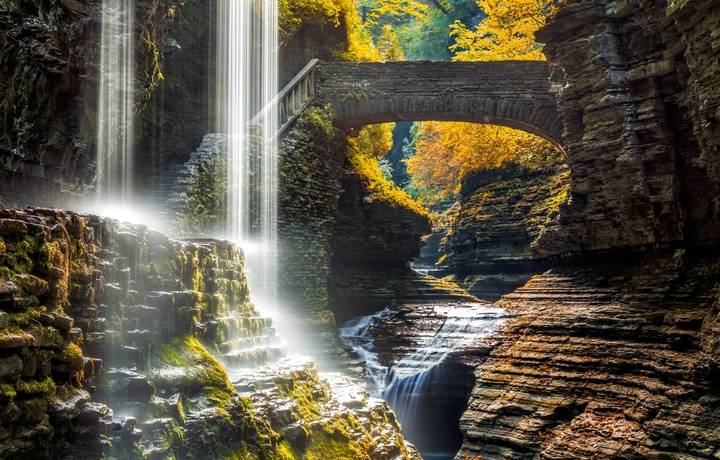 Watkins Glen
- Hotel Stay and Tour
Following your New York City break, you'll enjoy an excursion to the Corning Museum of Glass, en route to the charming village of Watkins Glen, where you'll enjoy an overnight hotel stay. Opening its doors in 1951, this museum is home to the world's most comprehensive collection of glass. Walk within and find the light catch on the shimmering works of art from creations 3,500 years old to modern pieces refracting rainbows. For an added treat, watch as professional glass smiths mould the molten glass into a variety of shapes for their next project.
From here, you'll embark on a scenic drive along the largest of the glacial Finger Lakes through Upstate New York to Watkins Glen, a small village encased in rolling hills and lush vineyards on the cusp of the Seneca Lake. Uncover the history of Schuyler County's rich past through a series of exhibits in the Brick Tavern Museum, indulge in delicious wine at Castel Grisch, or wander the captivating landscapes of scenic Watkins Glen State Park, home to magnificent waterfalls, winding gorge paths and cascading streams.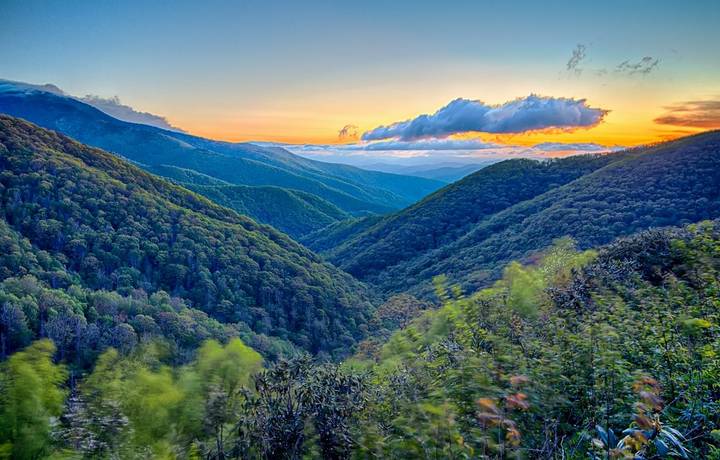 Niagara Falls
- Hotel Stay and Tour
En route to your hotel stay in Niagara Falls, you'll journey past the bewitching views of the Appalachian Mountains and the serene Susquehanna River as you wind your way through some of North America's most dramatic scenery. You'll also enjoy a stop at Gettysburg National Military Park, a national park protecting the landscape of the 1863 Battle of Gettysburg, one of the most crucial battles of the American Civil War.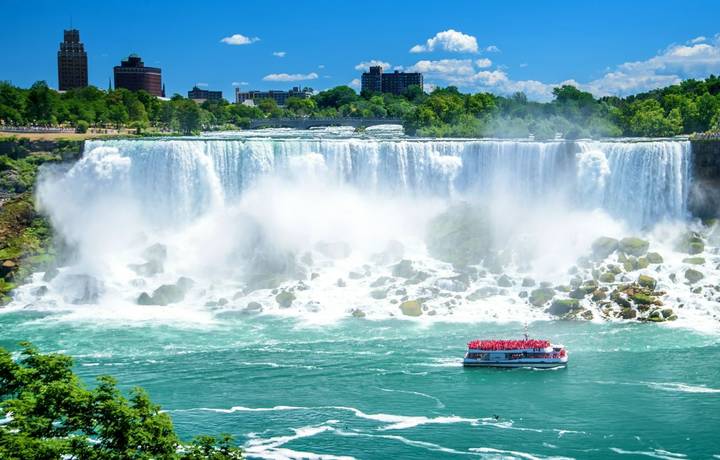 Niagara Falls
- Hotel Stay and Tour
One of the highlights of your North American tour will be a hotel stay and excursion of the breathtaking Niagara Falls, a collection of three magnificent waterfalls: the American Falls, Bridal Veil Falls and Canadian (Horseshoe) Falls. Experience a remarkable journey witnessing these three majestic curtains of dancing water during a Hornblower cruise. Hear the thunderous roar and marvel at the powerful force as gallons of water soar over the cliff edges into the dizzying whirlpools below, throwing up a glaze of shimmering mist, framed by rainbows. As you cruise along the frothy turquoise waters, your ship will immerse you into the pearlescent clouds, soaking you to the skin for a truly memorable experience. Your tour continues to the quaint Niagara-on-the-Lake, a picturesque town, nestled on the shores of Lake Ontario. The flower-filled, tree-lined streets, guarded by 19th century buildings that epitomise old town charm, making it a delight to explore. During your time here, you'll savour a wine tour and learn about the wine-making process, wander the lines of verdant grapevines and relish the delectable taste of the world-famous Niagara Icewine, renowned for its incredibly sweet and smooth taste due to the grapes used to make it.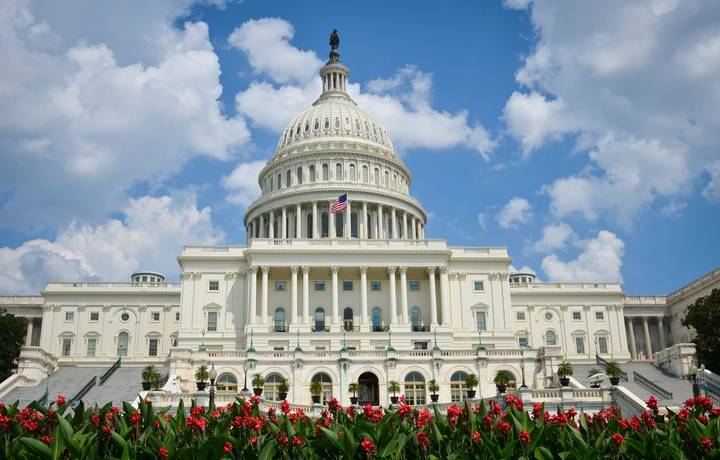 Washington DC
- Hotel Stay
Washington DC, a city rich in history, politics and art and home to the three pillars of US government - the president, Congress and the Supreme Court - is where you'll discover true American culture. Your fully escorted tour will take you to the city's most famous monuments including the striking Lincoln Memorial, in honour of the 16th President of the United States; the National Mall, an icon of the nation's capital; and of course, the majestic White House, residence of the President.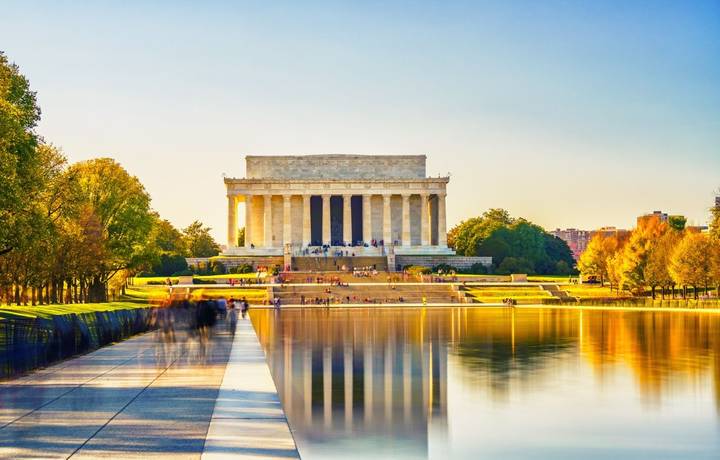 Washington DC
- Hotel Stay and Tour
History, politics, art and culture; Washington DC is a fascinating glimpse into America's epic history. Your tour takes you to some of the city's most famous icons including the Lincoln Memorial, the National Mall and of course the majestic White House which you'll get to view from the outside (and take that perfect holiday snap!)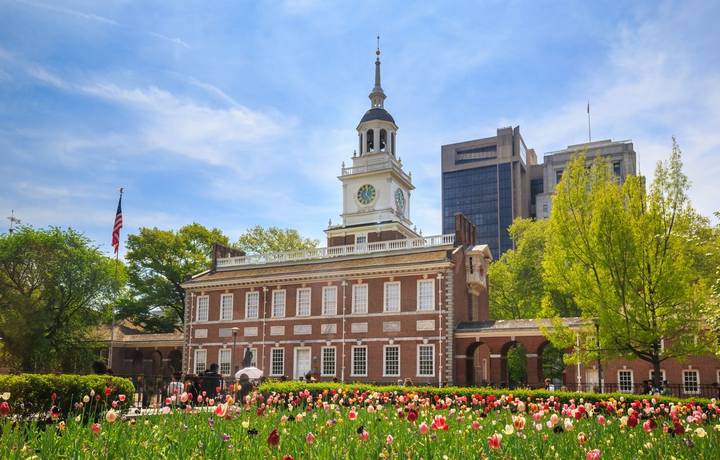 Philadelphia
- Hotel Stay and Tour
The final stop of your North American tour is Philadelphia, Pennsylvania's largest city, known as the "Birthplace of the Nation", and notable for its rich history on display around the city. Your tour will take you on a journey as you discover more about some of the most significant buildings and features including the Liberty Bell, commissioned in 1752. It rang on 8th July in 1776 to mark the reading of the United States Declaration of Independence, which had been signed in Independence Hall on July 4th.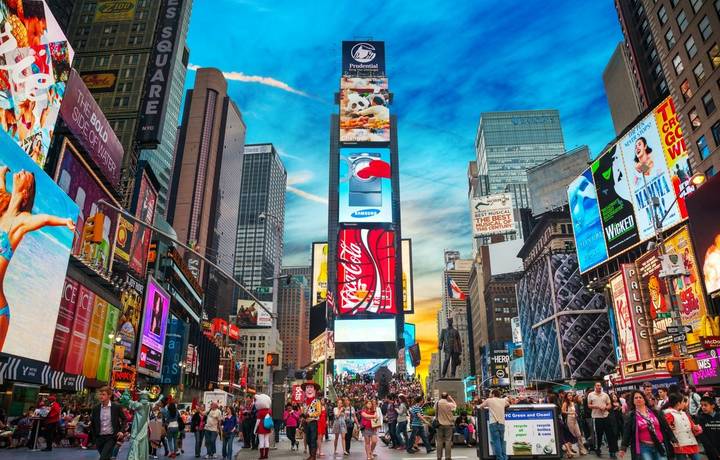 Your North American tour complete, you'll enjoy a further hotel stay in New York City before your all-inclusive luxury cruise on board Silver Whisper takes you home. Embrace the opportunity to delve into the gourmet options hidden within the heart of the city. If you enjoy a spot of people-watching, head to Rintintin and dine on delicious Mediterranean fare. Or savour the flavours of traditional American cuisine and tasty craft cocktails in Tiny's & The Bar Upstairs, a cosy three-story townhouse with one of the prettiest exteriors in the whole of Manhattan.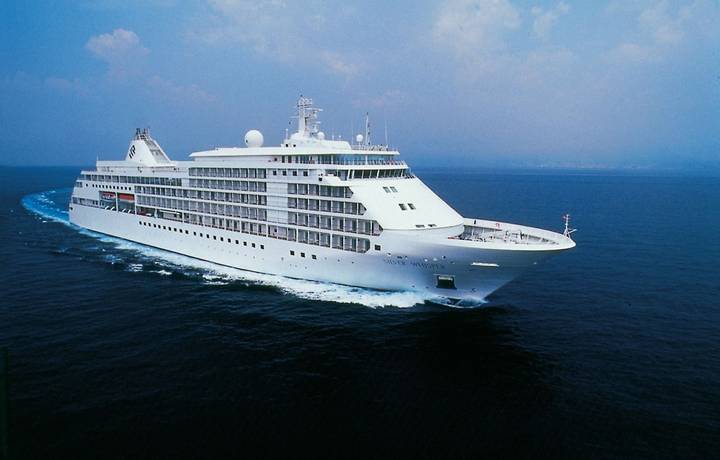 New York
- Embark Silver Whisper
Leaving your hotel behind, you'll embark the luxurious Silver Whisper for another night in New York's harbour. This ship embodies the values of Silversea cruising: personal, all-inclusive intimate luxury. You'll be welcomed with a glass of champagne, then your personal butler will whisk your bags to your suite where you can settle and even choose from a range of nine different pillows for the perfect night's sleep. Because no detail is too small, you'll feel like a true guest rather than just another customer.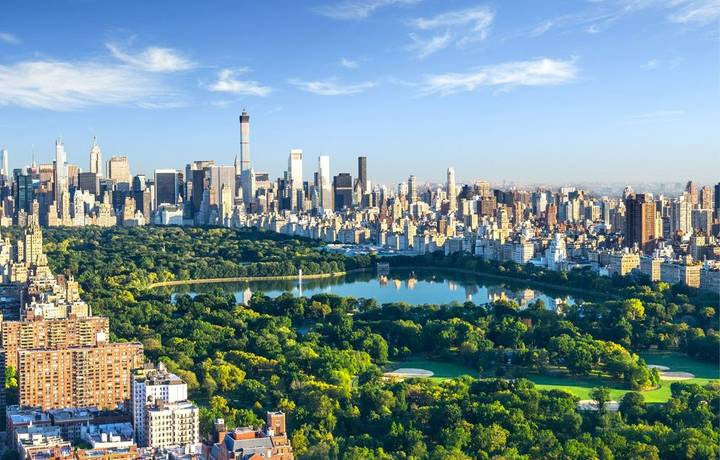 New York, New York, discover the heart of it. You've heard of Broadway, seen the Empire State Building, walked Central Park and think you've seen it all. But with your final day in New York, don't waste it seeing the tourist traps and head instead to some of the lesser-known but still treasured hot spots. Begin your morning on an old elevated railway line that has been converted into a verdant mile-long park, before walking back in time in the Old City Hall subway complete with stained glass skylight. To round off the day, settle into a bank vault, or at least the cocktail bar hidden within it at Trinity Place.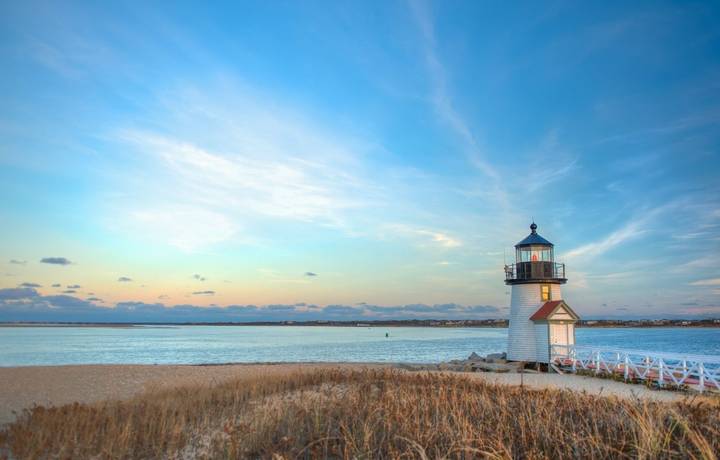 Cape Cod (Scenic Cruising)/Boston
Due to the intimate size of the ship, Silversea ships can travel where larger cruise lines cannot. Hence you can savour the serene view of Cape Cod in the early morning as your in-suite butler serves you breakfast and hot coffee – free of charge, of course. Arriving in Boston in the morning, discover this lively city in its public garden, the first botanical garden in America and inhale the sweet scent of two centuries of hard work. Beginning here, wander through history along The Freedom Trail which passes 16 historic sites from the "Cradle of Liberty" to a Revolutionary Battle site.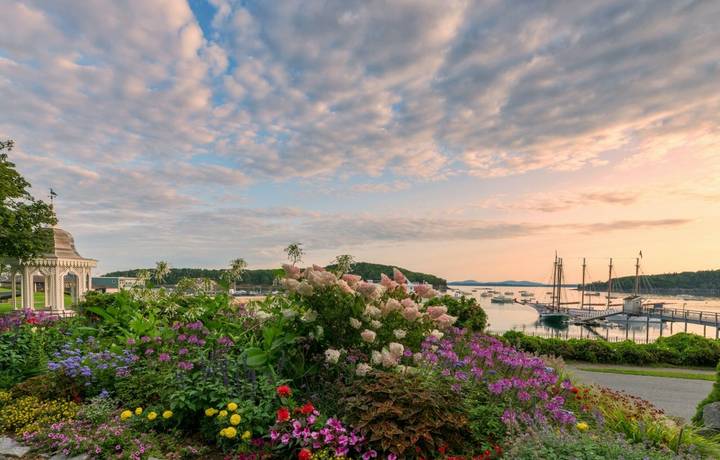 A popular holiday spot since the 19th century, the years have stretched on, yet its universal charm has not. Refreshed with a crisp, sea-salty breeze, walk along its shoreline for magnificent views of white-topped waves rolling into the rocks. After this you could delve further into its lush beating heart in the form of soaring trees and shimmering streams that lead into glassy lakes stretching out into the horizon.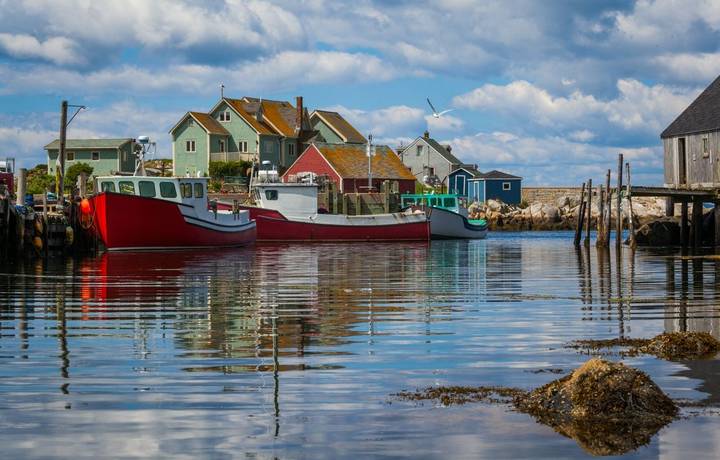 A seaside promenade showcasing its craggy shoreline, a lighthouse guarding well into the night and a nightlife that calls you into the homely pubs – this location is the essence of a Canadian town. Spend the day walking along the sprawling promenade and listen to the waves crash against the rocks or settle into one of the seafront restaurants that serve classic fare – seared scallops or mussels swimming in rich sauces.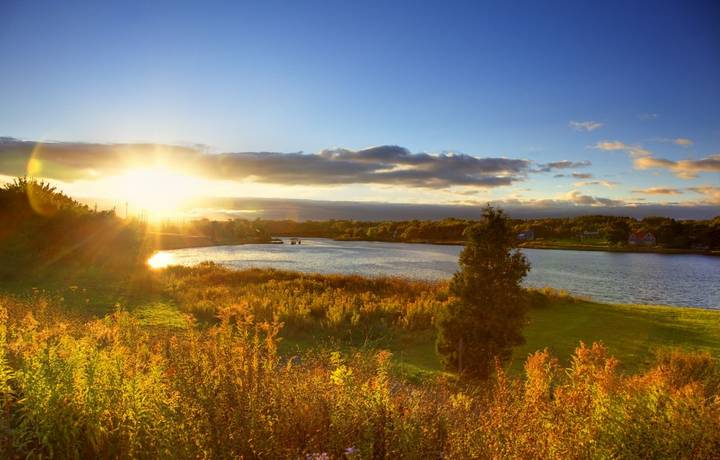 Once the booming hub of coal mines and steel mills, this bustling city has slowed down to enjoy the quieter things in life. And so, should you. Walk within the town where charming colonial houses dating back to the 1780s line the streets, or even discover some of its more modern residents like the Big Fiddle, which unsurprisingly is the largest fiddle in the world.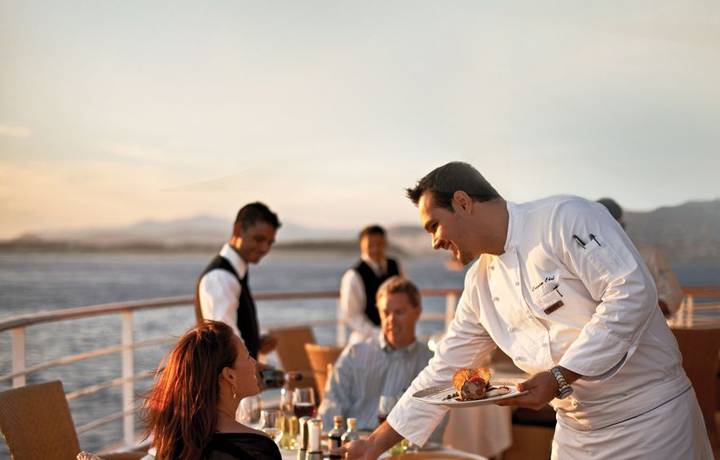 With your day at sea you can spend the time truly savouring your all-inclusive basis. Wake up late and enjoy an intimate breakfast served by your personal butler within your suite before heading out to explore the treats on board the ship. Maybe you could settle in the Connoisseur's Corner to sample and appreciate premium cognac from the polished leather seats with the other guests and purchase aromatic cigars.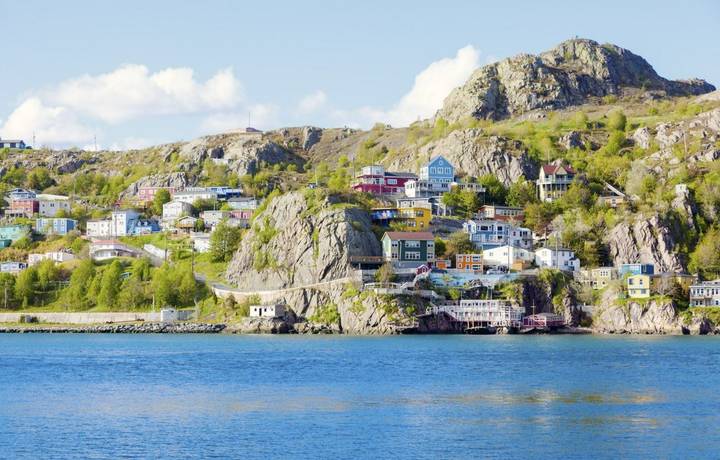 Steep streets that lean towards the sea, hemmed in by vibrant, multicoloured houses make up the oldest city in North America without any of its overwhelming atmosphere. But if you want to dive beneath the surface to see some of its wildlife, you could head to the Fluvarium where you can see its local residents – the brown trout and eels – and learn more about the freshwater ecosystem that weaves through this destination.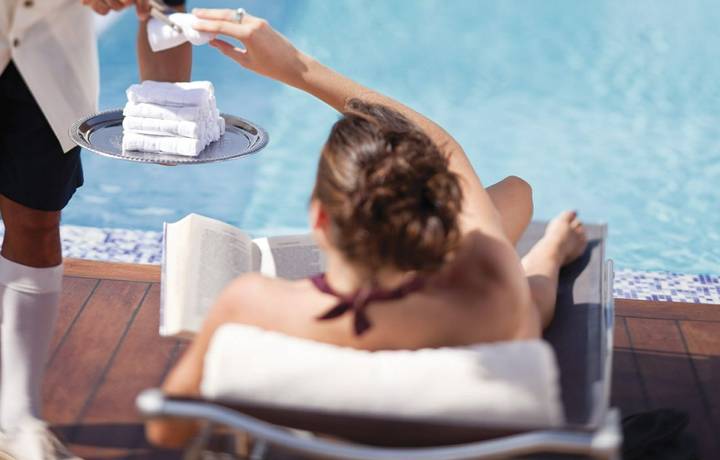 DAY 25 - 28
| 14 - 17 Jun 2021
For your transoceanic sailing you can embrace more of your ship. With everything taken care of, from another chilled glass of lemonade while you sit in the Panorama Lounge to a candle-lit dinner for two, the only thing you need to concern yourself with is what to do next. Maybe you'll brush up on your tango skills during one of the complimentary lessons, or head to an enrichment session where you could learn a variety of things from a world-class sommelier to natural history – it's completely up to you.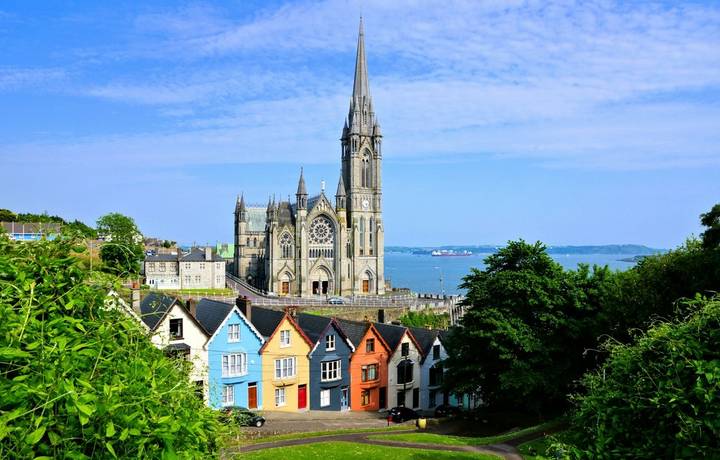 One of your final stops on this luxurious cruise is classic Cork. Imbibed with Irish spirit and a friendly attitude, when in Ireland do as the locals do – head to the pub. Find one of its old taverns interspersed between brightly coloured houses and grab one of its world-class beers before heading, ironically, to the English Market where you can sample true, juicy Irish steak. To finish off the day, walk along its pleasant riverside pathway and savour the atmosphere of Ireland's second biggest city.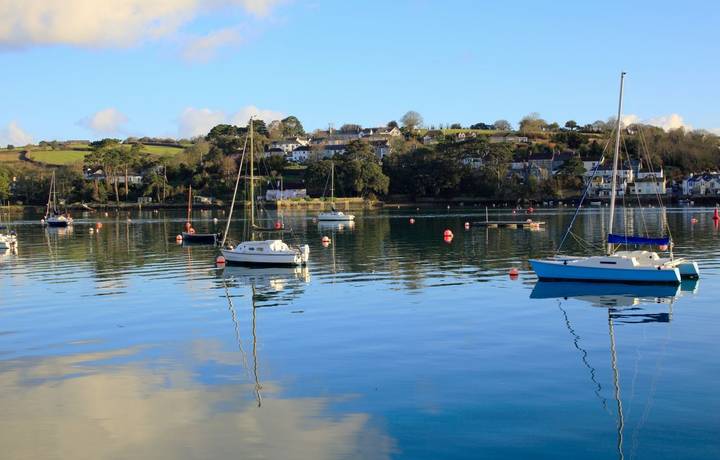 For your penultimate destination you'll arrive back on English soil in charming Cornwall, home to rugged, wind-swept shorelines, some of the world's best surfing and arguably, the best pasties. When you dock in Falmouth today, you could stay close to port and explore the Maritime Museum which hosts a rich history or sun yourself on its beaches. But where's the fun in that? Why not try the untamed pathways that lead into the generous nature surrounding this wild and wonderful coastline?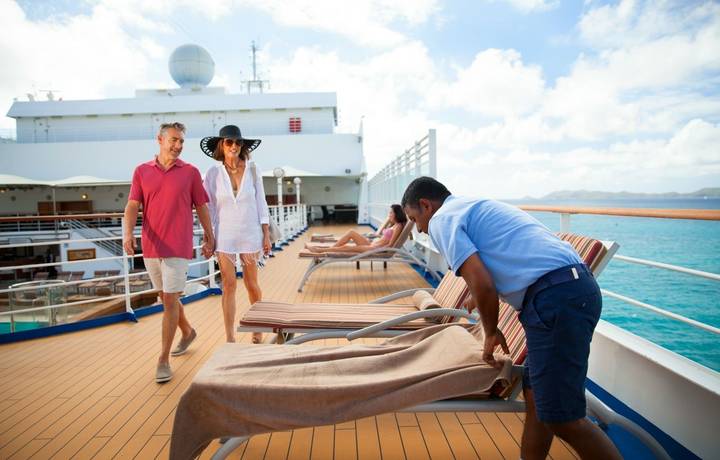 Southampton
- Disembark Silver Whisper
Today you'll bid farewell to your epic adventure from Cunard's glamorous balls and Niagara Falls' roar still echoing in your ears, to your all-inclusive Silversea cruise and Canada's stunning destinations.
North America Tour
DID YOU KNOW
During your 10 day fully escorted North America tour, you'll enjoy hotel stays in some of the most historical cities as well as embark on a series of tours showcasing the political fabric that helped form this fascinating region and witness the magnificent beauty of Niagara Falls.
DID YOU KNOW
During your 10 day fully escorted North America tour, you'll enjoy hotel stays in some of the most historical cities as well as embark on a series of tours showcasing the political fabric that helped form this fascinating region and witness the magnificent beauty of Niagara Falls.
Welcome aboard the Queen Mary 2
The only purpose-built passenger ship designed as an ocean liner as opposed to a cruise ship, the magnificent Queen Mary 2 made her maiden voyage in 2004 and was subject to a stunning £90million refit in 2016. The proud flagship of the Cunard fleet, she more than lives up to this status, providing her passengers with a refined and luxurious experience that harks back to the golden age of ocean cruising. Queen Mary 2 is a true maritime icon. From remarkable craftsmanship in the cabins to impeccable service levels, Art Deco design flourishes to sumptuous cuisine - all combine to serve up the quintessential Cunard voyage.
Entered Service: 12/01/2004
Number of Decks: 12
Passenger Capacity: 2,620
Total Crew: 1,253
Number of Cabins: 1,276
Wheelchair Accessible Cabins: Yes
Number of Pools: 5
Number of Restaurants: 4
Formal Nights: Yes
Kids Club: Yes

Entered Service: 12/01/2004
Number of Decks: 12
Passenger Capacity: 2,620
Total Crew: 1,253
Number of Cabins: 1,276
Wheelchair Accessible Cabins: Yes
Number of Pools: 5
Number of Restaurants: 4
Formal Nights: Yes
Kids Club: Yes
Welcome aboard the Silver Whisper
Opulent yet intimate, Silver Whisper has all the amenities of a grand resort but with the charm of a boutique hotel. From the sanctuary of your suite, to the extensive dining opportunities and indulgent spa – you can't help but fall in love with the Silversea style of cruising. Each suite is elegantly decorated with dark wood and rich colour schemes and include marble bathrooms with a separate tub and shower. You'll even be assigned your own personal butler, so your every whim will be catered to. Silversea cruising is truly designed for those who delight in the thrill of discovery while indulging mind and body in the most lavish surroundings imaginable.
Entered Service: 02/02/2000
Tonnage: 28,258
Number of Decks: 7
Passenger Capacity: 382
Total Crew: 302
Number of Cabins: 194
Wheelchair Accessible Cabins: Yes
Number of Pools: 1
Number of Restaurants: 3
Kids Club: No

Entered Service: 02/02/2000
Tonnage: 28,258
Number of Decks: 7
Passenger Capacity: 382
Total Crew: 302
Number of Cabins: 194
Wheelchair Accessible Cabins: Yes
Number of Pools: 1
Number of Restaurants: 3
Kids Club: No
If you have a promotional code please enter it here to view our discounted prices.
regional flights available at a supplement
Inside & Vista Suite
Inside & Vista Suite
£6,299
Outside & Vista Suite
Outside & Vista Suite
£6,799
Balcony & Veranda Suite
Balcony & Veranda Suite
£7,499
Grill Suite & Silver Suite
Grill Suite & Silver Suite
£13,499