No-Fly Cunard & Silversea Cruise with a North America Adventure
Includes a Cruise on board Queen Mary 2 and Silver Whisper
10 Day Fully Escorted North America Tour
30 nights | 21 May 2021
No-Fly Cunard & Silversea Cruise with a North America Adventure
Includes a Cruise on board Queen Mary 2 and Silver Whisper
10 Day Fully Escorted North America Tour
30 nights | 21 May 2021
No-Fly Cunard & Silversea Cruise with a North America Adventure
Includes a Cruise on board Queen Mary 2 and Silver Whisper
10 Day Fully Escorted North America Tour
30 nights | 21 May 2021
Get The Full Experience...
Indulge in this unique adventure where you'll relish a double cruise on board Cunard and Silversea ships and immerse yourself in a series of North American tours.
Embark regal Queen Mary 2 for an iconic transatlantic voyage to New York. Here you'll enjoy a hotel stay and begin your tour of some of the fascinating and historical sites of America, from Liberty Bell and Independence Hall in Philadelphia, known as the "Birthplace of the Nation", to the Lincoln Memorial and the White House in Washington DC. From here, you'll head to Niagara Falls to witness the majestic beauty of the three waterfalls that make up this unforgettable natural wonder. Hear the thunderous roar, feel its veil of mist and soak in the enchanting atmosphere. Following your hotel stay, you'll begin your journey back to New York, stopping in the picturesque village of Watkins Glen. Arriving back in New York, you'll embark the elegant Silver Whisper for your journey back to the UK. Admire the stunning beauty, rural charm and quaint Victorian architecture of Canada's coastline before crossing the North Atlantic back to Europe, where you'll marvel at appealing stretches of Ireland and indulge in tasty Cornish cuisine before your cruise ends in Southampton.
Package Includes
7 night full-board cruise on board Queen Mary 2
3 night hotel stay in New York
1 night hotel stay in Philadelphia
Fully escorted tour of Philadelphia
2 night hotel stay in Washington DC
Fully escorted tour of Washington DC
2 night hotel stay in Niagara Falls
Hornblower Niagara cruise, an intimate tour where you'll journey past all three of the falls
Fully escorted scenic tour of Niagara-on-the-Lake including wine tasting
1 night hotel stay in Watkins Glen
14 night all-inclusive luxury cruise on board Silver Whisper
Pre-paid gratuities and complimentary WI-FI on board
In-suite butler service and fully stocked fridge
All-inclusive alcoholic and non-alcoholic beverages including fine wines and premium spirits whilst on board
All transfers
Flight from
Balcony and Veranda Suite
Grill Suite and Silver Suite
Other regional airports may be available*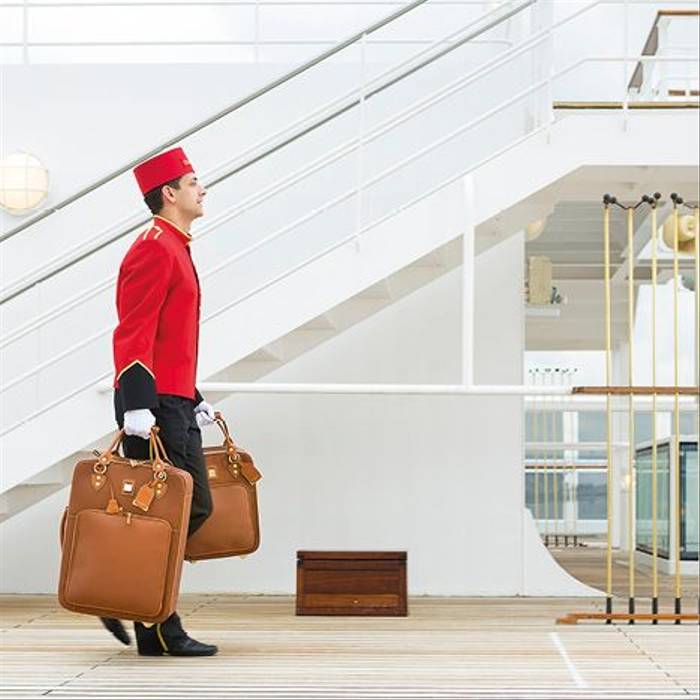 Southampton
- Embark Queen Mary 2
For over a century and a half, Cunard have epitomised the sophisticated grandeur of ocean travel. The Queen Mary 2 is one of the most famous in the world and will transport you to a more refined age, while surrounding you with all the luxury and modern amenities you could wish for on your cruise holiday.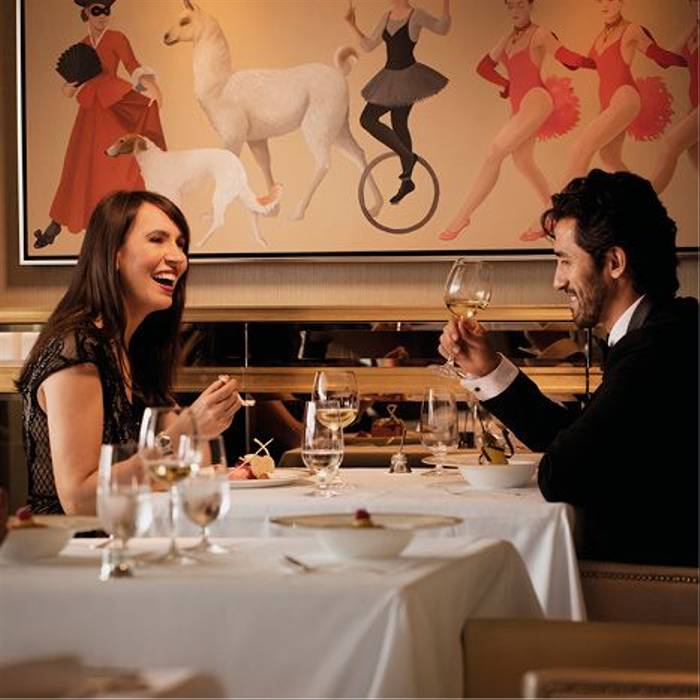 Queen Mary 2 is one of the most luxurious liners at sea. Find world-class entertainment, sumptuous cuisine, an on board planetarium, as well as the Canyon Ranch SpaClub and famous speakers from the arts and beyond to entertain you on your voyage.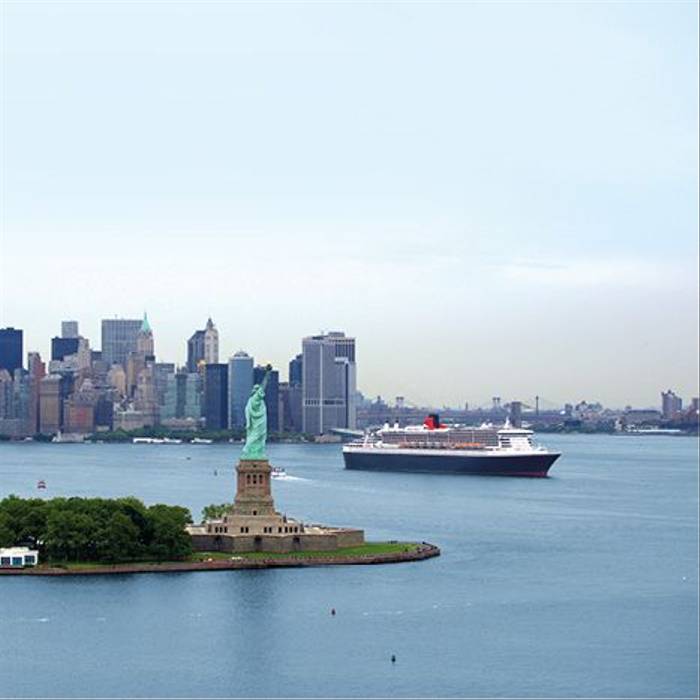 New York
- Disembark Queen Mary 2 and Hotel Stay
Imagine waking up to the most iconic skyline laid out in front of you: the arm of the Statue of Liberty aloft and the tip of the Empire State Building grazing the clouds. This view could be yours, reaching New York as the dawn breaks over one of the world's most exciting cities before you disembark.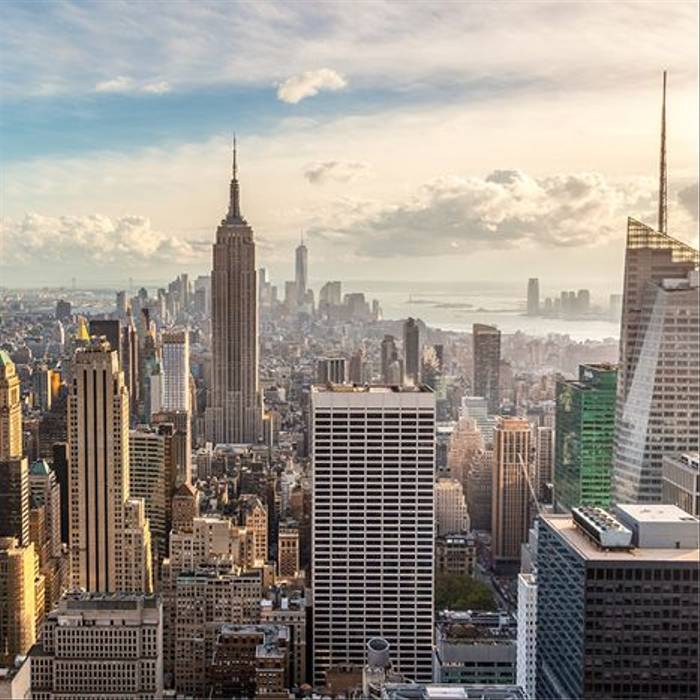 Gaze upwards in awe at the famous monuments and skyscrapers that tower above you before climbing them for fantastic views across the city; enjoy the tranquillity of Central Park with its rolling meadows or immerse yourself in the magic of theatre at a legendary Broadway show.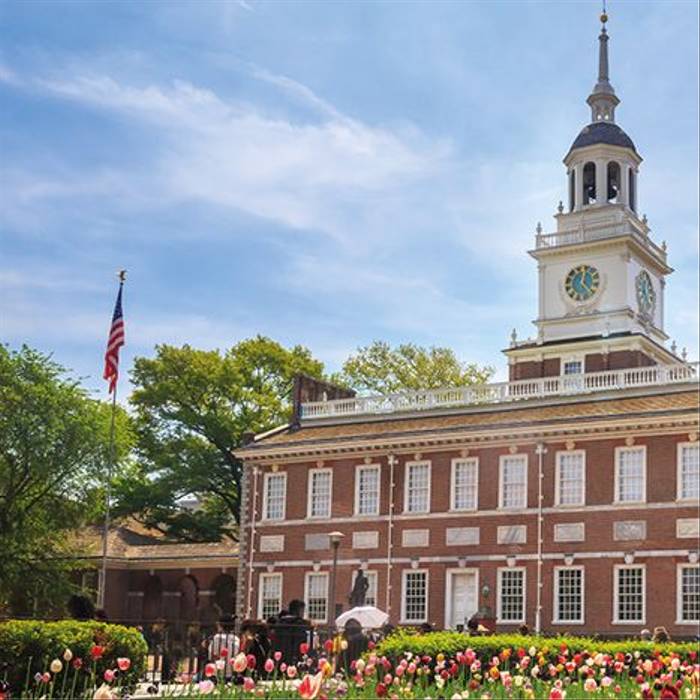 Philadelphia
- Hotel Stay and Tour
Your next stop of your North America tour is Philadelphia, where you'll visit some of the most significant buildings in this historic city known as the "Birthplace of the Nation", including the Liberty Bell and Independence Hall where the Declaration of Independence and the US Constitution were signed. After checking in to your hotel, you'll have the rest of the day to explore Pennsylvania's largest city at leisure. Admire masterpieces by Picasso, Duchamp and Matisse in the Philadelphia Museum of Art, lose yourself in the Reading Terminal Market, home to 75 stalls rich in an array of delectable cuisine or discover more about Benjamin Franklin in the underground museum dedicated to his life story.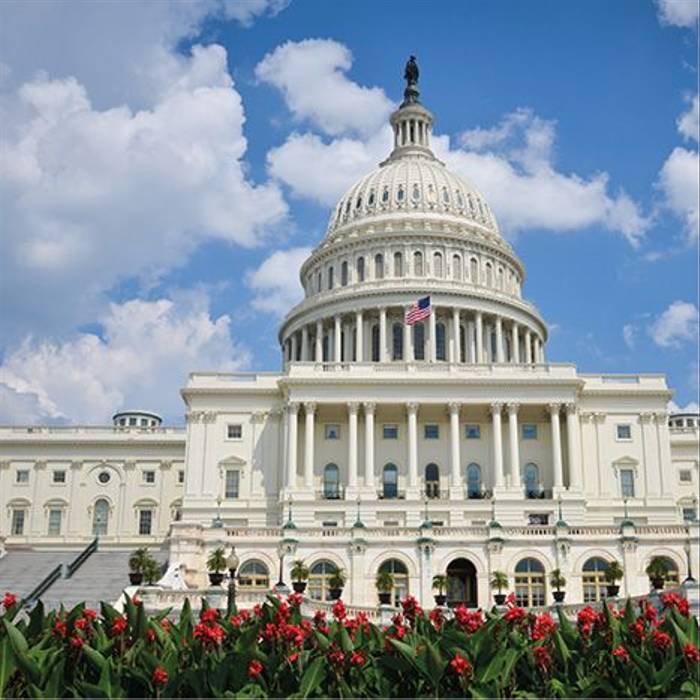 Washington DC
- Hotel Stay
Fully rested, this morning, you'll enjoy some time at leisure to explore more of the highlights of Philadelphia, stopping for lunch in the city's centre before traveling onwards to Washington DC. Head to Love Park, also called JFK Plaza for fantastic photo opportunities in front of the iconic Robert Indiana statue, and of course it's here you'll find the archetypal Rocky Statue and the "Rocky Steps" – two of the most popular attractions in Philadelphia.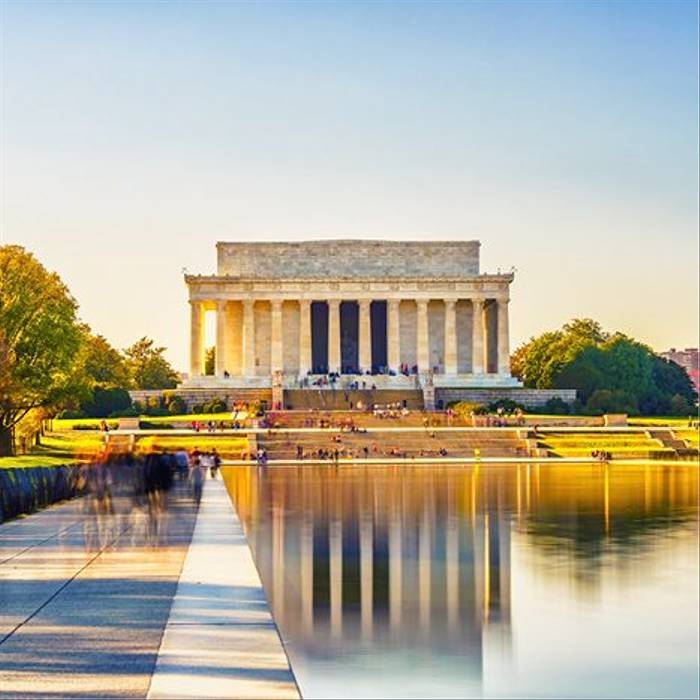 Washington DC
- Hotel Stay and Tour
History, politics, art and culture; Washington DC is a fascinating glimpse into America's epic history. Your tour takes you to some of the city's most famous icons including the Lincoln Memorial, the National Mall and of course the majestic White House which you'll get to view from the outside (and take that perfect holiday snap!)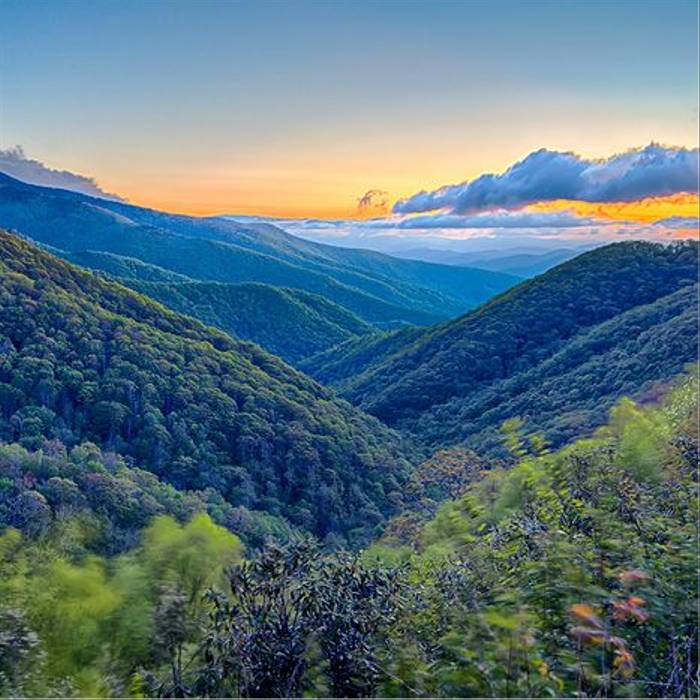 Gettysburg National Military Park and Niagara Falls
- Hotel Stay and Tour
En route to Niagara Falls, prepare to be awe-struck by views of the Appalachian Mountains and the Susquehanna River as you make your way through some of North America's most dramatic scenery. You'll also stop at Gettysburg National Military Park and Williamsport before arriving at Niagara Falls for your two night stay.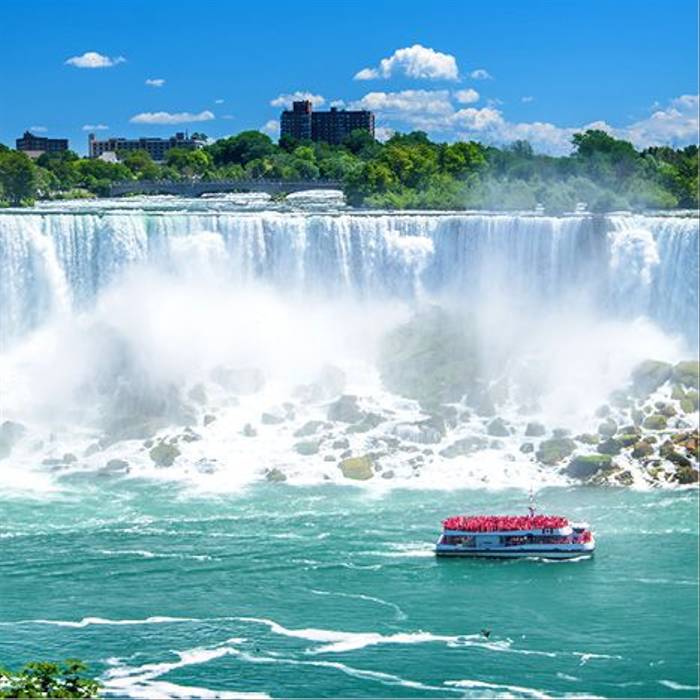 Niagara Falls
- Hotel Stay and Tour
Enjoy the most privileged experience of the falls on board your Hornblower cruise as you sail past all three of the falls. Watch as the sun glints off the surface and the roaring waters plunge, creating a mesmerising mist that your ship will disappear into. Drying off, you'll tour the quaint Niagara-on-the-Lake. This beautiful town boasts neat 19th century buildings and old-fashioned street fronts including apothecaries and sweet shops. Sip regional ice wine at a local winery, sweetening the taste of an already epic holiday.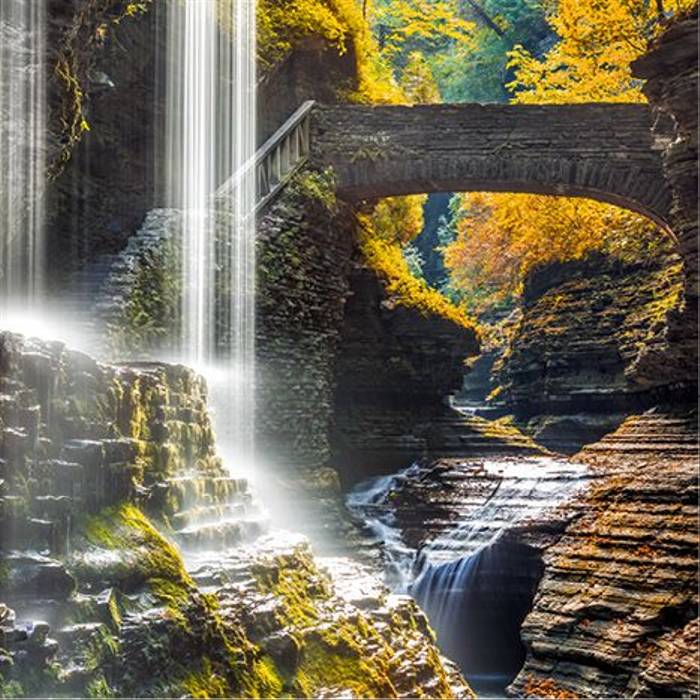 Watkins Glen
- Hotel Stay and Tour
Your penultimate day of your Niagara Tour will take you on a scenic drive along the mesmerising sight of the largest of the glacial Finger Lakes through Upstate New York to Watkins Glen, a small village encased in rolling hills and lush vineyards on the cusp of the Seneca Lake and New York's Finger Lakes region. Uncover the history of Schuyler County's rich past through a series of exhibits in the Brick Tavern Museum, indulge in delicious wine at Castel Grisch, or wander the captivating landscapes of scenic Watkins Glen State Park, home to magnificent waterfalls, winding gorge paths and cascading streams.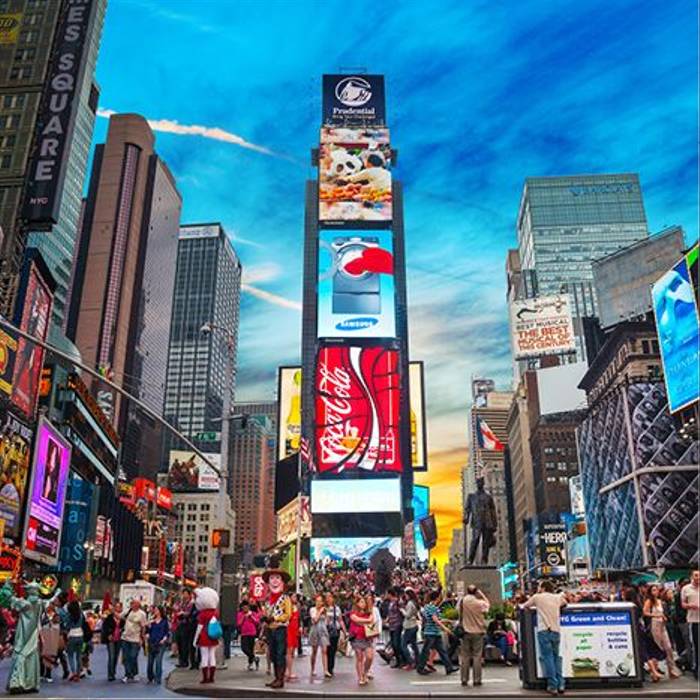 Your North America tour complete, today you'll return to the Big Apple, en route, you'll enjoy a stop at the Corning Museum of Glass. Established in 1951, the museum is home to the world's most comprehensive collection of glass and is dedicated to telling the story of this material. Learn about the science and technology behind innovations in glass through a series of hands-on exhibits, explore the concepts behind glass products that we use today and meet the innovators who have adapted the world using glass.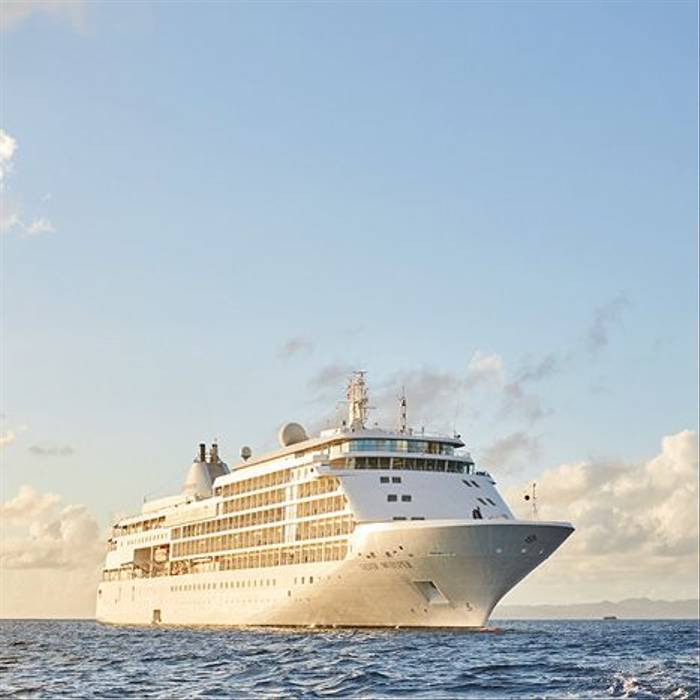 New York
- Embark Silver Whisper
Opulent yet intimate, Silver Whisper has all the amenities of a grand resort but with the charm of a boutique hotel. From the sanctuary of your suite, to the extensive dining opportunities and indulgent spa – you can't help but fall in love with the Silversea style of cruising.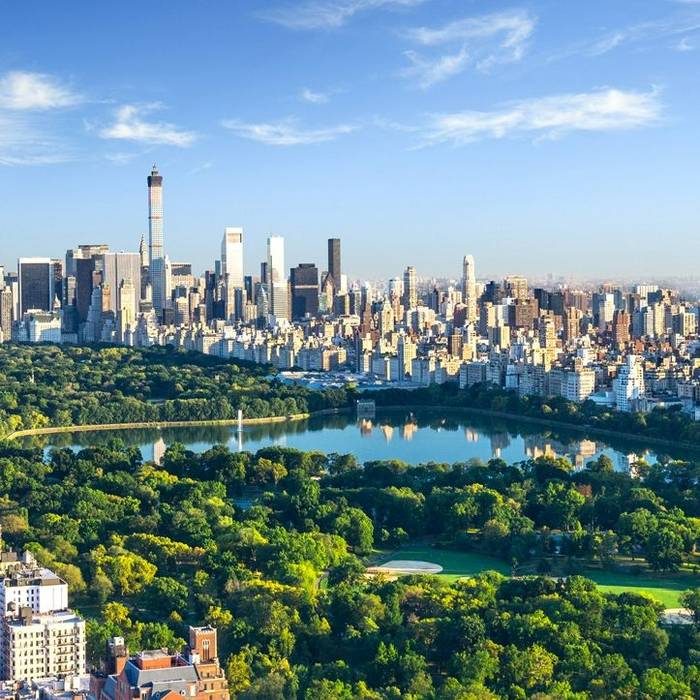 Marvel at the city stretched out below you at the top of the Empire State Building or uncover tranquillity in Central Park with its extensive woodland, a modern escape from the lively city. Catching a cab or walking its streets, you will discover that 'dynamic' is one of many words to describe this city from Broadway to the Rockefeller Centre.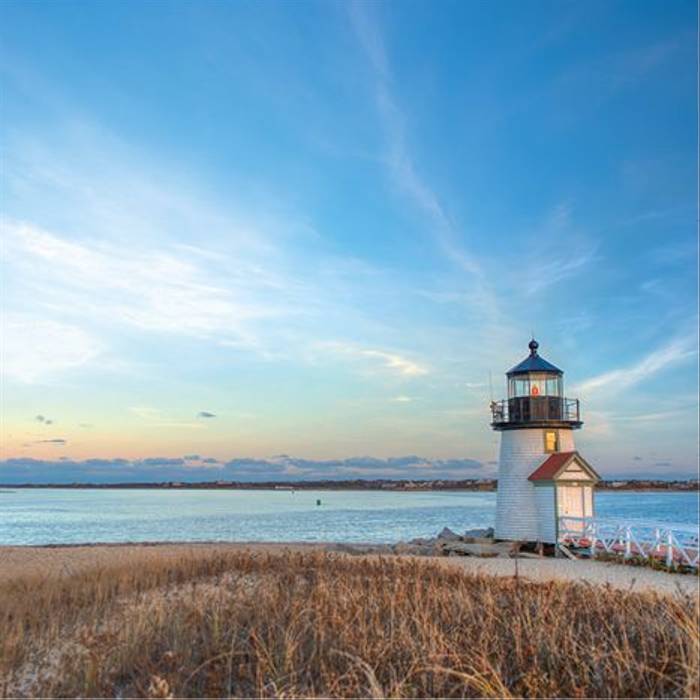 Cape Cod (Canal Transit)/Boston
Due to the small size of Silver Whisper, a rare and exciting journey through Cape Cod is made possible, as it can manoeuvre through the waters and under the bridges that other cruise liners cannot. The widest canal in the world is surrounded by spectacular scenery and an animal-lovers dream; watch for majestic migrating birds like the rare Roseate tern and marvel at the huge variety of mammals from the gentle river otter to the endangered North American Right Whale. From here, you'll arrive in Boston – take a tour of Harvard University or the John F Kennedy Library and Museum. And don't forget to tuck into New England's signature dish: clam chowder.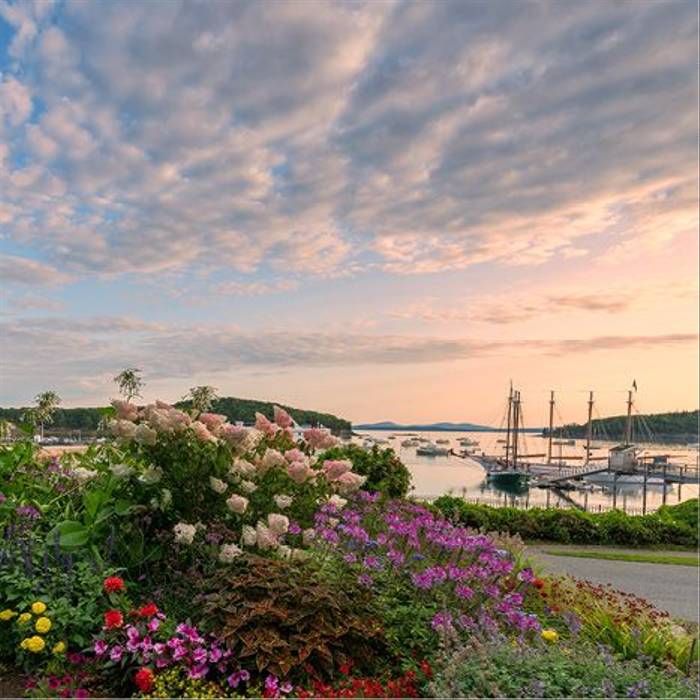 Standing atop Cadillac Mountain, it is easy to see why so many people have worked tirelessly to preserve this area's natural beauty. Visitors can walk the streets of town and maybe try one of the locally caught Maine Lobsters. Bar Harbor has something of the look of Old England about it with visions of Cornwall evoked by the rugged coast, but Main Street is classic small-town America.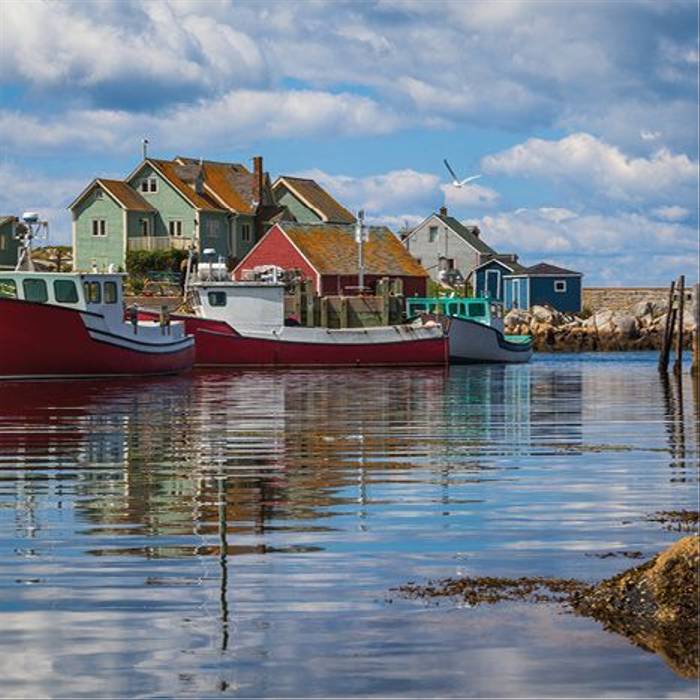 Halifax is a vibrant, modern hub with excellent nightlife and a number of great restaurants. As striking from the water as it is from its quaintly traditional old town, the city bustles thanks to its five universities, shopping opportunities and festivals. Haligonians – the city's local population – are famously proud of their quality of life and are very welcoming to visitors.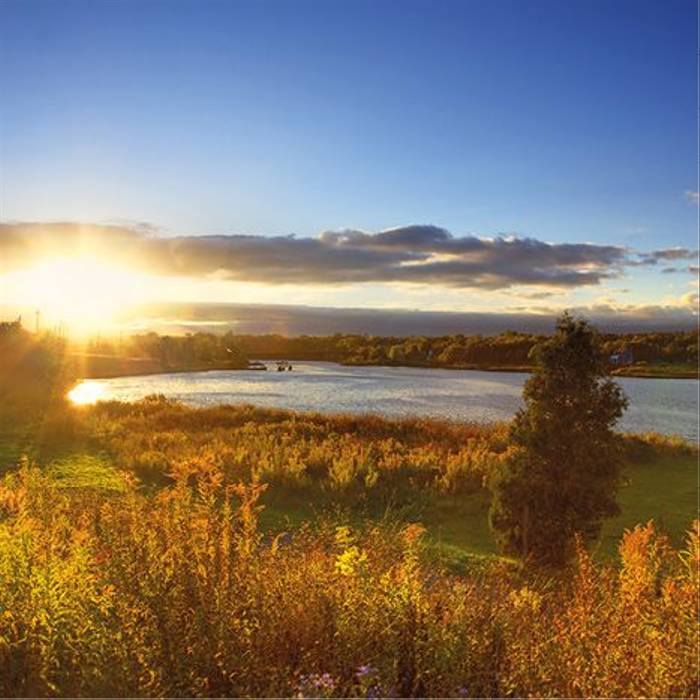 The largest urban area on Cape Breton and the island's historical capital, Sydney offers the ideal blend of city appeal and rural charm. Admire the largest fiddle in the world, standing 18 metres tall on the cruise pavilion; uncover the history of the community at the Cape Breton Centre for Heritage and Science or journey back in time to Cossit House, one of the city's oldest houses and discover what life was like in the 18th century.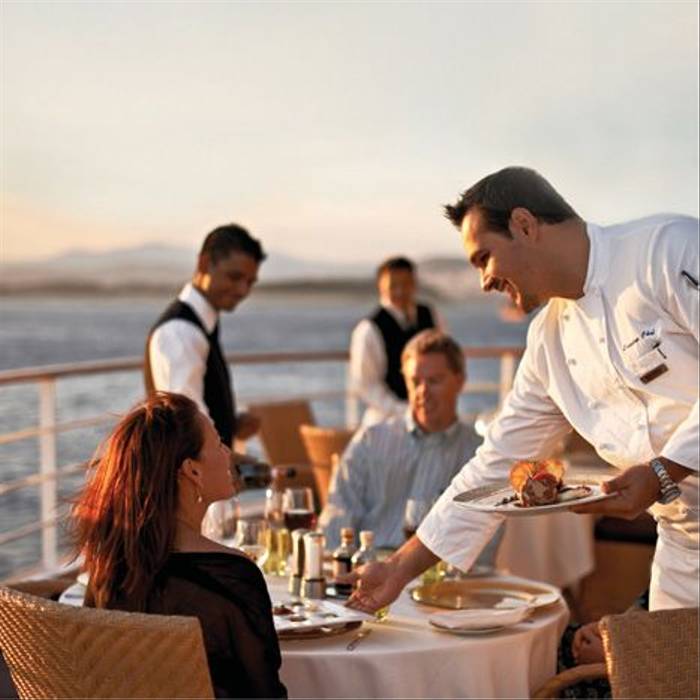 On board this luxury cruise ship you'll find a divine selection of Italy's best cuisine using authentic recipes and the freshest ingredients in La Terrazza. You could also choose to dine at The Restaurant which serves contemporary, international cuisine including regional specialities specific to your cruise. The open-seating dining means there are no assigned times so you are free to dine whenever and with whoever you like.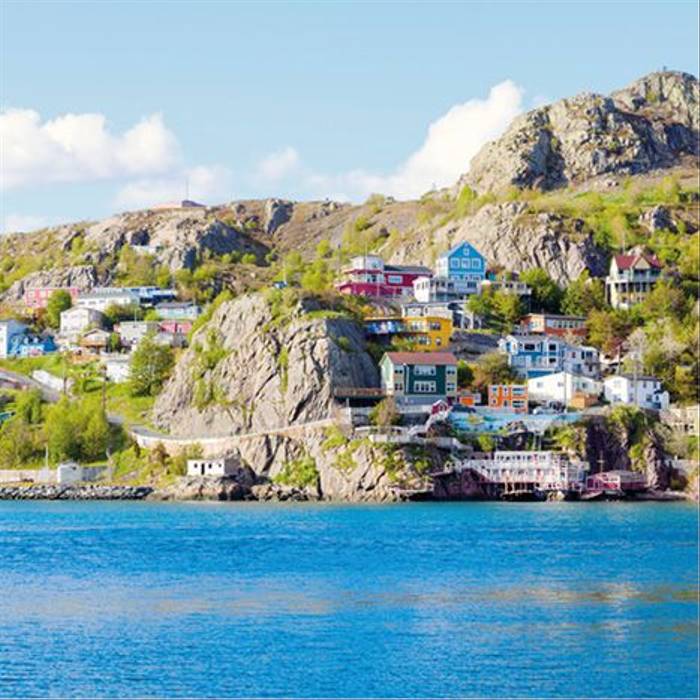 St John is a quaint harbour filled with Victorian influenced architecture, brick walkways, historic churches and quirky shops. It is famously known for the Bay of Fundy related attractions, with tides which can reach four storeys high, waterfalls and cliffs carved out by water and an array of sea life. Something not to be missed is a visit to the Reversing Falls, a river which runs in reverse during low tide.
DAY 25 - 28
| 14 - 17 Jun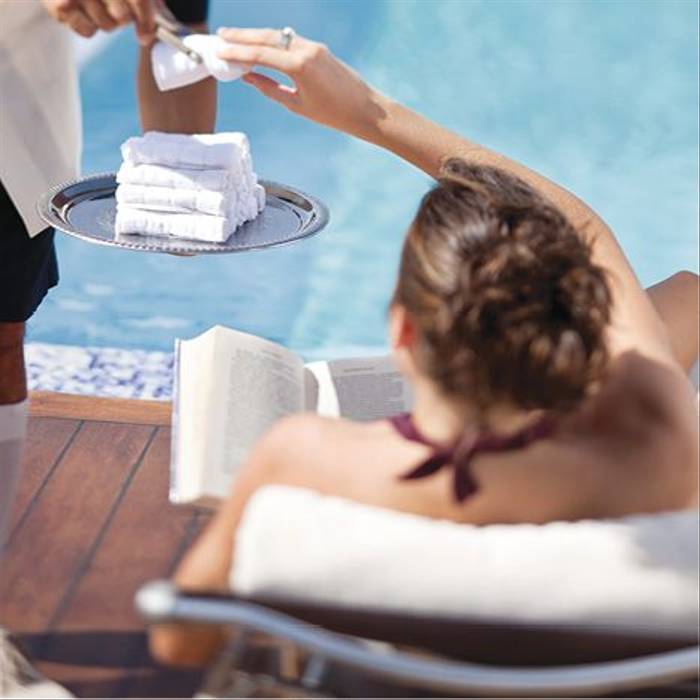 You'll have a few days to relax and take full advantage of the luxurious facilities on board Silver Whisper. Take a walk in the generous outdoor space on the glorious wraparound promenade, work out in the fitness centre, or take a complimentary Pilates or yoga class. Afterwards, you can relax your body and mind in the sanctuary of the Zagara Spa, with its steam rooms, saunas and range of indulgent treatments.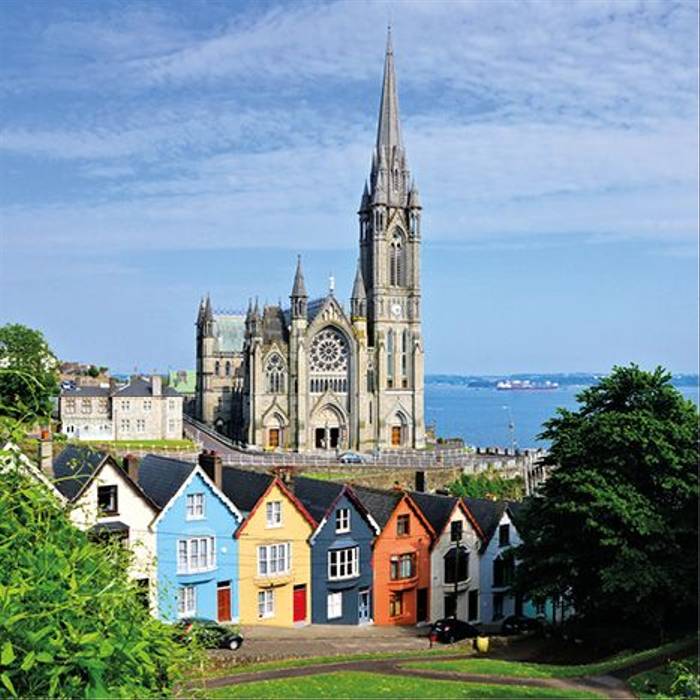 With hilly streets, attractive stretches of waterfront, coffee shops, pubs and restaurants, Cork is a great place to spend a day. Here you could visit the Cork City Gaol, the former prison or the elaborate St Fin Barre's Cathedral.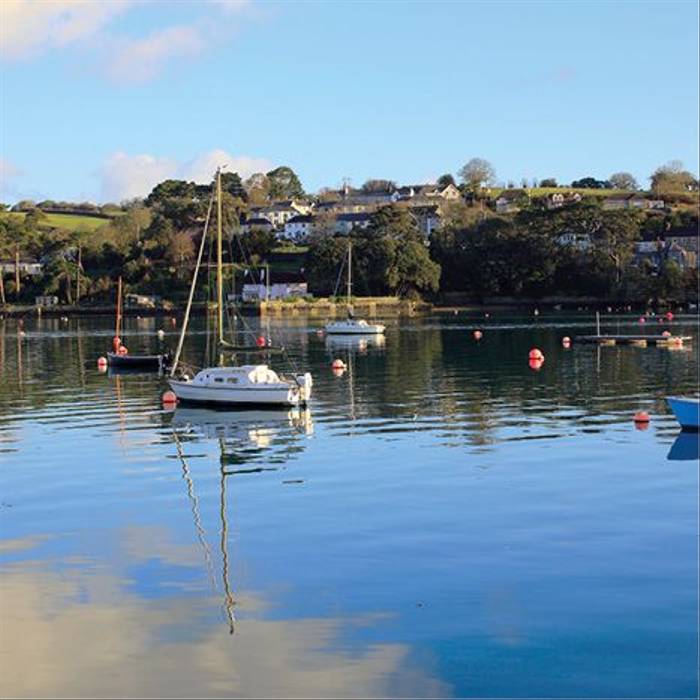 Nestled on the coast of Cornwall, you'll discover the gem of Falmouth; known for its deep natural harbour on the Fal Estuary and beautiful beaches including Swanpool and Gyllyngvase. Explore Pendennis Castle, an artillery fort, built by Henry VIII; relax on the one of the spectacular beaches, or spend some time roaming the quaint seaside town, filled with charming cafes, boutique fashion stores and an array of bars and pubs. Be sure to indulge in a traditional Cornish pasty or afternoon tea in one of the quayside eateries.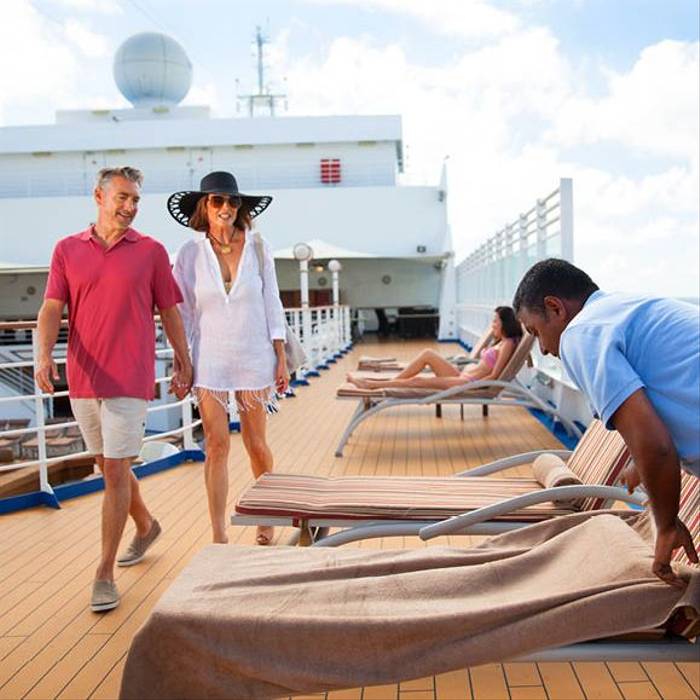 Southampton
- Disembark Silver Whisper
Your unique double cruise and North America adventure complete, today you'll arrive in Southampton, disembark and head home.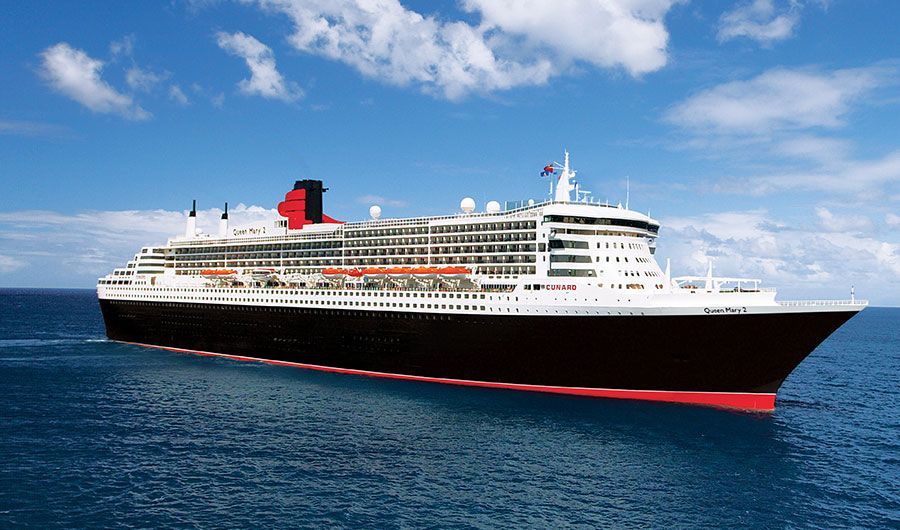 Quite simply, the Queen Mary 2 is the most magnificent ocean liner ever built, so, a fabulous cruise holiday on this wonderful ship is an experience of a lifetime. Cunard have incorporated the very latest in modern facilities, entertainment and enrichment opportunities into a ship radiating the opulence, charm and glamour of cruising's Golden Era. Your fine dining options include several-course gourmet delights with classy touches like Wedgewood china and Waterford crystal. Be entertained by lavish musical shows, dance in the largest ballroom at sea with a superb resident orchestra, and with four marvellous pool areas for relaxation, this wonderful ship has everything you could possibly want for the most marvellous time at sea.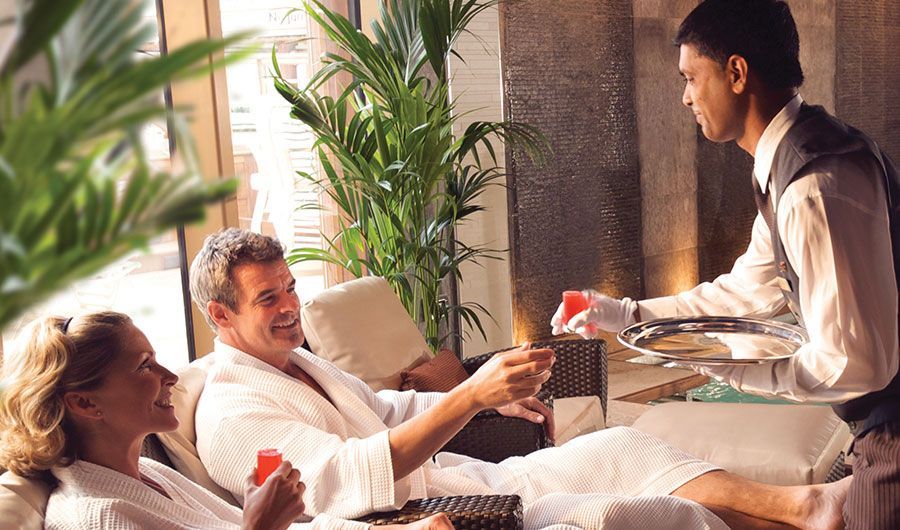 Queens Room
Head here for traditional afternoon tea or to dance the night away at one of the glamorous balls.
On Deck
Take part in Cunard's traditional games of shuffleboard and deck quoits. Challenge friends or join in one of the organised tournaments.
Commodore Club
Enjoy a signature cocktail as you sail towards the horizon or try the Martini Mixology or Whisky Tasting classes.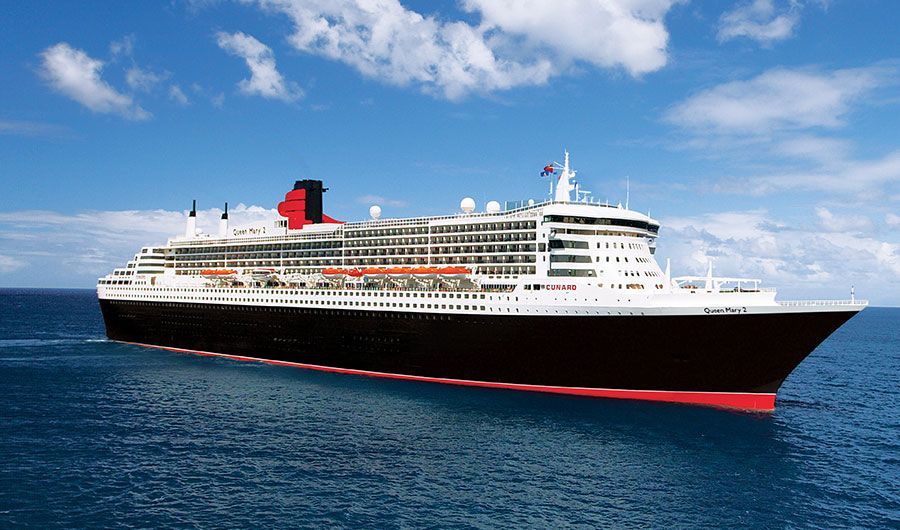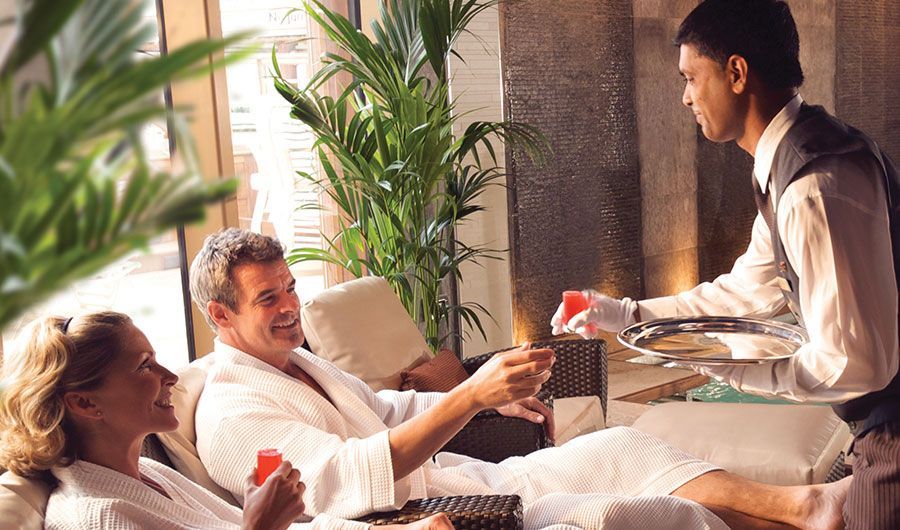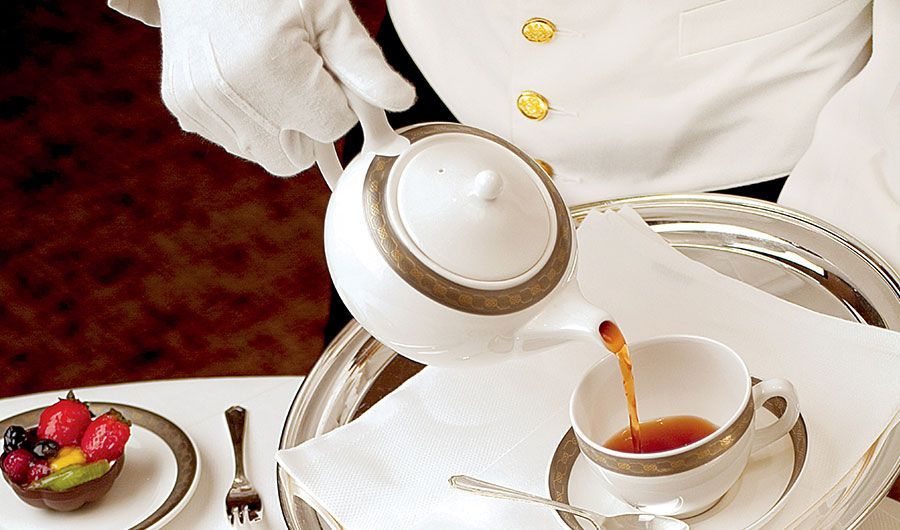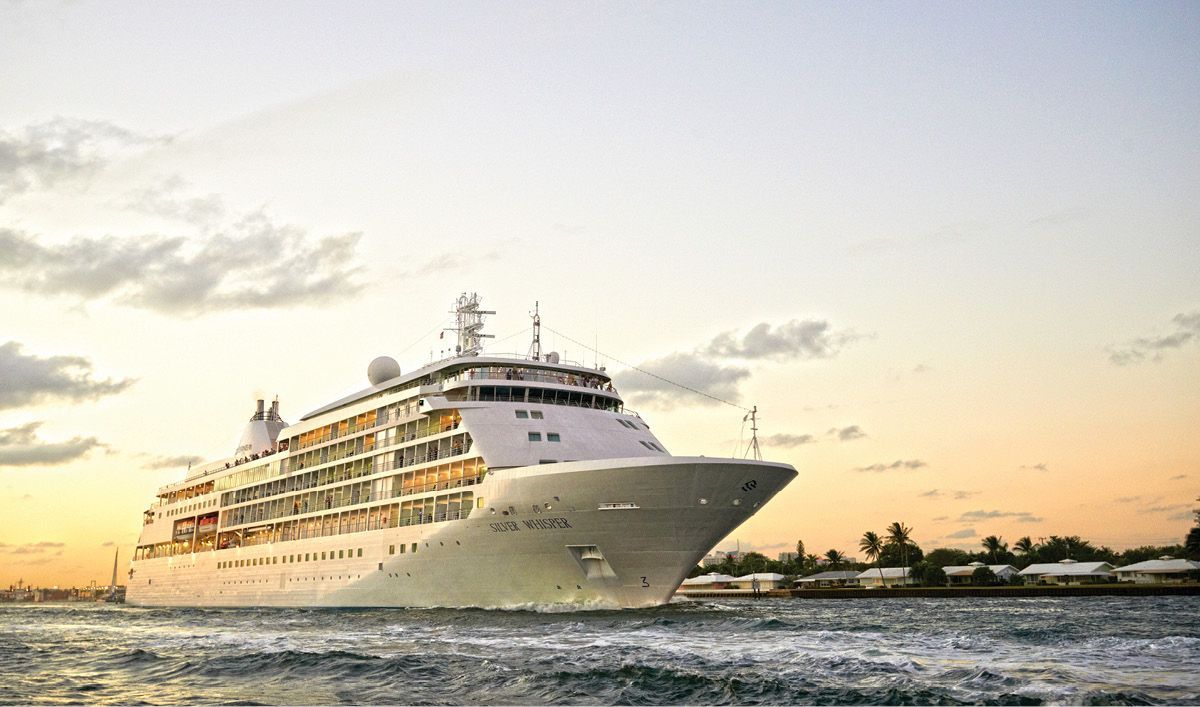 Opulent yet intimate, Silver Whisper has all the amenities of a grand resort but with the charm of a boutique hotel. From the sanctuary of your suite, to the extensive dining opportunities and indulgent spa – you can't help but fall in love with the Silversea style of cruising. Each suite is elegantly decorated with dark wood and rich colour schemes and include marble bathrooms with a separate tub and shower. You'll even be assigned your own personal butler, so your every whim will be catered to. Silversea cruising is truly designed for those who delight in the thrill of discovery while indulging mind and body in the most lavish surroundings imaginable.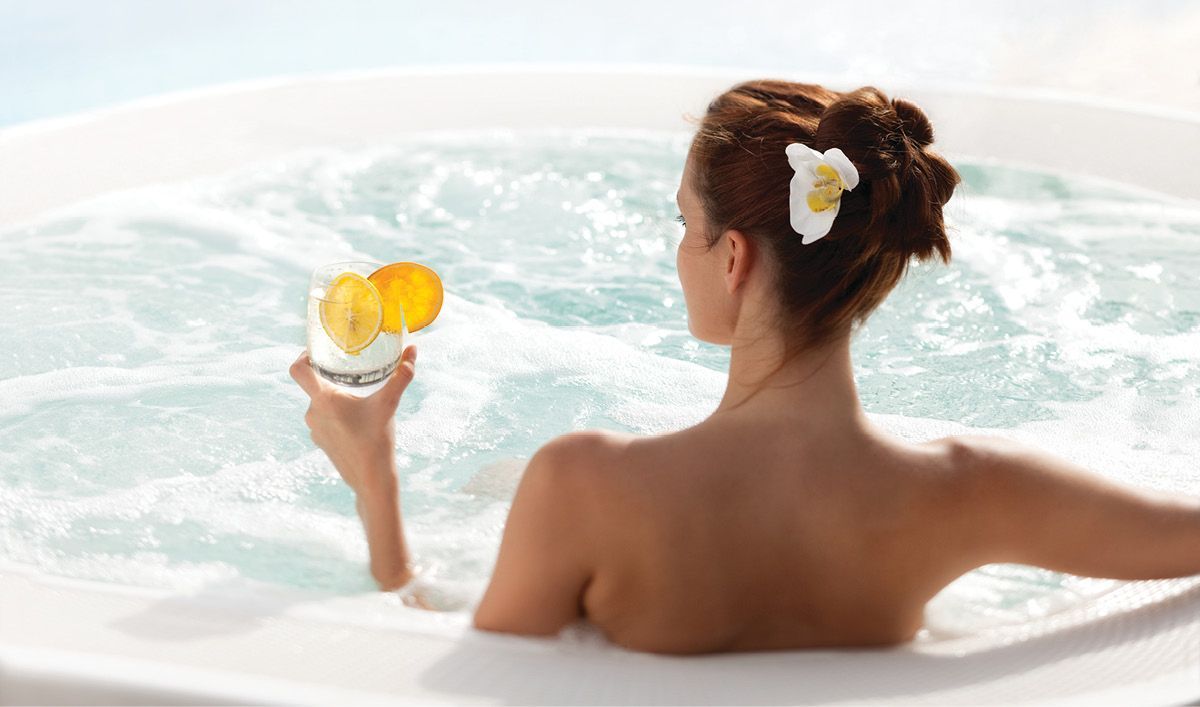 Dolce Vita
Enjoy complimentary cocktails and live music as you share stories of your adventures with your cruise companions.
Zagara Spa
Relax your body and mind in this soothing sanctuary with saunas, steam rooms and a wide range of invigorating therapies.
The Restaurant
Savour exquisite cuisine with sweeping ocean views surrounded by sparkling silver, crystal and candlelight.