No-Fly Trio of Italian Lakes & Luxury Rail Journey
Includes a Cunard Eastern Mediterranean Voyage
Exclusive to Imagine Cruising | Luxury Venice Simplon-Orient-Express Rail Journey
20 nights | 01 Oct 2021
No-Fly Trio of Italian Lakes & Luxury Rail Journey
Includes a Cunard Eastern Mediterranean Voyage
Exclusive to Imagine Cruising | Luxury Venice Simplon-Orient-Express Rail Journey
20 nights | 01 Oct 2021
No-Fly Trio of Italian Lakes & Luxury Rail Journey
Includes a Cunard Eastern Mediterranean Voyage
Exclusive to Imagine Cruising | Luxury Venice Simplon-Orient-Express Rail Journey
20 nights | 01 Oct 2021
Get The Full Experience...
From the imperial cities of the Eastern Mediterranean to the snowy peaks of the European Alps, this incredible holiday presents the unique opportunity to cruise on board Queen Victoria, enjoy stays across the spectacular Italian Lakes and travel on one of the world's most famous trains.
Surrounded by enchanting views of snow-capped mountains and steep-wooded hills, dotted with botanical gardens featuring bursts of Mediterranean colour; the iconic Italian lakes offer beguiling beauty. Explore the natural attractions, Baroque architecture and fascinating culture of Lake Maggiore, Lake Como and Lake Garda as you roam the picturesque landscapes. From Verona, you'll embark the opulent Venice Simplon-Orient-Express to enjoy luxurious comfort, decadent surroundings and delectable fine-dining. Spend the afternoon relaxing in the comfort of your cabin, admiring the exquisite passing scenery, on a memorable journey to London. Paired with a cruise on board Queen Victoria and a two night hotel stay in Venice, this holiday will be one to remember.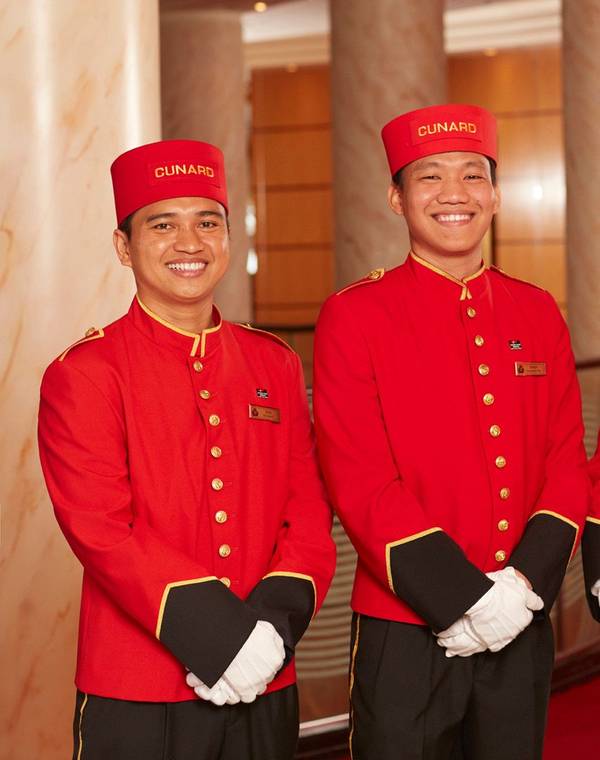 Package Includes
9 night full-board cruise on board Queen Victoria
2 night hotel stay in Venice
3 night hotel stay in Lake Maggiore
Scenic rail journey through Centovalli on board the Centovalli Express
2 night hotel stay in Lake Como
Scenic train journey through the Swiss Alps on board the Bernina Express
3 night hotel stay in Lake Garda
Fully escorted wine tasting tour in Lake Garda
2 day full-board luxury Venice Simplon-Orient-Express train journey from Verona to London
All hotel stays include breakfast
All transfers
ATOL protected
Flight from
Other regional airports may be available*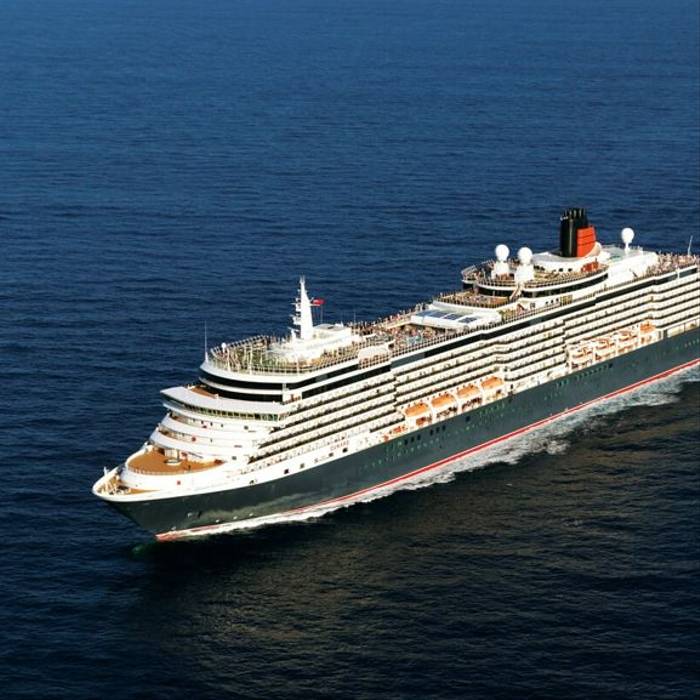 Southampton
- Embark Queen Victoria
Queen Victoria is a ship designed with all the modern conveniences but with the splendour evocative of great ocean liners past. From her plush, elegantly decorated public rooms to her gourmet dining and luxurious cabins, Queen Victoria exudes class.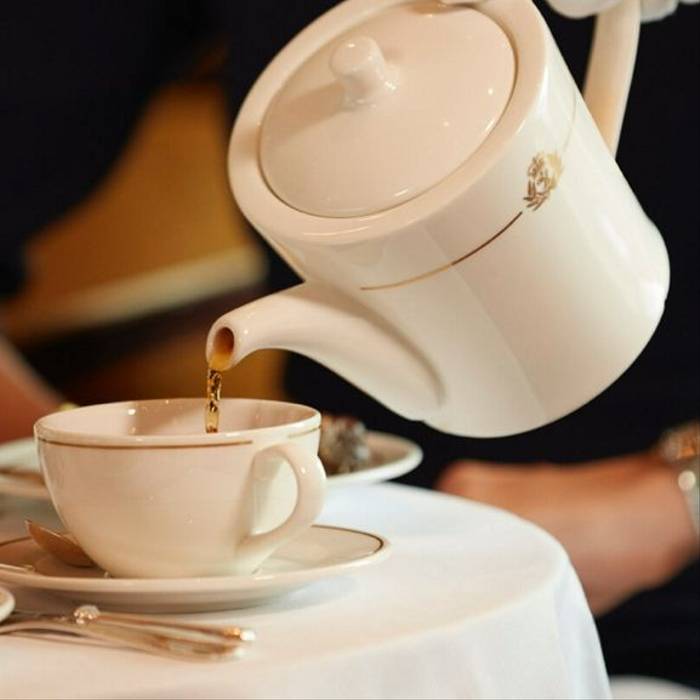 Dining on board Queen Victoria is heralded as some of the very best at sea. Alongside Cunard favourites like the Britannia Restaurant, for a small supplement you can enjoy themed dining experiences like Lotus for delicious Asian cuisine or Smokehouse which offers an American –influenced menu.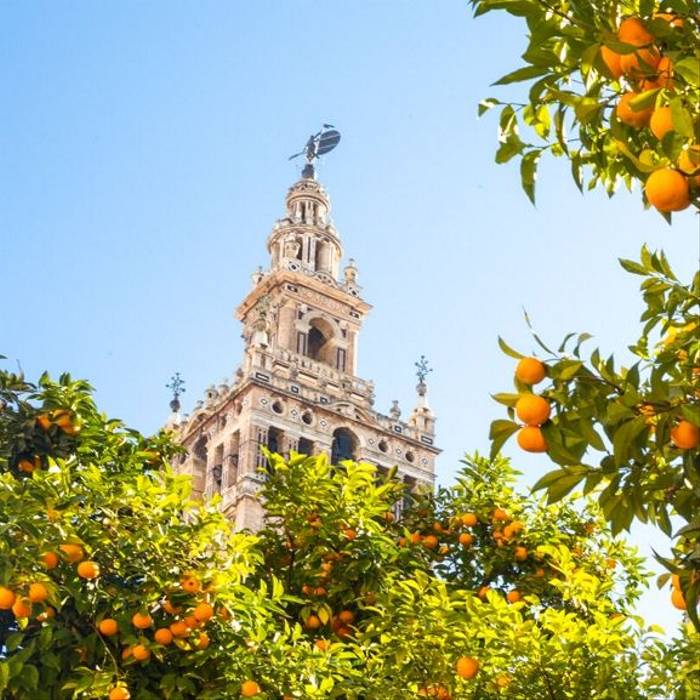 The capital of Spain's Andalusia region will win you over with its incredible gothic architecture, winding medieval lanes and lively tapas bars. Famous for Flamenco dancing – don't miss the chance to visit a Flamenco club helping to keep the intimacy and intensity of this centuries-old tradition alive. Visit the ornate Alcázar castle complex, built during the Moorish Almohad dynasty and the city's Gothic Cathedral, where you'll find Christopher Columbus's tomb.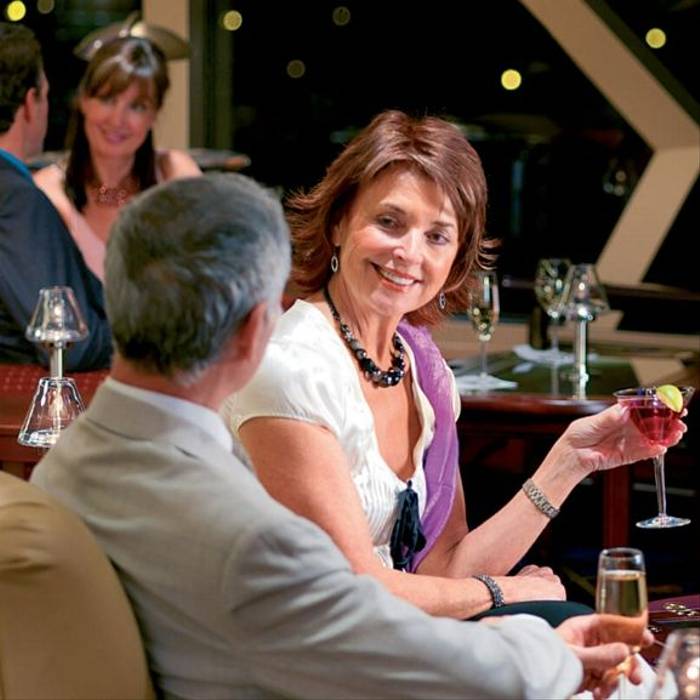 Your days on board the Queen Victoria can be active and lively, or as calming and chilled as you like; there's something on board to suit your every mood from swimming in the pool to relaxing in the spa; joining in with Book Club to browsing the Royal Arcade.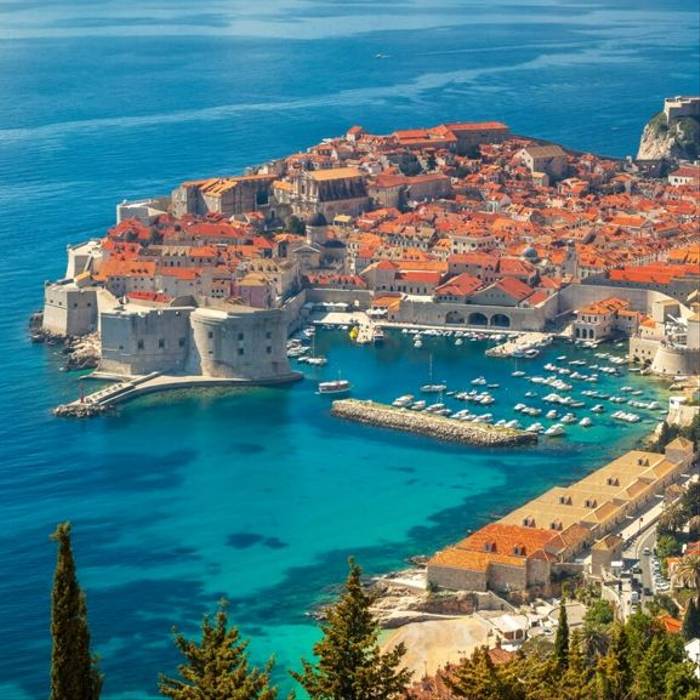 Today you'll discover beautiful Dubrovnik, known as the Pearl of the Adriatic and renowned for its distinctive Old Town, encircled with massive stone walls. Take a walk around the city walls and gaze upon the fantastic view of the Old Town and glittering Adriatic or, discover more about Dubrovnik's history at the Cultural History Museum, once the palace for the elected rector who governed in the late 15th Century.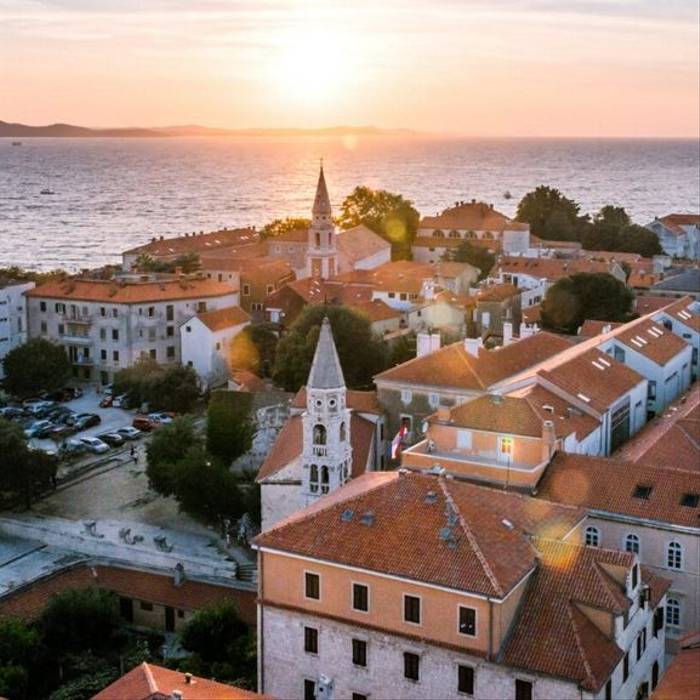 Walk the atmospheric streets of the old town on the peninsula, containing 34 churches all with a rich history. Listen to the relaxing sounds of the Sea Organ as you stroll along the seafront at sunset. Take a dip in the clear waters, or relax in a café and watch the people go by.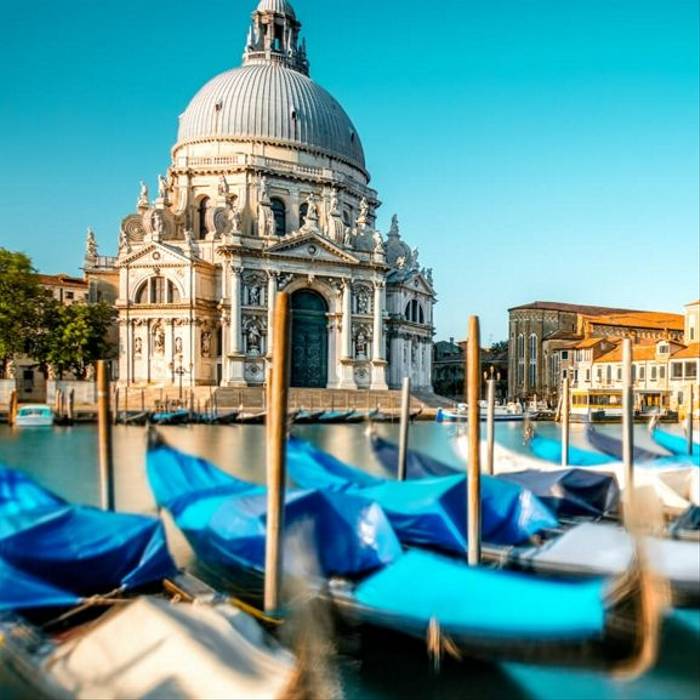 Venice
- Disembark Queen Victoria and Hotel Stay
Today, you'll bid farewell to Queen Victoria in Venice and transfer to your hotel where you'll enjoy a two night stay. Discover seductive passageways that lead to secret squares and dramatic Gothic architecture, and sample the famous Venetian cuisine, a plate of baccala mantecato perhaps, or a risotto al nero di seppia.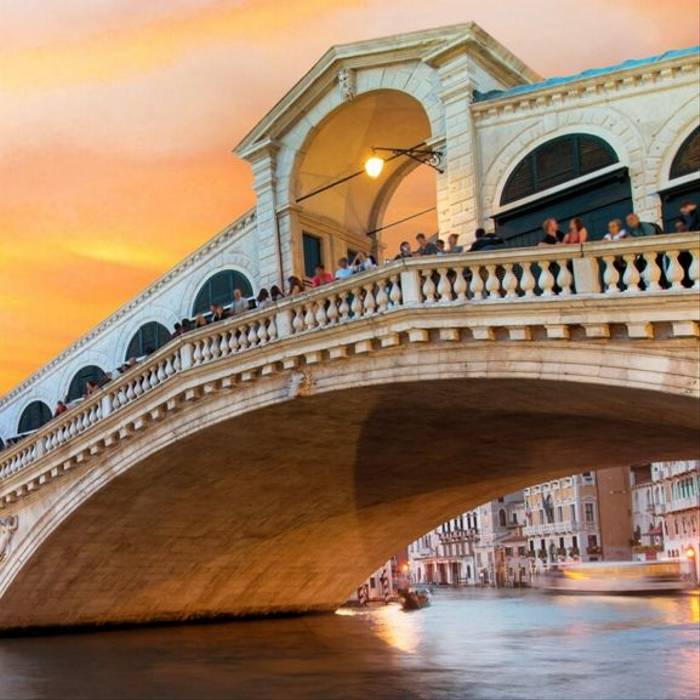 Explore the romance of Venice through its enchanting atmosphere, iconic landmarks and intricate architecture. Glide through the labyrinthine canal streets on a gondola as you admire the remarkable Renaissance and Gothic palaces, lining their path. Head to the heart of Venice, St. Mark's Square, home to impressive St. Mark's Basilica and marvel at its ornately decorated luminous Byzantine mosaics or pay a visit to Doge's Palace – a masterpiece of Gothic architecture.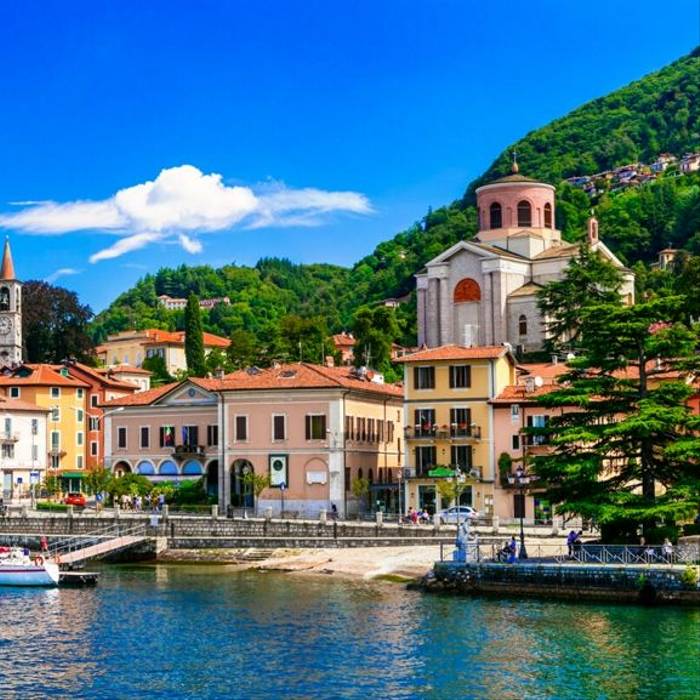 Lake Maggiore
- Hotel Stay
Begin your Italian Lakes retreat with a hotel stay in Lake Maggiore, located on the cusp of the magnificent Gulf of Borromeo. Spend some time exploring with a visit to one of northern Italy's most spectacularly sited monasteries, Santa Caterina del Sasso. The beautiful buildings span the 13th and 14th centuries and cling to the high rocky face of Lake Maggiore's southeast shore, providing superb views from the tiny courtyards. Climb up 80 steps from the Santa Caterina ferry quay and enter by the portico, as you pass through the south monastery, you'll be greeted by gothic architecture and fresco series depicting the Danza Macabra (Dance of Death).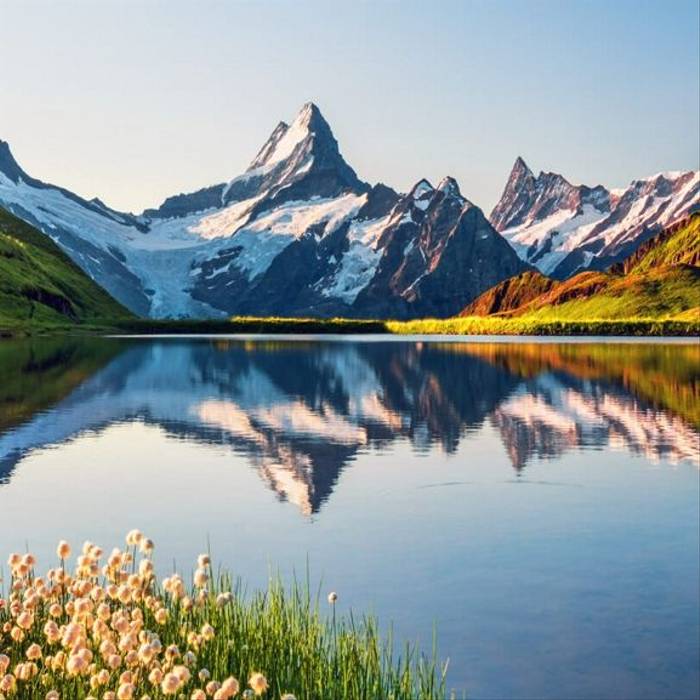 Lake Maggiore
- Hotel Stay and Tour
Today you'll enjoy a picturesque panoramic train journey from Domodossola to Locarno, across 52km of magical landscapes and lush vegetation. This unforgettable experience will take you through the stunning Centovalli, "One Hundred Valleys", as you pass by deep gorges and crevices with glittering, cascading waterfalls; and venture across colourful alpine meadows, over numerous bridges and through vineyards and forests of chestnut trees. Upon arriving in Locarno, on the Swiss shores of Lake Maggiore, you'll enjoy some time to embrace the atmospheric surroundings and explore the treasures within. Pay a visit to Madonna del Sasso, a highly decorated Catholic sanctuary overlooking the city, which can be reached by the funicular railway.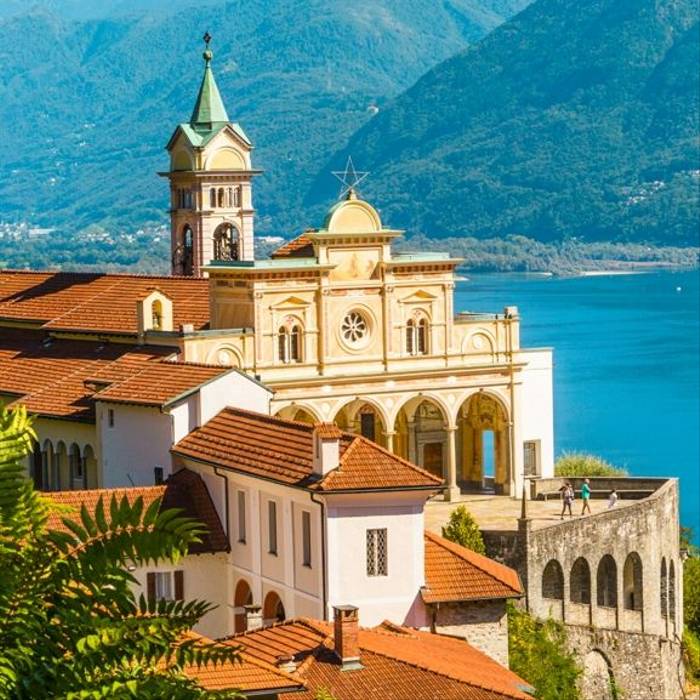 Lake Maggiore
- Hotel Stay
The day is yours to explore the enchanting lake views and natural attractions. Delve into the depths of the art and culture encased within the landscapes. Head to Isola Bella and be transported to a bygone era where the baroque architecture blends with the lush green gardens. Wander through the palace, passing elegantly furnished living rooms and gaze out at the splendid views of the lake or, lose yourself in the paradise of the Italian Baroque Garden. Filled with statues, terraces, stairways, balustrades and beautiful flora, you'll enjoy a blissful atmosphere and glimpses of a time of days gone by.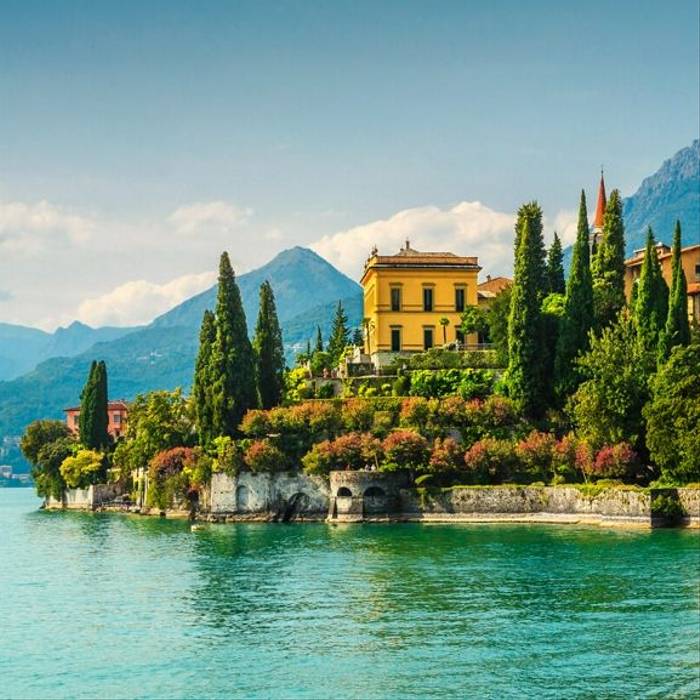 Your next lake stop will be the magnificent Lake Como. Poised in the shadow of the snow-draped Rhaetian Alps and nestled between steep-wooded hills, the spectacular surroundings of Lake Como welcome you with open arms. Shaped like an upside-down Y, its meandering shoreline is dotted with ancient villages and exquisite villas. Wander aimlessly along the lake, crossing through gardens, visit the main square and explore the centre's history or head to Brunate using the funicular and witness breathtaking views of the shore and lake below.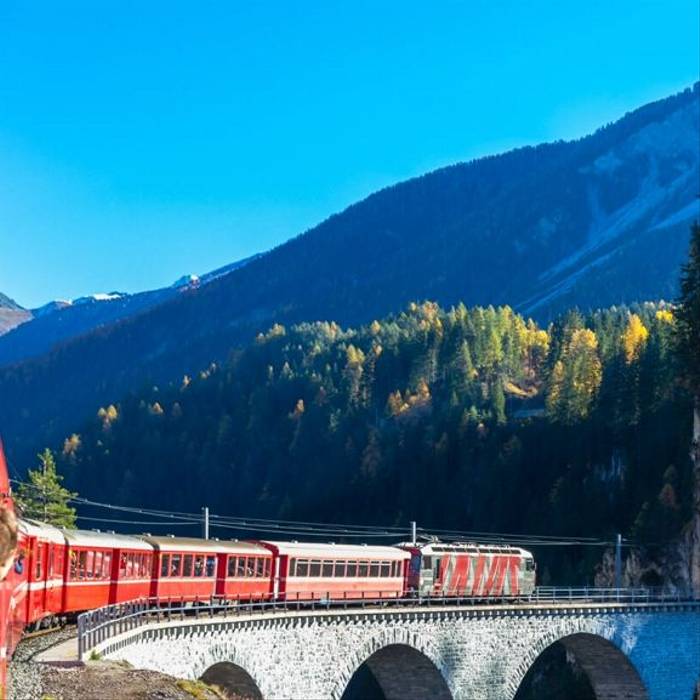 Lake Como
- Hotel Stay and Tour
Today you'll board a bus to Tirano, located in the Valtellina valley in Italy. From here you'll embark a panoramic train for a journey to St. Moritz, passing through the Poschiavo Valley and the Engadin. En route, you'll enjoy incredible sights of majestic mountains and quaint little towns as you trundle over the Brusio spiral viaduct, past Puschlaversee, over Alp Grum and onto the magical Bernia Pass. Before reaching your final destination of St. Moritz, you'll savour incredible views of Lake Bianco and its shield of the snow-capped Morteratsch Glacier. St. Moritz offers the perfect opportunity to ski, enjoy a bike ride or explore the town that has hosted the Winter Olympics twice.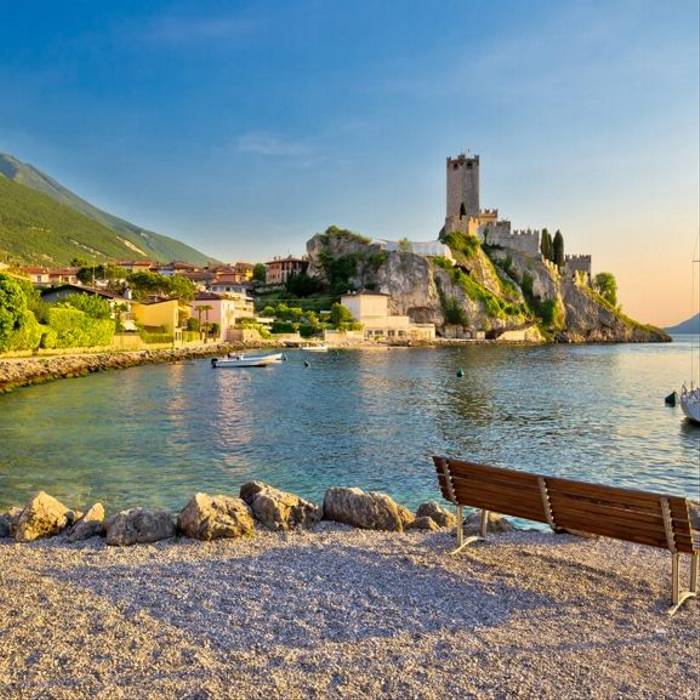 Italy's beautiful lakes are one of the country's most scenic regions, where the Northern Alps tumble down into shimmering waters, dotted with silver-leafed olive trees and pretty villages. Each little town on the lake brings a chocolate box of new discoveries: a church resplendent with Renaissance frescoes, a lush botanical garden, a cable car soaring high into snow peaked mountains – there's so much to discover.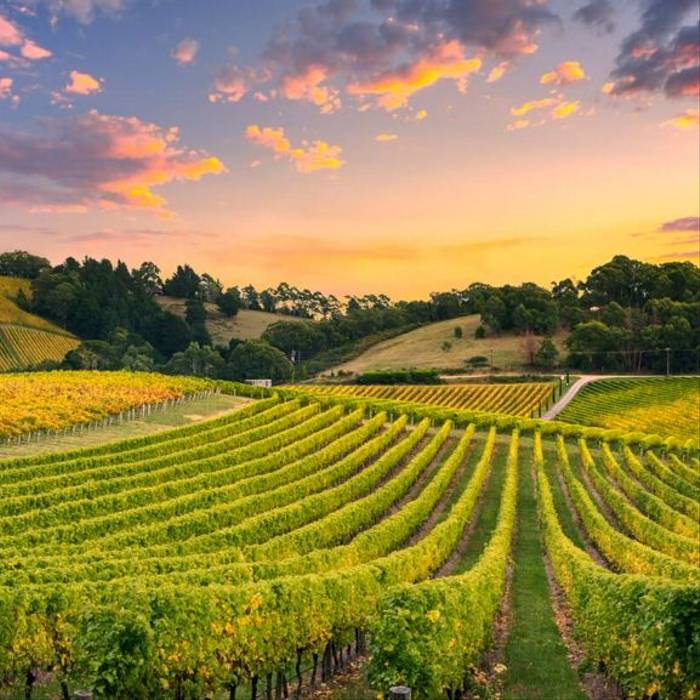 Lake Garda
- Hotel Stay and Tour
Today you'll enjoy a fabulous wine tour at a local winery. Beginning with a tour of the winery and beautiful vineyard, you'll discover more about the soil, grapes, the wine and how it's made. Tickle your taste buds with tastings of typical wines which you'll savour paired with some delicious nibbles of breadsticks, cheese and olives.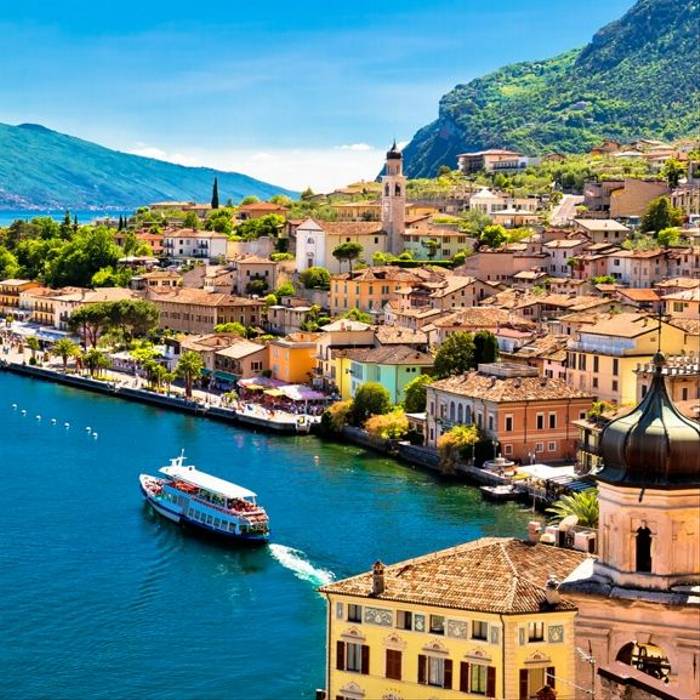 Spend a day walking in the hills and taking in the breathtaking views over the lake – we'd recommend taking the Monte Baldo cable car – or perhaps take a boat out to one of the other towns on the coast to see a different side to the area. You could also pay a visit to Sirmione and delve into its thermal springs, extraordinary castle and Roman ruins; or Riva del Garda with its medieval fortifications and cobblestone streets.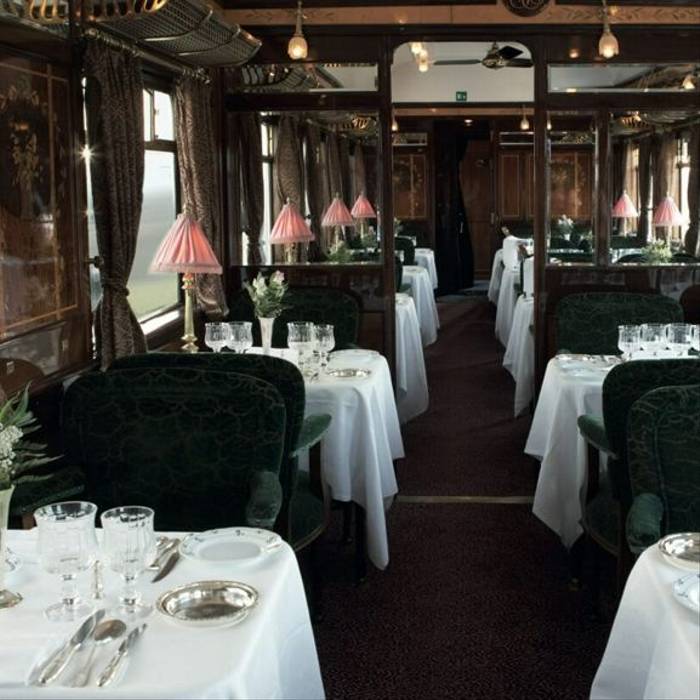 Verona
- Embark Venice Simplon-Orient-Express
Travel to London encased in absolute luxury, enjoying sumptuous cuisine and refined entertainment during a journey you'll remember forever. Spend the afternoon relaxing in the comfort of your cabin, admiring the exquisite passing scenery. After a three-course lunch and more relaxation, you'll enjoy a leisurely four-course dinner, prepared on board by skilled French chefs. Following dinner, return to your cabin and discover its effortless transformation into a bedroom.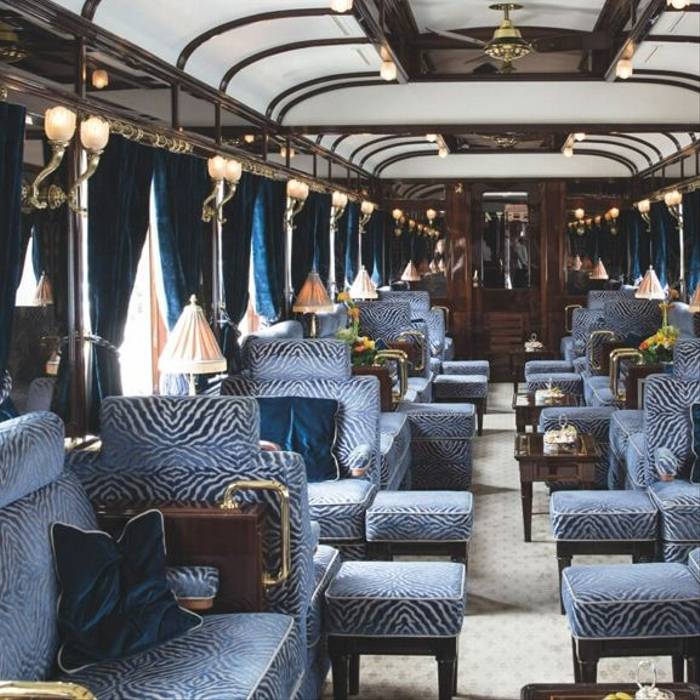 London
- Disembark Venice Simplon-Orient-Express
After breakfast and a delicious brunch, you'll arrive at the French coast to cross the channel. On the other side, you'll embark the fabulous British Pullman and enjoy a traditional afternoon tea, accompanied by a glass of English sparkling wine as you glide into London's Victoria Station. After disembarking British Pullman, you'll make your way home.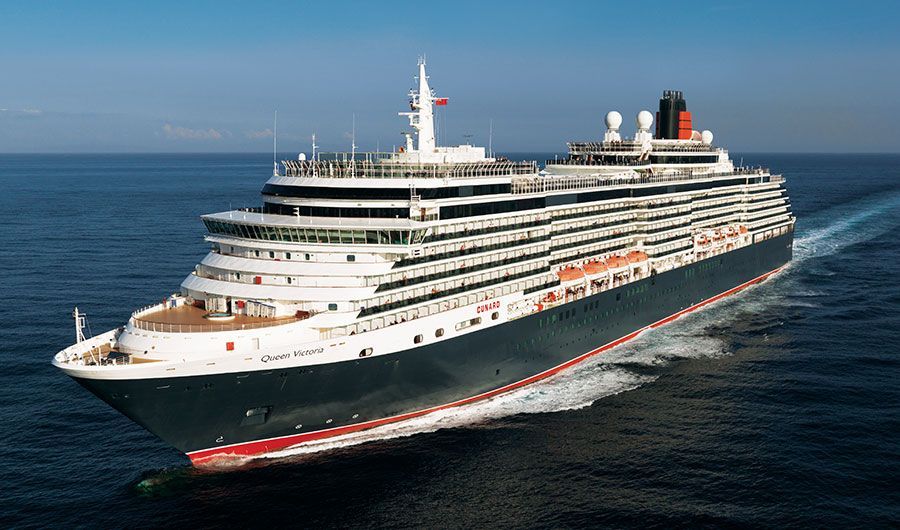 There's something distinctly refined and regal about a Cunard cruise and the beautiful Queen Victoria certainly upholds the fine traditions of this luxury line. Even before you board this beautiful ship you'll note the trademark black and red livery which, together with her sleek modern design, immediately sets the theme of proud cruising heritage married with innovative features for today's cruise guests. From her plush, elegantly decorated public rooms to her gourmet dining and luxurious, spacious cabins, Queen Victoria exudes class. The range of options for high-quality entertainment and enrichment, as well as serene relaxation make for the cruise holiday of a lifetime.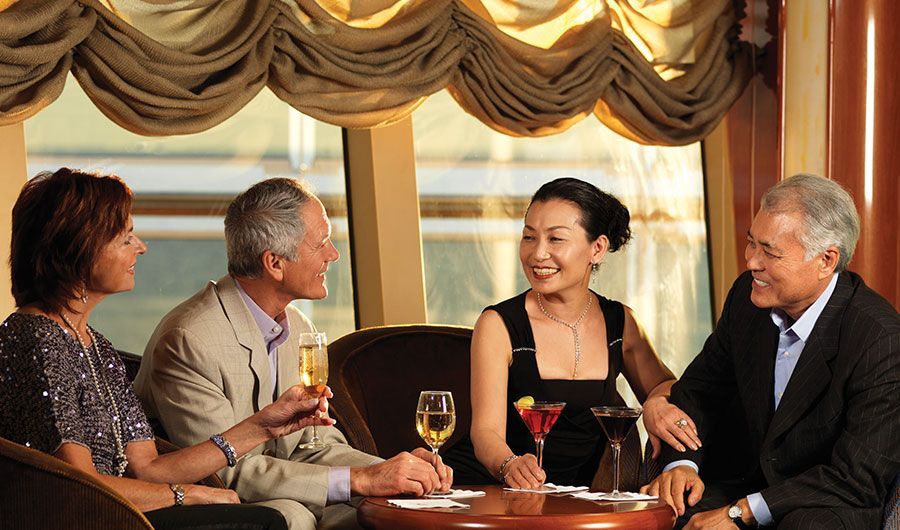 Queens Room
Head here for traditional afternoon tea or to dance the night away at one of the glamorous balls.
On Deck
Take part in Cunard's traditional games of shuffleboard and deck quoits. Challenge friends or join in one of the organised tournaments.
Commodore Club
Enjoy a signature cocktail as you sail towards the horizon or try the Martini Mixology or Whisky Tasting classes.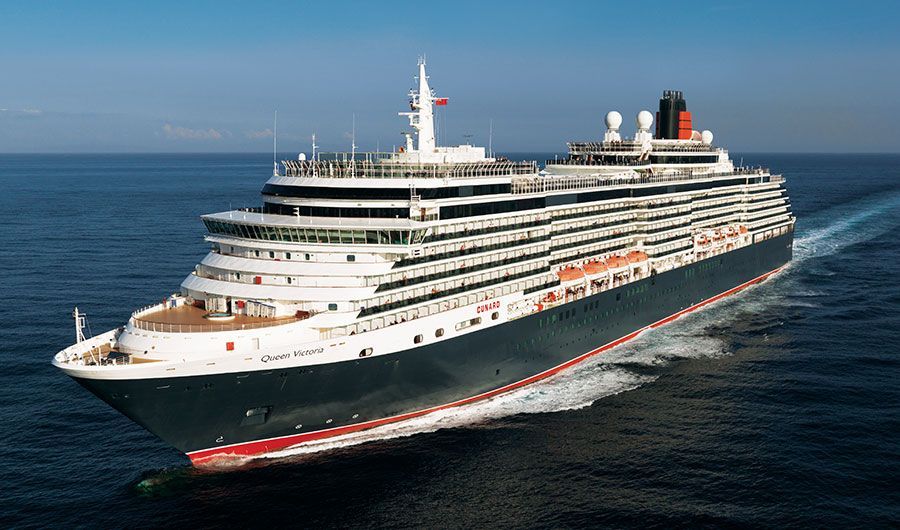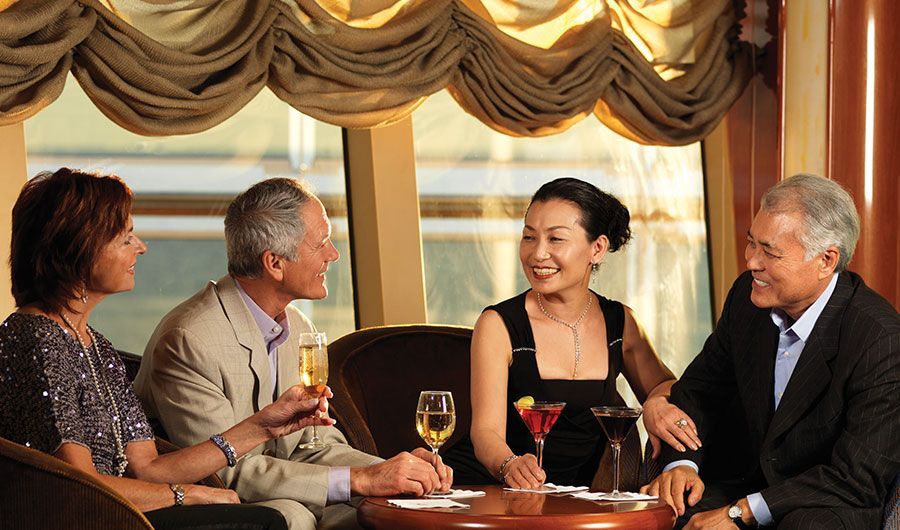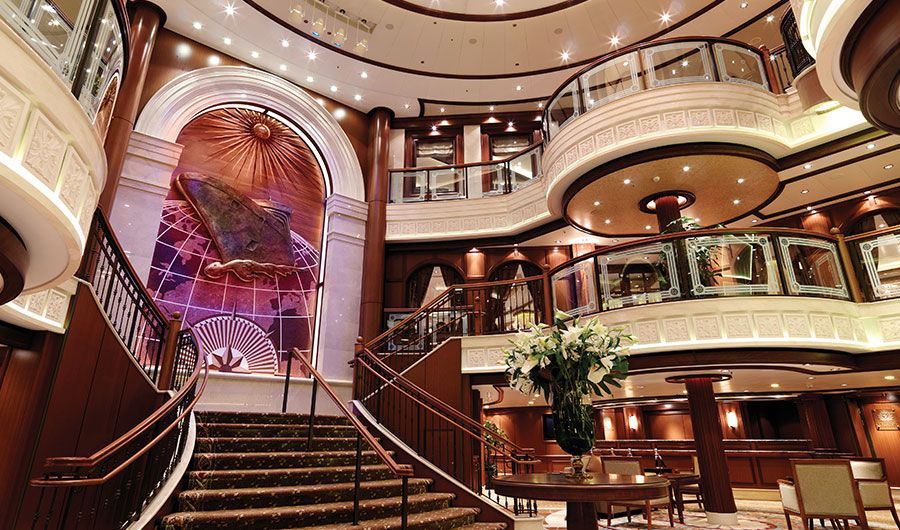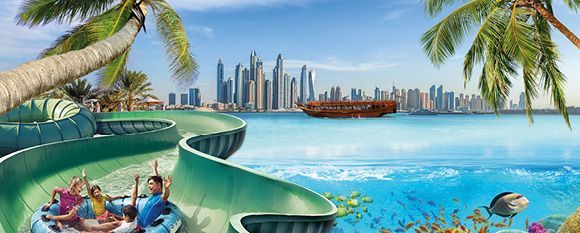 Dubai Discovery: Aqua-Adventures & City Tour Package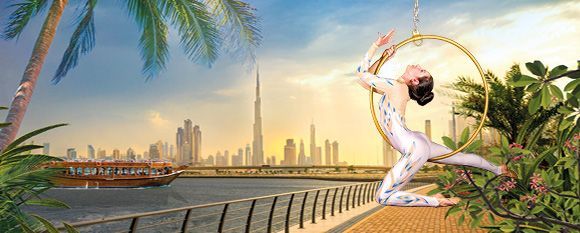 Heritage Package: City Views & River Cruise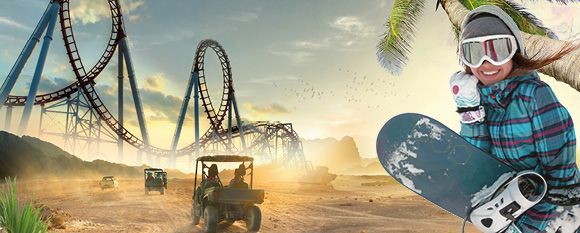 Adrenaline Package: Snow & Sand Dunes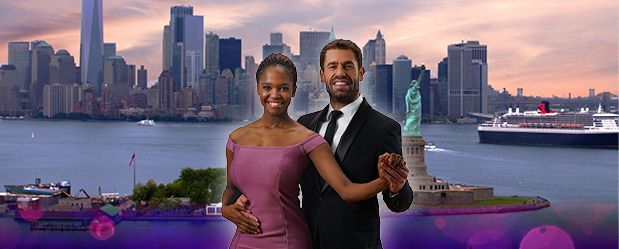 The American Smooth