British Isles & Short Cruises Cruise
14 Nights round-trip cruise from Southampton
Your Cruise Itinerary
Embark your ship - Aurora
Ålesund is one of Norway's most beautiful towns, renowned for its Jugend style architecture and art nouveau style. Alesund's layout is unique as it is built on islands stretching out into the sea with scenic views of the fjords and Sunnmore Alps. This is the perfect destination for hikers, bird-watchers and people who appreciate natural beauty.
Isafjord is a fishing port surrounded by stunning landscapes and mountain ranges reflecting from the deep blue waters. The Jonsgardur Park provides spectacular views and the unique arch, made out of whalebone. The Old Hospital is a cultural centre, housing an art gallery and a library. Take a boat trip to the neighbouring island of Vigur for views of a large colony of Eider ducks which farmers harvest to make a living. The town offers numerous shops and restaurants for a day spent relaxing and stocking up.
This trendy city is full of great museums and galleries, fantastic restaurants, cosy cafés and a vibrant music and arts scene. Outdoor geothermal swimming pools are an important part of Icelandic culture and a great place to socialise with the locals. Get in touch with nature by going horse riding or whale watching.
Dublin offers a rich history, vibrant cultural scene, beautiful architecture and stunning scenery. Spend a day at the city's large shopping districts, explore the variety of museums, or relax at one of the many thriving pubs and restaurants. Travel a short distance out of the city to enjoy the tranquillity of its mountains, lakes and valleys.
Disembark your ship - Aurora
Aurora
The Aurora is a mid-sized, family favourite and a really great choice for a classic cruise holiday. Think fun activities, entertaining evenings, luxurious dining, and the chance to unwind. At Aurora's heart lies a Lalique-inspired waterfall, which forms the atrium's centrepiece. There's high-quality entertainment aplenty with regular live music, comedy and shows, cinema screenings, cabaret and dancing. Dining is a delight as Aurora has a wide and varied selection of excellent restaurants, cafes and bars to suit every taste. Children from toddlers to teens can enjoy their own space with dedicated areas and activities, which are supervised by qualified staff throughout the day and well into the night.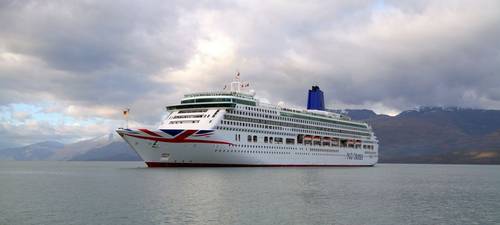 Key Facts
Entered service: 2000
Tonnages: 76,152
Number of Decks: 10
Passenger Capacity: 1,874
Total Crew: 850
Number of Cabins: 934
Number of Pools: 3
Prices per person from
Other regional airports may be available*