Full Board cruising – Includes Breakfast, Lunch, Dinner & Snacks. Available in Buffet & Main restaurants, also the Princess pizzeria
Entertainment – Broadway-style productions in the theatre, movies under the stars & The Atrium; stop by anytime, day or night, to find musicians, acrobats, food carvers and a variety of other performers
Swimming pools, Hot tubs & Sports Courts available for all and The Sanctuary * Adults only retreat
Spa & Wellness* –The Lotus Spa & Fitness Centre with fully equipped gym & fitness classes
Family Friendly ship including Discovery at Sea, Wii family tournaments, The Voice of the Ocean & age specific kids clubs
Specialty Restaurants * – Includes Bayou café & Steakhouse and Sabatini's Italian voted one of the 'Best Cruise Ship Specialty Restaurants' at sea
*Available for a supplement

You can lounge and laze or enjoy active nights and days on a cruise to some of the world's most spectacular destinations on the beautiful Island Princess. With serene and elegant spaces to relax and enjoy some quality quiet time, as well as great activities and entertainment for all ages, this ship is an excellent choice for either a romantic getaway or a fantastic family holiday. Flexible dining options let you enjoy fine cuisine in the convivial, set-time cruise tradition with your fellow passengers – or at a time of your choosing. Speciality restaurants and casual eateries give even greater choice on this stunning ship.
Cartagena is a city of contrasts between the old and new, between poverty and wealth, between legend and reality. The 17th century walled Old Town, and fortress are stunning World Heritage Sites, offering an insight into the old legends of this city. The colourful restored Spanish buildings line the streets of Old Town, with areas of immense poverty and round the corner, areas of extreme wealth. This city is one that will surprise and sadden you, intrigue and amaze you.
Cruising the Panama Canal will allow you to explore the beautiful historic man-made Panama Canal, taking you through tropical rainforests and lush green forestry passed an abundance of tropical wildlife; for a truly unforgettable experience.

See the colourful shops, street stalls and bars along the main street, and have a drink with the locals at the pier. Relax in the sun with the refreshing snacks and drinks sold by beach vendors. Visit the Mangrove Forest nearby to see crocodiles, herons and red snappers.

San Juan Del Sur is a charming small fishing town on the edge of white sandy beaches, with spectacular views over the mountains and forests. This town offers an abundance of character seen through the thatched roofed cafes and bars along the beach front. There are easily accessible trips to the cultural city of Granada or the stunning Lake Nicaragua.
Once a small fishing village, Huatulco has grown out of the surrounding jungle and offers visitors sandy white beaches, crystal waters hidden in sparking bays and coves. Huatulco is an area of great natural beauty with fascinating archaeological sites, extreme white water rafting trips, local traditions and charming friendly locals.
Puerto Vallarta is one of Mexico's liveliest cities, and offers golden beaches and sparkling seas. If you're feeling more adventurous you can go hiking and mountain biking in the hills, explore the jungle on horseback, go snorkelling and scuba diving, or take a jeep safari. With a lively nightlife too, you won't be short of things to do.
Los Angeles is a culturally vibrant city. Although most famous for its district of Hollywood, the city also boasts over 800 museums and galleries. You can go from visiting the La Brea Tar Pits to shopping on Melrose Avenue, and admiring the Walk of Fame. There's plenty to do for everyone in this lively and buzzing city.

A land of waterfalls and volcanoes, Hilo is a tropical paradise. Visit Liliuokalani Gardens, a Japanese garden on the shore of Kuhio Bay and contains 30 acres of pagodas, ponds, and picnic areas. Inland, along the lower reaches of Mauna Kea, Kolekole stream plunges 442 feet over a cliff at Akaka Falls. Closer into town travellers can see Rainbow Falls, a beautiful 80ft waterfall.

Honolulu has it all. Here you'll find everything from historic landmarks and treasured monuments to world-class shopping and a flourishing arts and culture scene. Honolulu spreads throughout the south eastern shores of Oahu, from Pearl Harbour to the world famous Waikiki, once a playground for the Hawaiian royalty.
Dramatic mountain peaks surround the deep blue waters of Pago Pago. The town is rich in history and culture filled with historic buildings and museums. Visit the Baroque Torre de Clerigos, the Roman Cedofeita Church and the home of the Navigator, Prince Henry for an insight into this ports historic beauty and to soak up some of the culture on offer. The shops offer a wide range of independent and boutique shops as well as top designers.

Apia serves as a gateway to neighbouring Samoa. Samoa offers stunning beaches, crystal waters, natural beauty, history and culture. Visit the Samoa Scenic Tour where you will see breathtaking sights and natural wonders of Apia, from the Falefa Falls to the Piula Cave Pool. Walk through the town visiting one of the many museums, galleries and experience the old charm imbedded into the city.

Auckland, based around 2 large harbours, is a major city in the north of New Zealand's North Island. In the centre, the iconic Sky Tower has views of Viaduct Harbour, which is full of superyachts and lined with bars and cafes.

Located on New Zealand's North Island, New Plymouth lies on the west coast with the dramatic and often snow-capped Mount Taranaki in the background. Explore a stretch of the 13km coastal walkway from Bell Block to Port Taranaki and take in the local beaches. Discover contemporary exhibitions at the Govett-Brewster Art Gallery and the flora at Botanical Gardens of Pukekura Park. Stop by Dawson Falls waterfall, located in Egmont National Park.

Picton harbour is surrounded by beautiful views, palm tree lined promenades and native bush wildlife. The stunning Marlborough Sounds area can be accessed by boats and offers fishing trips and picturesque secluded bays. Queen Charlotte Sound is ideal for water sports including kayaking, diving, hiking, cycling, fishing or just taking a scenic trip and admiring some of New Zealand's most incredible natural areas. A boat trip around the picturesque harbour offers the opportunity to swim with dolphins.

Get on deck and have your cameras ready as you glide through the jaw-dropping beauty of New Zealand's largest national park, a rugged Lost World terrain of steep, forested mountain-sides streaked with gushing waterfalls. With wildlife that includes dolphins, penguins and kakapos – the world's only flightless parrot – you couldn't ask for a more spectacular welcome to this famously scenic country.

Sydney, the striking sights of the iconic Opera House and Harbour Bridge will welcome you with open arms. As Australia's most cosmopolitan city, you can expect breathtaking energy as you roam the bustling streets, exploring the sights of this spectacular destination. Admire the captivating works at the Museum of Contemporary Art, star gaze from the planetarium in Sydney's Observatory or amble through the beautiful greenery of The Royal Botanic Garden.
Burnie is a town situated on the edge of Emu Bay and is bustling with a unique and interesting history. The Cradle Mountain National Park offers a true Tasmanian wilderness experience with untouched scenery. Hike through rainforests, glacier lakes and stunning waterfalls.

The capital of South Australia, Adelaide is a cosmopolitan city of wide boulevards, fertile gardens and diverse architecture. Discover the Anglican Holy Trinity Church and the Parliament House. Explore the collection of Aboriginal, colonial, and Melanesian art at the South Australian Museum. Stroll the historic Adelaide Central Market, or simply relax beneath a fig tree canopy in the Botanic Gardens.

Perth is a cosmopolitan city surrounded by stunning beaches, acres of vineyards and secluded bays. Take a cruise down the Swan River, past parks, gardens and skyscrapers, to the beautiful vineyards in Swan Valley. Stop at Perth Zoo and explore the local and not-so-local animals. Hire a bike and head to the secret beaches or kayak to secluded bays. Whether you want beaches or shopping, guided tours or independent travel, Perth has something for everyone.


Welcome to Singapore, where sacred Buddhist and Hindu temples sit in the shadows of sleek, futuristic architecture and the world-renowned street food offers a spectrum of flavours to tantalise every palate. Don't forget to try the chilli crab, its national dish. It's also home to the famous colonial-style Raffles Hotel, where the Singapore Sling cocktail was invented, as well as the spectacular Gardens By The Bay. It's truly a city that never fails to impress.

Port Klang is close to the tall skyscrapers and large shopping malls of Kuala Lumpur. The city of Kuala Lumpur has a fantastic range of sightseeing opportunities. Visit the National Museum showcasing traditional Malay architecture or stop at the National Mosque, which embodies a contemporary expression of traditional Islamic art, calligraphy and ornamentation. Located adjacent to the National Mosque is the 'must see' impressive Old Railway Station, one of the city's most photographed landmarks.

Sri Lanka conjures up the exotic and the mysterious, and here you could choose from a diverse range of activities, from exploring the temples of the Sinhalese Kingdom or taking a guided tour of an Elephant orphanage. You could also take look at the Pettah Bazaar where you can buy almost anything and everything!

One of the world's most modern cities, Abu Dhabi is simply a captivating mix of historical culture, tradition and ultra-modern developments. Visit the Heritage Village that depicts the life and traditions of Bedouin and other cultures, Liwa Oasis, one of the largest oases in Arabia or the striking Clock Tower.

Dubai is known as an adult's playground, with an ever-growing list of dazzling attractions to complement its year-round sunshine and swathes of golden beaches. Head to the top of the Burj Khalifa, the world's tallest building, and see the carefully choreographed dancing fountains below. They're beautifully lit in the evenings. There's also maze-like souks wreathed in the aroma of spices, thrilling waterparks and desert safaris in the rolling dunes beyond the city.

Situated at the base of the Al Qara Mountains, Salahah is a city filled with charm and charisma. The City offers beautiful beaches, traditional Islamic architecture, mountains covered in frankincense trees, historical trips to the caves Marneef Caves and much more. A trip to the tomb of Hiob with a stop off at the unforgettable blow holes will leave you amazed at this City's beauty.

Aqaba is a vibrant, historical city with dusty, sandy hills and stunning white beaches. Aqaba is full of history and natural beauty and is home to Petra, one of the Seven Wonders of the World. This city is 2,200 years old and carved out of the surrounding cliffs. Visit Wadi Rum, an extraordinary desert and mountain region taking you past endless mountains and dunes.

Suez is located in north-eastern Egypt. Historically, Suez has been a pathwayfor Muslim pilgrims travelling to and from Mecca. Suez Canal opened in 1896 and in 1956 drew the world's attention following the Suez Crisis. Travel west from the port to Cairo - formerly the Egyptian capital of Memphis - gateway to the The Sphinx and Pyramids of Giza.
The largest port in Israel accesses the 5000 year old walled city of Jerusalem. Visit the Holy Sepulchre said to contain a piece of the true cross, relax on the fantastic beaches of the Southern Riviera HaMidrehof, or feel the health benefits of the Dead Sea.

Because of its geographic position, Heraklion is an ideal starting point for visitors to explore the many sights of this beautiful Greek island. Visit the Venetian Walls, or perhaps visit the Fountain of Morosini close to the colourful fruit and vegetable market. The shops range from the chic boutiques, to herb shops and souvenirs stores. Alternatively, sit in a local café or taverna sipping either a coffee or the local fire water, Raki, and watch the world go by Greek-style.

Ephesus the well preserved Roman city which offers an abundance of history and culture. Neighbouring Kusadasi offers many tourist trips for those wanting to see more of the wonders of Turkey. Trips include visiting The House of The Virgin Mary and The Temple of Artemis, one of seven wonders of the ancient world.

Mykonos is a picture perfect island town filled with whitewashed steps and cube houses with blue doors. Narrow marble clad streets, mazes of quirky shops famed for their gold jewellery, easily accessible trips to admire the historic white windmills on the hillside. This is an ideal port to tour on foot.

Athens is a world centre of archaeological research, and home to exciting historical sites such as the Acropolis and the Temple of Olympian Zeus, as well as world-class institutes such as the National Archaeological Museum. It also has a thriving nightlife as well as lively markets, luxurious Hammam baths, and stunning views of the city from the peak of Mount Lycabettus.

Malta is a Mediterranean island of great historical importance influenced by many great empires. The capital fortress city of Valletta, described as an open air museum, is mainly Baroque in character having been built in the 16th century by the Order of St John of Jerusalem. It offers some of Europe's finest palaces, churches, and works of art. Valletta harbour is surrounded by cream coloured buildings, twisting streets, hillsides beyond, fishing craft and luzzo boats below.

Constanţa is a thriving metropolis and one of the best seaside resorts in Romania. The city offers a historic Old Town, sandy beaches, lively nightlife and some excellent museums. Swim in the Black Sea, visit ancient monuments and remains like the Roman Mosaics, or see the soaring Genoese lighthouse.

Under the shadow of Vesuvius, Naples is best known for its cache of medieval and Baroque architecture, and as the birthplace of the pizza. With Pompeii on its doorstep, a labyrinthine World Heritage-listed historic centre, and as many churches as Rome, there's a lot to see in this city on the Bay of Naples. Sip a glass of Lacryma Christi wine from the slopes of Vesuvius or shop for a handcrafted nativity scene on Via San Gregorio Armeno. Visit the Archaeological Museum, Museo di Capodimonte, Cathedral, Posillipo Terrace or simply order an authentic Margherita pizza at a piazza café.
Life on board Island Princess

Overview
You can lounge and laze or enjoy active nights and days on a cruise to some of the world's most spectacular destinations on the beautiful Island Princess. With serene and elegant spaces to relax and enjoy some quality quiet time, as well as great activities and entertainment for all ages, this ship is an excellent choice for either a romantic getaway or a fantastic family holiday. Flexible dining options let you enjoy fine cuisine in the convivial, set-time cruise tradition with your fellow passengers – or at a time of your choosing. Speciality restaurants and casual eateries give even greater choice on this stunning ship.
Dining
With Italian at Sabatini's, New Orleans cuisine at Bayou Café & Steakhouse, succulent shellfish at Crab Shack, "Crafted" dishes by celebrity chef Curtis Stone and Princess's signature poolside pizza, passengers are spoiled for choice.
Activities
Hit up the sports court for basketball or football, kick back by the freshwater pools and hot tubs, attend a Discovery at Sea expert-led talk or relax and unwind at Lotus Spa.
Entertainment
Get cosy with complimentary popcorn and a warm blanket for Movies Under the Stars on the pool deck or dress up for a night of singing and dancing in the Princess Theater.
Ship Facts
Entered Service: 12/07/2003
Tonnage: 91,627
Number of Decks: 16
Passenger Capacity: 2,200
Total Crew: 900
Number of Cabins: 987
Wheelchair Accessible Cabins: Yes
Number of Pools: 4
Number of Restaurants: 8
Kids Club: Yes
Choose your home at sea
Cruise Only
from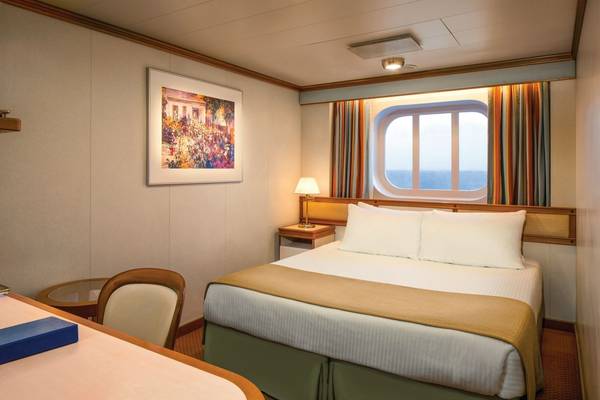 Cabin Inclusions
A spacious picture window for memorable views
Comfortable queen or two twin beds
Refrigerator
Flat-panel television
Private bathroom with shower
100% cotton, high-thread count linens
Complimentary 24-hour room service
Spacious closet
Desk with chair
Hair dryer & bathroom amenities
Digital security safe
Call to book:
0800 840 5800
Quote Cruise Reference: PRSSM
We're open:
Mon to Sun: 9am to 8pm
Cruise Only
from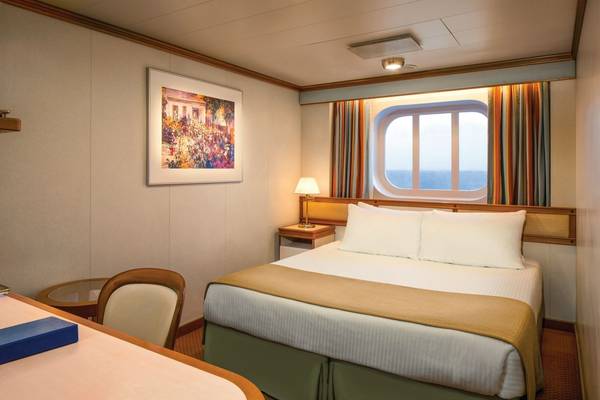 Cabin Inclusions
A spacious picture window for memorable views
Comfortable queen or two twin beds
Refrigerator
Flat-panel television
Private bathroom with shower
100% cotton, high-thread count linens
Complimentary 24-hour room service
Spacious closet
Desk with chair
Hair dryer & bathroom amenities
Digital security safe
Call to book:
0800 840 5800
Quote Cruise Reference: PRSSM
We're open:
Mon to Sun: 9am to 8pm
Call to book:
0800 840 5800
Quote Cruise Reference: PRSSM