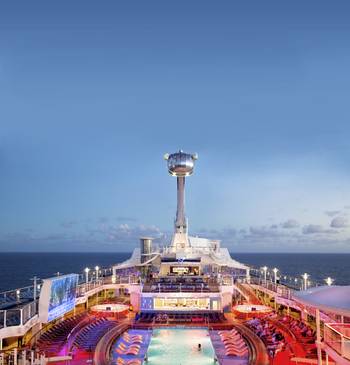 Cruise with
Royal Caribbean
Providing thrilling, activity-led cruises, Royal Caribbean welcomes those who are looking for adventure both on board and on shore on their holidays. This cruise line has fun and innovation at the heart of all its ships. From sky diving to surf simulators, there's a whole range of activities to immerse yourself in.
Sailing to over 300 extraordinary destinations around the world, Royal Caribbean takes you to some of the planet's most stunning and diverse locations. There's even the novelty of being served a drink by a robot bartender!
The Experience
Royal Caribbean really pushes the boundaries of the cruise experience, with several thrilling innovations and state-of-the-art features. More orthodox modes of entertainment take a backseat to adrenaline-pumping rides, game-changing activities and interactive technology - and you can expect surprises during every day you're at sea. There's something fun for all the family with Royal Caribbean, whose mantra seems to be: bigger, bolder and better.
Evening entertainment
Watch acrobatic ice skaters, comedians, singers, magicians and much more, with something different every night that you're on the waves. Performed by the ship's Original Productions cast, you'll enjoy everything from techno-inspired cabaret to cutting edge choreography. There are also regular outdoor film nights, weather permitting, beside the pool. And every theatre performance at sea is accompanied by a full-ensemble orchestra.
An array of places to eat
Enjoy the juiciest burgers at sea in Johnny Rockets, a 1950s-style burger joint, complete with retro juke box and custard-thick milkshakes. At Izumi Ibachi and Sushi there's Japanese and pan-Asian cuisine of all kinds, while no cruise would be complete without a great Italian restaurant serving up the classics. There are also less casual dining options where gourmet dishes can be paired with superb wines.
A treat for all your senses
All Royal Caribbean's ships feature the first-class Vitality Spa, from which you can emerge relaxed and rejuvenated. Using professional spa products from acclaimed brands, its staff perform a range of massages, wraps, facials, acupuncture, tooth whitening and more. Meanwhile, a salon will cater for all your hair and nail services, ensuring you look your very best throughout your voyage.
Bars and clubs
Royal Caribbean's ships have shaken up the ocean-going party scene, with venues that range from the kitsch Bamboo Room, a Polynesian-themed bar where you can find a range of exotic cocktails, to traditional English pub with familiar ales and lagers. For a more sophisticated affair, head for the R Bar for a perfectly mixed Martini.
Fun activities
Royal Caribbean has revolutionised ocean-going activities with a range of thrilling first-atsea innovations. There's everything from surf simulators to escape rooms where you have to solve mind-bending riddles before the clock runs out. There are also arcades featuring retro video games from the 1980s and exhilarating water slides. You could even hurtle down the longest water slide at sea and go rock-climbing.