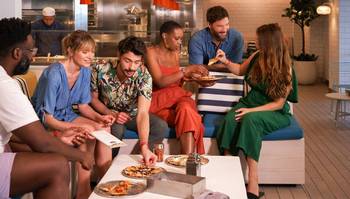 Cruise with
Virgin Voyages
Florida-based Virgin Voyages was founded in 2014 and since then has been preparing to make a huge impact on the cruise industry, with a fresh and unique take on all aspects of cruising, from the entertainment to dining. You'll find chic and contemporary décor throughout, with the occasional rock-star twist, while the destinations currently comprise the beautiful sun-kissed islands of the Caribbean Sea, Europe, and transatlantic crossings. The Virgin experience is targeted at the young-at-heart, with innovation and experimentation at the forefront of everything they do. They even have an on-board tattoo parlour.
The Experience
Virgin Voyages' adults-only cruises are relaxed fun-filled affairs, with traditional cruise ship features making way for pioneering first-at-sea technology and alternative entertainment. Passengers are not charged gratuities and the cruise line's environmental credentials are enhanced by its barring of single-use plastics such as drinking straws and water bottles. Instead, the company will provide hydration stations throughout the ship offering sparkling and still water.
The fleet
Virgin's first brand-new ship, Scarlet Lady, will be joined by three ships between now and 2023, bringing the total number in the fleet to four. These will be the Valiant Lady, Resilient Lady and an as-yet-unnamed ship to be launched in 2023. All Virgin Voyages ships are brand-new and purposely bult for Virgin by the esteemed Fincantieri shipbuilding company in Italy and have a guest capacity of 2,700.
Dining
Virgin Voyages prides itself on its no-buffet dining and offers one of the most diverse and lengthy line-up of restaurants at sea. Each ship is home to more than twenty restaurants, with Virgin choosing to eschew the large dining halls found in the majority of cruise ships. Michelin-starred chefs are behind the menus, with the culinary fare ranging from upscale Mexican at Pink Agave to steak and seafood at The Wake, as well as Korean barbeque at Gunbae.
Entertainment
Opting for an exhilarating alternative to the standard entertainment found on cruise ships, Virgin Voyages offers immersive, first-at-sea performances with a festival-like feel and electrifying choreography. Spend your evenings watching shows such as Another Rose and Scarlet Night, produced by acclaimed theatre New York pioneer, Randy Weiner, and dance the night away at The Manor, a two-story, three-bar venue that hosts ground-breaking shows and DJs.
Relaxation
The Redemption Spa is your sanctuary at sea where you'll be able to get your fill of pampering and rejuvenating treatments. Its thermal suite features a mud room, salt room, sauna and steam room, with a menu that features seaweed wraps, hot stone massages and much more. You could also bask in the sun at the Aquatic Club, a spacious pool-side oasis. Stubble & Groom caters for all men's barbering needs.
Fitness
Stay in shape at B-Complex, a Techno gym with state-of-the-art equipment including rowers, treadmills and spin cycles. Attend a training camp in the group fitness area outdoors, or go for a gentle evening run on the outdoor track. Afterwards make a bee-line for Gym & Tonic for a refreshing healthy juice.
Bars and lounges
Virgin Voyages has partnered with some of the industry's most esteemed mixologists to create an exceptional beverage program in its bars and lounges. Head to On The Rocks for a Martini and cocktail bar, or try Draught Haus for artisanal beer. At Sip Lounge you could try champagne and caviar, while your day-time caffeine fix is supplied by the Grounds Club.