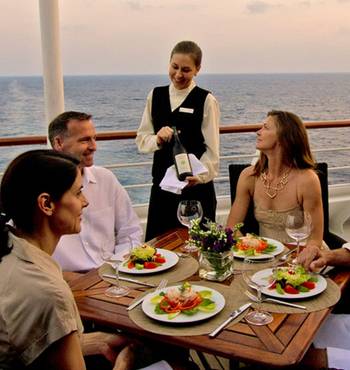 Cruise with
Azamara Club Cruises
Enjoy an intimate boutique-style cruising experience when you sail with the fabulous Azamara Cruises, a member of the Royal Caribbean Group. You'll dock at smaller, less-used ports that are often closer to your destination, giving you more time for exploration and cultural immersion.
Excursions could include learning to make hand-made mozzarella at the home of an Italian family or accompanying one of Azamara's top chefs around exotic markets to choose the ingredients for an exquisite local meal back on the ship. Your fellow passengers will number no more than 700 and this contributes to the amiable atmosphere on board where you'll quickly get to know your surroundings.
The Experience
The Azamara experience is characterised by immersive cultural encounters, intimate yet spacious ships and friendly and approachable, staff who are happy to offer everything from poolside service to recommendations for your on-shore explorations. You'll also revel in the contemporary and elegant décor and unique dining concepts that take into account your destinations.
The fleet
The Azamara fleet comprises just three elegant mid-sized ships: Journey, Quest and the latest addition, Pursuit. Each of the ships boasts a deck plan that is intimate without feeling crowded and the relatively small size of the ships enables them to reach lesser-visited ports that are inaccessible to larger cruise ships.
Dining at sea
The Destination Immersion® concept is one of the highlights of the Azamara dining experience, where the flavours of your destinations are incorporated into the food and drink menus. It results in exclusive, personalized and local dishes that add a gastronomic twist to your holiday. Whether you dine at Prime C, Discoveries or Aqualina, you're guaranteed a mouth-watering meal. And there are plenty of options for those on a plant-based diet.
Relaxation
Azamara passengers will love the Sanctum Spa. This relaxing sanctuary of wellness offers you the chance to focus on you —something you don't always have time to do at home. Enjoy an oceanfront massage or a manicure before your next destination. There are also teeth-whitening and barber services, or even a healing acupuncture treatment to fend off those minor aches and ailments.
Entertainment
The hits of Broadway, music and stage performances in the style of Sir Elton John and big band sounds that'll draw you to the dancefloor - with Azamara's signature shows, you'll enjoy an entertaining musical mix, often backed by well-choreographed dance routines. Performers will round out the entertainment with additional comedy or magic performances. The On-land AzAmazing Evenings also offer a one-of-a-kind experience.
Fitness
Azamara offers a full range of complimentary onboard fitness and nutrition classes, including one-on-one personal training and boot-camps for an additional cost. In the well-equipped fitness centre you'll find treadmills, stair-steppers, weights and much more. For a gentler experience you could try a spot of sunset yoga on deck. An Azamara voyage is the perfect opportunity to focus on your health.