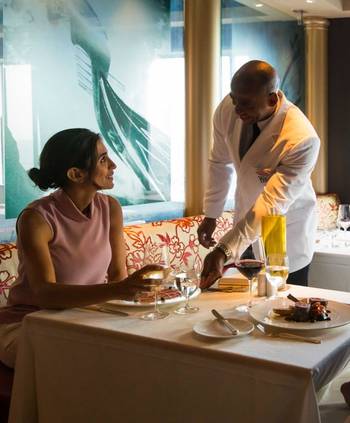 Cruise with
Crystal Cruises
This year (2020) sees Crystal Cruises celebrate three decades of award-winning luxury travel. Headquartered in Los Angeles, this shipping line is known for its spaciously elegant interiors, impeccable service and Michelin-level gastronomy. With all-inclusive cruising and one of the highest staff-to-guest ratios on the ocean, guests can count on being made special from the first to last days of their voyage. Crystal Cruises sails to every part of the world, from Alaska to Australia, as well as European rivers like the Danube, but it is the ships themselves that define the Crystal experience, welcoming far fewer guests than ships of a similar size and allowing for a more exclusive experience.
The Experience
Crystal Cruises have carved out a reputation as one of the most luxurious in the industry. Their ships might not be the biggest but they are bedecked in exquisite touches and attention to detail throughout. Enjoy concierges and butlers who remember your names and preferences, and relax in contemporary, award-winning accommodation with state-ofthe-art facilities. Junior cruisers are also catered for.
Dazzling entertainment
Enjoy premier entertainment, world-class performances from global talent and catch an enrichment workshop during the day. At the theatre, escape into a newly released movie or find your seat in the Galaxy Lounge to enjoy dazzling Broadway-style productions. Place a bet or two at the casino or simply settle into your cabin where you can watch in-demand movies on your ultra-thin TV screen.
Gastronomic excellence
A total of nine restaurants can be found on the ships that make up Crystal's Ocean Fleet. With ever-evolving menus featuring dishes from around the world, it's a gastronomic heaven. This is not your usual culinary line-up, with restaurants like Umi Uma serving up Japanese-Peruvian fusion and sushi, and Churrascaria dishing up Brazilian beef sensations.
Serenity in the spa
Experience bliss on the waves at the Feng Shui-inspired Crystal Life Spa and Salon. Look radiant after a Japanese Silk Booster facial or try one of several holistic therapies, as well as manicures, pedicures, acupuncture and much more. Crystal's trained stylists and aestheticians provide a full-service menu of treatments in a serene and relaxing ambience.
Diverse bars and lounges
The Connoisseur Club is where you can hear the satisfying creak of a leather armchair and enjoy a fine cognac and cigar in refined elegance, while Crystal Cove and Palm Court are more contemporary venues. The intimate Avenue Saloon is where you might find a rousing piano sing-along, and you could end your night by showing off your dancing moves at the ultra-chic Pulse Nightclub.
Carefully curated Cruises
Crystal are renowned for their themed cruises, whether it's seasonal river voyages that take in the atmospheric Christmas markets of Vienna and Budapest, discovering Amsterdam's tulip season or even a voyage dedicated to jazz and cabaret, with accompanying lectures and live musical performances. Throughout the year their ships host a carefully curated collection of sailings that cover a huge range of subjects.