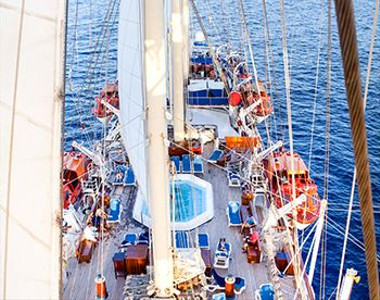 Cruise with
Star Clippers
On board Star Clippers' sensational vessels, you'll experience an entirely different way of cruising. Comparable to a large private yacht, their stylish and intimate ships embody the romance of traditional sailing while providing all the modern amenities needed for a comfortable voyage. You'll get to visit ports inaccessible to larger cruise ships, while passengers enjoy the activities, amenities and atmosphere of a private yacht.
With their billowing sails, sun-warmed teak deck and gleaming mahogany rails, the Star Clippers fleet – comprising Royal Clipper, Star Clipper and Star Flyer - provides an enchanting nautical experience that will leave a long-lasting impression.
The Experience
Brace yourself for a true seafaring experience when you sail with Star Clippers. You'll feel in tune with the ocean on these small and intimate ships, with the opportunity to really engage with the actual sailing aspect of your voyage. Scale the crow's nest for views of your surroundings, learn to tie knots from the crew and perhaps take a turn at the helm. All this and more in a convivial atmosphere and stylish surroundings.
The Fleet
The Star Clippers fleet comprises three sensational vessels: Star Clipper, Royal Clipper and Star Flyer. Each are four- or five-masted ships and cut an unmistakeable and graceful silhouette as they glide along the ocean waves. Despite looking like a ship from a bygone age, they have the feel of a private yacht and boast state-of-the-art navigation systems and sumptuous décor – accented with teak and mahogany – throughout.
Accommodation
Throughout the Star Clippers fleet there are various categories of elegantly appointed staterooms, depending on your needs, all of which are equipped with en-suite bathrooms, phones, DVD players, televisions, hair-dryers and a safe. Some cabins also have their own private veranda or open straight onto the deck.
Service
Passengers can enjoy the romance of sailing on board a true tall ship in a relaxed and convivial atmosphere with high standards of service provided by an attentive and experienced crew. Gratuities on board the ship are not included in the cruise fare and are at the discretion of each individual passenger.
Dining
The dining rooms across all three Star Clippers' vessels serves breakfast, lunch and dinner on an open-seating basis with no need for reservations. The Maitre d' is always ready to assist you with any special arrangements you may request. Meal times are printed in the Daily Program which is delivered to your cabin and may vary due to the days' activities.
Entertainment
Entertainment on each of the Star Clippers ships could entail everything from cosy sing-alongs at the comfortable piano bar to literary escapism in the sumptuous library. Upon docking at certain ports, local performers may be brought on board for your entertainment, giving you a taste of the local culture. There is also ample deck space with up to three swimming pools.