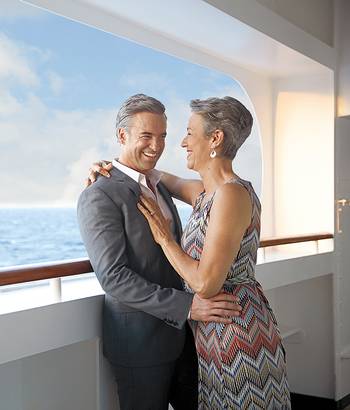 Cruise with
Holland America Line
Holland America Line's itineraries reach some of the planet's most far-flung places, catering for sun-worshippers, intrepid adventurers and those lured by the world's archaeological hot spots.
With Holland America Line you can always count on award-winning service, exquisite restaurants, enrichment programs to broaden the mind and a diverse range of activities. The Seattle-based Holland America Line is proud of its environmental awareness, with a strong commitment to sustainability in the places its ships visit.
The Experience
From the minute you embark one of Holland America Line's ships, you'll revel in the casual and contemporary atmosphere of your surroundings. Classic nautical lines, impeccably stylish décor and hospitable service combine to serve up a nautical experience that makes your time between destinations an endless pleasure. Entertainment and fun is guaranteed but there's also an emphasis on education and self-improvement, with engaging lectures and wine tasting.
The fleet
Holland America Line has a 14-strong fleet of some of the most spacious and comfortable mid-sized ships at sea. From its older Statendam-class ships to its newest Pinnace Class carrying up to 2,600 passengers, it offers expansive views and relaxation in casual elegance, as well as stately fine dining and enriching activities. The fleet is due to add Ryndam to its elite Pinnacle Class in 2021.
An array of places to eat
As well as eating buffet-style in the Lido Market you can plump for speciality dining at Pinnacle, which serves up hefty portions of surf 'n' turf, and Asian fusion at Tamarind. There's also relaxed Italian at Canaletto. With recipes put together by an A-list team of world-class celebrity chefs, food is very much a highlight of the Holland America Line experience.
Spa and fitness
For a relaxing experience at sea, be sure to visit the Greenhouse Spa & Salon, home to saunas and steam rooms with outward-facing views across the ocean. Get your pump on at the professionally staffed Fitness Center, equipped with the latest cardio and weight machines, or try a Pilates class. There's even a basketball court where you can shoot a few hoops, as well as swimming pools.
Into the evening
Enjoy an abundance of world-class entertainment options such as B.B. King's Blue Club and the World Stage, which features an amazing 270-degree LED wrap-around screen. The Holland America Line is famed for the quality and diversity of its live music. From sing-a-long rock to polished retro classics to chamber music – you'll be flooded with musical options throughout your voyage.
Explorations Central
Enhance your experience of the destinations you visit on your cruise with Explorations Central™ (EXC®), Holland America Line's exclusive destination programming, which features multimedia presentations and story-telling. Comprising talks from local experts and artists about the places on your itinerary, it'll give you a deeper understanding and appreciation of their history and culture.