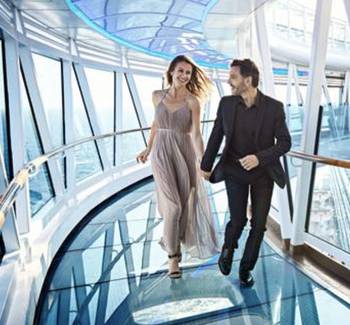 Cruise with
Princess Cruises
Princess is one of the biggest names in the industry. Each of their cruises is designed to help you make the most of every day, both on board and on shore.
Featuring a wide range of exciting itineraries, elegant on-board spaces, plus delicious food made from scratch, you're guaranteed a voyage where every day is an event.
The Experience
Offering contemporary cruising at its finest, Princess Cruises has become the cruise line of choice for many travellers. But what makes Princess Cruises extra special is that it brings a certain finesse to each adventure. Reaching all corners of the globe, Princess Cruises let you discover the world all from the comfort of the ship filled with modern amenities, sensuous spa treatments and world-class dining.
Princess MedallionClass™
A Princess MedallionClass™ experience takes service to the next level and offers unique experiences that will help you get more out of your cruise holiday. The wearable device gives access to everything from priority boarding to keeping an eye on your onboard expenses, and helps locate your loved ones and order drinks by the pool. You also get the benefits of pre-cruise planning, bookmarking shows and activities 60 days before your cruise begins.
Places to eat
Every dish is "designed for fresh" and concocted to satisfy even the most astute palates. Partnering with two world-renowned chefs, acclaimed restauranteurs, and offering awardwinning specialty restaurants, dining on board Princess cruise ships are an experience within itself. Whether you enjoy freshly prepared, hand-tossed pizzas, mouth-watering aged steaks, tantalizing fusions of Asian cuisine or refined multi-course gourmet dinners, your taste buds will enjoy an adventure of their own.
A little 'you' time
You'll find the award-winning Lotus Spa on board every Princess ship. Boasting a variety of treatments from aroma stone therapy massages and detoxifying body wraps, to rejuvenating facials, manicures and pedicures, an afternoon here is the perfect treat for the senses. The Lotus Spa Fitness Centre also offers a collection of state-of-the-art equipment and relaxing yoga or tai chi classes take place up on deck.
Showstopping performances
You'll find an exciting array of dazzling entertainment everywhere you turn on a Princess ship, from Broadway-calibre stage shows and Movies Under the Stars, to headliner comedians and mystical magic shows – there's something to suit every mood. Don't miss the chance to settle in and watch the enchanting "Encore" performance, musically directed by Academy Awards arranger Nelson Kole, with set designs by Emmy® award-winner John Lacovelli.
Enriching activities
A cruise on board Princess ships allows you to do more than just explore the region and the destinations you'll be visiting. Days at sea also provide you with enriching activities. Enjoy Stargazing on the top deck with Discovery at SEA, experience grand traditions with Festivals of the World celebrations and embrace destination-themed activities of live performances, dance lessons and local dish tastings.